2021-2022 Year in Review
The 2021/2022 season for the Cascade Mycological Society (CMS) was still under the cloud of COVID-19. So, we continued our 50% discount on membership to returning members. We continued with virtual meetings, but were able to loosen the restrictions on in person forays a bit. Below are the highlights. We look forward to next year with even less restrictions and more normalcy.
CMS Meetings
We hosted a varied and interesting group of speakers for our 2021/2022 season of public monthly meetings. All meetings except our last meeting of the year were held virtual and livestreamed to the CMS YouTube channel. We were happy to welcome Dr. Christopher Hobbs to speak about Medicinal mushrooms in person at the Amazon Community Center. All of the meetings below are available on the CMS Website for CMS members to view at any time (must be logged in). Some, with permission of the speaker, are also retained on the CMS YouTube channel.
Mount Pisgah Arboretum Mushroom Festival Highlights
The 2021 Mount Pisgah Arboretum Mushroom festival was different in many ways – the best being that it was in person after our 2020 virtual festival. To keep everyone safe and socially distant, the Arboretum limited the number of attendees to 1200 persons by selling advanced tickets online. So, we did not have our normal 4000+ crowds, but those that did attend were enthusiastic mycophiles decked out in mushroom themed hats and accessories!
The day before the festival a cadre of CMS volunteers and students of the LCC Biology of Mushroom class taught by Susie Holmes started gathering at 9am to setup the display. By the end of the day on Saturday there were 387 unique species of mushrooms identified and placed on the tables, including 63 species that were new to the show. Of special interest were the specimens of fungi labeled as "Archie Creek fire fungi" collected by Ron Hamill. Ron served as our expert identifier along with Joe Spivack. We also had over 400 unique species submitted to the Festival Mycoblitz on iNaturalist, for which Noah Siegel served as the identification expert.
The Mount Pisgah Arboretum did an excellent job with planning for a festival that was both festive and safe; with plans, backup plans, and contingency plans. For lots more pictures and festival success stories check out the full story on the CMS Website.
A few comments about the festival –
Brad Van Appel, Director of the Mount Pisgah Arboretum
WooHoo! It looks like we did it folks! We seem to have pulled off a successful modified Mushroom Festival! Thank you all for your hard work and strategic thinking. It looks like all our planning paid off. The event felt safe to me and to others that I talked with. Even with less than a quarter of the 2019 attendance, and a lot fewer activities, the festival felt vibrant and engaging. At the same time, the smaller numbers allowed for more social distancing.
Peg Boulay – CMS Mushroom Display Co-coordinator
The festival had a great vibe. People were patient and focused on the educational aspects. I have to give credit to the Arboretum staff for their plans, backup plans, and contingency plans. The last 2 years have required us to experiment and adapt. Now we need to decide what changes we want to adopt on a more permanent basis.
CMS Member only Forays
In spite of the ongoing pandemic, we were able to offer 14 forays in the 2021/2022 season. We took things slow. Everyone felt relatively safe not wearing masks while outdoors, and we slowly lifted the restrictions on carpooling; which enabled us to increase the number of participants at the discretion of the foray leader. In the end, 159 members had the opportunity to attend a foray. We are hoping to have a little more normalcy and more people on next year's forays.
October 2, 2021 – Cascades foray with Matthew Johnson
October 16, 2021 – Festival foray to the Coast with Chris Melotti
October 23, 2021 – Festival foray to Alsea Falls with Ron & Sandy Patton
October 24, 2021 – Festival foray to the Coast with Dylan Eckert
October 27, 2021 – Festival foray to the Coast with Cheshire Mayrsohn
October 28, 2021 – Festival foray to the Coast with Matt Mathiason
October 29, 2021 – Festival foray to the Cascades with Cheshire Mayrsohn
November 14, 2021 – Cascades foray with Joe Spivack
November 20, 2021 – Coast foray with Pavel Gubanhikin
November 21, 2021 – Coast range foray with Matt Mathiason
December 15, 2021 – Candy cap foray with Erin Brown and Sandy Patton
March 13, 2021 – Umpqua forest foray with Dylan Eckert
May 13, 2021 – Morel foray with Matt Mathiason
June 4, 2021 – Spring Bolete foray with Matthew Johnson
Community Forays & Classes
CMS partners with the City of Eugene Recreation Services to offer seasonal educational forays and classes to the community through the Amazon Community Center where we hold our monthly meetings. This years events were:
Family Foray – Chris Melotti enjoyed hosting families in a mushroom themed walk through Hendricks park
Introduction to Wild Mushroom Identification Class – Ron & Sandy Patton taught beginners the easiest edibles to identify and where and how to find them.
Adult foray – Ron & Sandy Patton led a group to Shotgun Creek..
Grants and Scholarships Awarded
CMS has been proud to offer the Freeman Rowe Educational Scholarship since 2008. Eligibility for the scholarship is limited to Oregon college students (community college or university undergraduate, or graduate) who are engaging in mycology research. The scholarship(s) are awarded for research that forwards the understanding of the biology and ecology of fungi or that demonstrates the practical uses of fungi.
On June 2, 2022 the CMS Board of Directors voted to grant Brandon Stairs the 2022 Freeman Rowe Memorial Scholarship in the amount of $1000. Brandon is currently pursuing a Masters Degree in Biology & Plant Pathology at Oregon State University (OSU); and is a Research Assistant in the Uehling Mycological Research Lab at OSU. You can read all about Brandon's project proposal here. We look forward to hosting Brandon at a CMS meeting in the future to hear about the results of his research.
CMS also provided a grant to the Macrofungi of Lane County Oregon project in the amount of $500 for DNA sequencing of 30 mushroom specimens.
Macrofungi of Lane County Oregon (MLCO)
The Macrofungi of Lane County Oregon group within CMS has continued to document fungal species across Lane County within the iNaturalist app. The group that manages this project is quite small – Dr. Bitt Roy, Bruce Newhouse, and Susie Holmes. But, everyone is able to become a "citizen scientist" and contribute. Bruce Newhouse continues to lead the pack of observers with both the greatest number of observations (1608) and the most number of unique species (401). As of this date, 41,752 total observations have been made in Lane county since the project's inception in March of 2018. Of these, 14,647 observations are catalogued as "research grade"
As of this date, 180 specimens have been submitted for DNA sequencing. Below are a few pictures of the latest species to be vouchered and and DNA tested. Followed by the current statistics for the 3 projects that are maintained on iNaturalist. The increase in #s cited in parenthesis, is the change since last years CMS Year in Review was published on June 29, 2021.

Macrofungi of Lane County Oregon
Project Description: This project was started to inventory and document the macrofungi of Lane County, Oregon and the surrounding area. It is sanctioned as a part of the Cascade Mycological Society (CMS).
Total observations: 41,752 (increase of 16,957)
Total species: 1,643 ( increase of 309)
#people/contributors: 3,343 (increase of 1,172)
Woodchip Fungi of Lane County Oregon
Project Description: The Woodchip Fungi of Lane County project was created in December of 2019. This project documents fungi that are present in wood chip habitats. Primarily geared towards urban landscapes in the Eugene-Springfield area; it includes fungi present in any woodchip (i.e. wood chip or mulch covered landscape areas) habitat within Lane County.
Total observations: 171 (increase of 12)
Total species: 55 (increase of 7)
#people/contributors: 66 (increase of 10)
Vouchered Macrofungi of Lane County Oregon
Project Description: This project is for designated users who voucher fungal specimens for a fungaria (fungal herbaria). A subset of these vouchered specimans are selected for DNA testing.
Total observations: 368 (increase of 99)
Total species: 218 (increase of 64)
#people/contributors: 18 (increase of 1)
To keep abreast of the MLCO project, check out the MLCO News & Updates page.
CMS Special Events/Activities
Each year, we seem to have some type of new or special event or activity. Sometimes they turn into an annual event/activity, while some do not. This year, we had 3 activities to celebrate.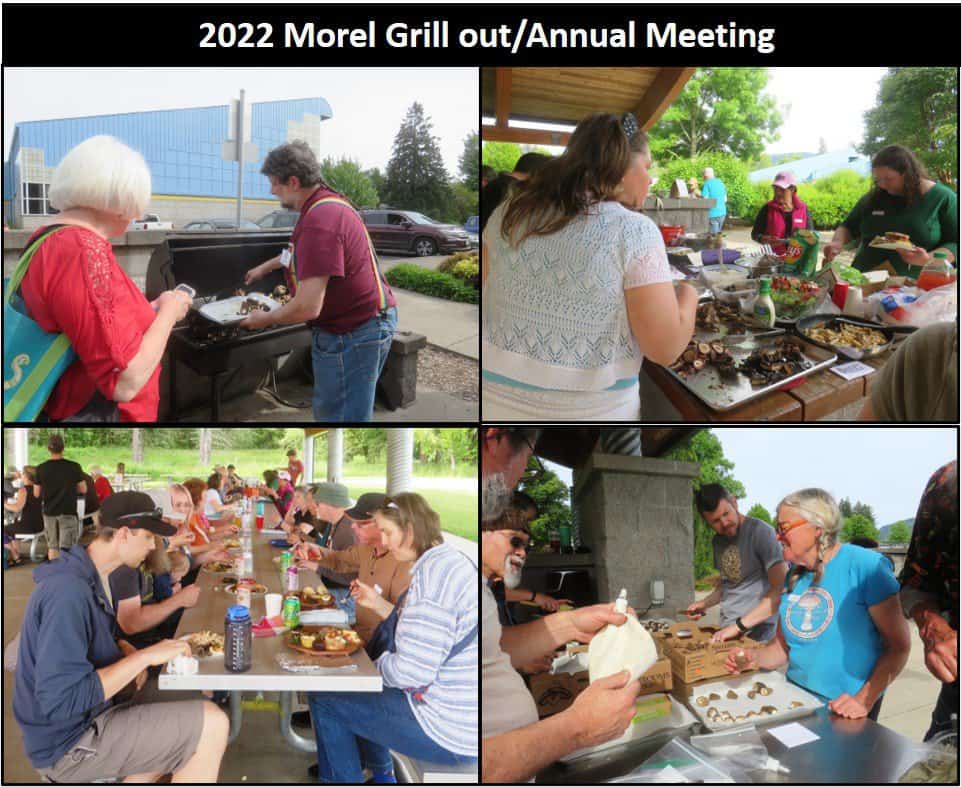 This event is actually not new. But, it is worth mentioning since we were not able to have a Morel Grill Out in 2020 or 2021. This one was well attended, with lots of grilled mushrooms, delicious and yummy food dishes, and lots of smiling faces on CMS members!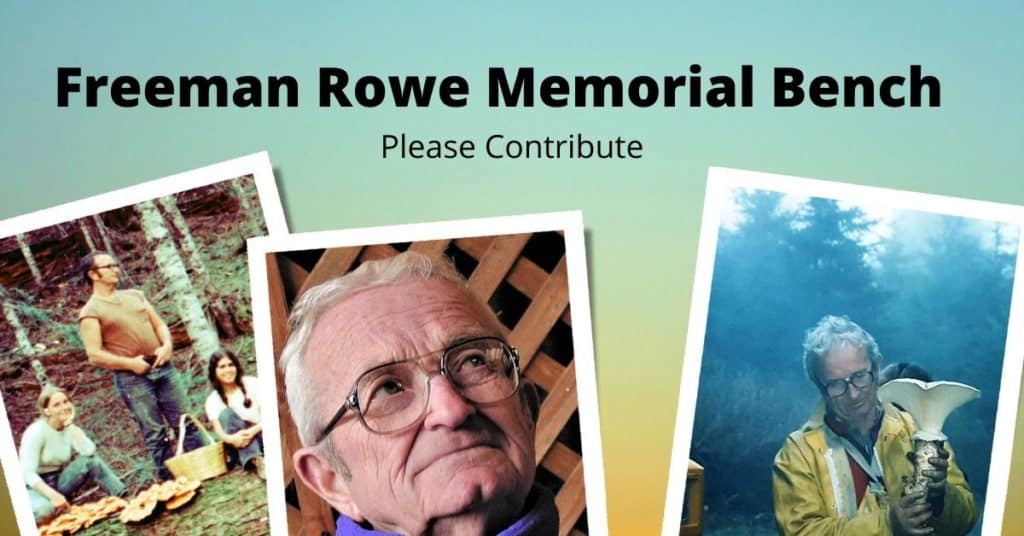 In August of 2021 a few of the founding CMS members embarked on having a Memorial bench hand crafted and placed within the Mount Pisgah Arboretum in honor of Freeman Rowe. Freeman was the founder of the MPA Mushroom Festival and Wildflower Festival, and the inspiration for the Cascade Mycological Society (CMS).
A design for the bench has been selected, a location at the Arboretum has been chosen, and the budget has been agreed upon. As of this date, $3,120 dollars has been contributed. For more information and to donate, please visit the GoFundMe page.
Game of Shrooms is a once a year world-wide art N seek event created by Attaboy (click for more information). The 2022 event was held on June 11th. On that day, artists from all over the world hide their original mushroom-themed works in public places then they give hints (often on social media) for others to find AND KEEP!
For a full report on CMS's participation in the event, read more.
CMS Board of Directors
The full slate of 9 Board Members agreed to continue into the 2021/2022 season. Unfortunately, due to work and family pressures Erika left the board at the end of the season and will not be with us for 2022/2023. Even though the pandemic has subsided, the CMS Board has chosen to continue to meet via Zoom. Of coarse, we do occasional gather for a beer at a local brew pub.
CMS members who login to the CMS Website can find all of the Board Meeting minutes and information on how to get more involved on the CMS Board Activities page.
President/Speaker Coordinator: Chris Melotti
Vice President Coordinator: Matthew Johnson
Treasurer: Eugena Mathiason
Recording Secretary: Erin Brown
Membership Chairperson & Newsletter Editor: Erika Huston
Foray Coordinator: Matthew Johnson
Lee Yamada – NAMA laison
Bob Blanchard
Matt Mathiason – web team
Dylan Eckert