COVID-19 UPDATE FOR 2022/2023
We will be returning to in person meetings at the Amazon Community Center for the 2022-2023 season. And, will continue to live stream our meetings to the CMS YouTube channel. Note: Some meetings with remote speakers may not be held in person; refer to the monthly meeting post or the CMS newsletter.
---
Virtual / Live Stream meetings
All CMS meetings are live streamed on the CMS YouTube channel. You can learn more about how to participate on the Going Virtual page. We announce all meetings on the CMS homepage, on the CMS Facebook page, in the CMS Enews, and in the Eugene Weekly Calendar section.
In person meetings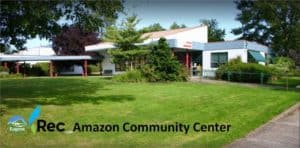 The Cascade Mycological Society hosts monthly meetings, September through May from 7:00pm to 9:00pm at the Amazon Community Recreation Center, 2700 Hilyard St, Eugene. The CMS Meeting night is on the 3rd Wednesday of each month. But, it is a good idea to check the website as scheduling conflicts can occur.
Come mingle with and learn from expert mycologists and the local mushroom enthusiasts of CMS. All CMS monthly meetings are open to the public. You are welcome to bring mushrooms in for identification during the show & tell portion held the first 30 minutes. Then we have a guest speaker on a fungi related subject.
To learn about the upcoming meeting and speaker, check out the CMS Blog.
Location of Amazon Community Center – Or, click here for interactive map.