CMS has been proud to offer the Freeman Rowe Educational Scholarship since 2008. To be eligible, you must be an Oregon student (community college, university undergraduate or graduate) who are engaging in mycology research. The scholarship(s) are for research that forwards the understanding of the biology and ecology of fungi or that demonstrates the practical uses of fungi.
The successful candidate will receive up to $1,000 and must present the results of the research at a CMS general meeting. Candidates may apply once during each degree program (Bachelor, Masters, Doctoral). For more information, please e-mail president@cascademyco.org.
Submit applications at any time through our online application form.
About Freeman Rowe
Retired instructor Freeman Rowe taught biology from 1968 until 1998 at Lane Community College (LCC). Freeman is affectionately known as the Father of the Cascade Mycological Society (CMS). For decades, Freeman inspired and trained budding mycophiles in Lane County, Oregon. His mycological legacy began in 1968 as a biology instructor (botany and marine biology) at LCC, and then began teaching classes on mushrooms. The mushroom class became a lecture and field course taught by Freeman every fall from the early 70's until his retirement.
Today, the Biology of Mushrooms class that Freeman began still thrives as a very popular class at LCC. A former Freeman student and CMS member, Susie Holmes, teaches the class. Many of his former students still live in the area creating a thriving mushroom community in Eugene. In 1998 some of his former students got together and formed CMS. One of the most notable events is the Mushroom Festival at Mount Pisgah Arboretum every October.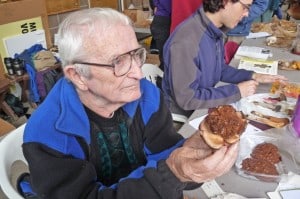 Cascade Mycological Society (CMS) raises money each year to reward 1-2 undergraduate or graduate students that are studying/researching and expanding the knowledge of mycology. In honor of Freeman Rowe we have named this scholarship The Freeman Rowe Educational Scholarship.
The "father" of CMS passed away shortly after this 90th birthday on 10/7/2020. The 2020 Virtual Mushroom Festival was dedicated to his legacy.