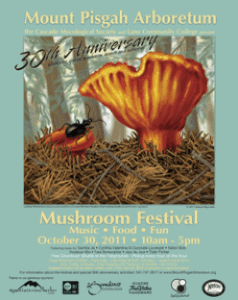 The above video was produced by the Ethos Magazine, a student-run, multicultural magazine based at the University of Oregon. It was filmed in 2011 at the 30th Anniversary of the Mushroom Festival.
CMS life members, Freeman Rowe and Marcia Peeters were early originators and the incredible energy behind the Mount Pisgah Arboretum (MPA) annual fall fundraising event, the MPA Mushroom Festival. They graced the Mushroom Festival with their huge talent and dedication for over 30 years, providing critical organizational and identification skills that keep the mushroom display one of the best around.
CMS's history is intricately tied to the Mount Pisgah Arboretum as well as Lane Community College (LCC). The three community organizations have connecting threads just like the mycelial strands that tie together mushrooms and their habitats.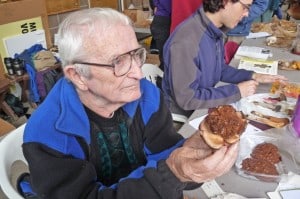 But what is the Lane Community College connection? Freeman Rowe taught botany at LCC for many years, and also originated the incredibly popular Biology of Mushrooms class, which he taught until his retirement in 1996. The class remains popular, and today is taught by Susie Holmes, one of Freeman's alumni and former teaching assistants.
Cascade Mycological Society grew like a beautiful wild mushroom from the fertile mycelium of the LCC class and the MPA Mushroom Festival. CMS was originally developed and incorporated primarily by enthusiastic students of Freeman Rowe's at LCC, and today many CMS members are past or present students of the Biology of Mushrooms class – more than a few of them repeat enrollees!
The MPA Mushroom Festival is today still supported by LCC, especially participants of the Biology of Mushrooms class. Together with members of CMS and many volunteers from the community at large, students have historically provided critical volunteer labor for collecting and setting up one of the largest fungal displays on the west coast, with named species numbering between 300 and 500 each year. Volunteers for the show contribute hundreds of hours each year, to collect, identify, and display these ephemeral marvels of nature, beauty, and intrigue.
CMS is pleased to help organize this important annual event that serves as a fundraiser for the MPA and CMS's largest annual educational outreach event. We welcome new members to get involved by collecting mushrooms and helping to create the display on the Saturday prior to the festival.