Festival Foray – Coast – October 19, 2019
CMS Forays are open only to CMS members, for more information on membership click here.
Join CMS for a foray to the Coast to collect for the Mount Pisgah Arboretum Mushroom Festival. Festival Collection forays are all about collecting every different type of species we can find. You may have the opportunity to pick a few edibles along the way, but that is not the focus of the foray. Festival collecting forays are your opportunity to learn a lot more about the diversity of fungi we have here in Oregon. CMS President Cheshire Mayrsohn will lead the foray.
Date: Saturday, October, 19, 2019
Location: Coast
Mushroom permits: None required, 1 gallon is permitted for personal use with no permit.
# of participants is 20, children accompanied by an adult are welcome, no dogs/pets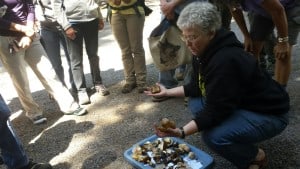 Cheshire is a retired Botanist for the BLM and is also an active member of the Northwest Lichenologist Society. She is the one who puts together the lichen display at the Mount Pisgah Arboretum Mushroom Festival. Cheshire has been foraging for edible plants and mushrooms since childhood. Her interest in mushrooms of the Pacific Northwest started when she attended Freeman Rowe's Biology of Mushrooms class at LCC in 1983. Cheshire leads forays annually for CMS and is a wealth of information about mushrooms and our local forests.
New Registration process – Please register below. At the end of the Registration period, names will be selected from a series of random drawings using a random number generator from Random.org. The first names (up to 10) will be selected from new CMS members that have never attended a foray. Then, everyone else will be included in the drawing. We will attempt to ensure foray partners are selected together. No guests, Memberships will be verified.
Registration for the Coast Foray is closed.