Always the last Sunday in October!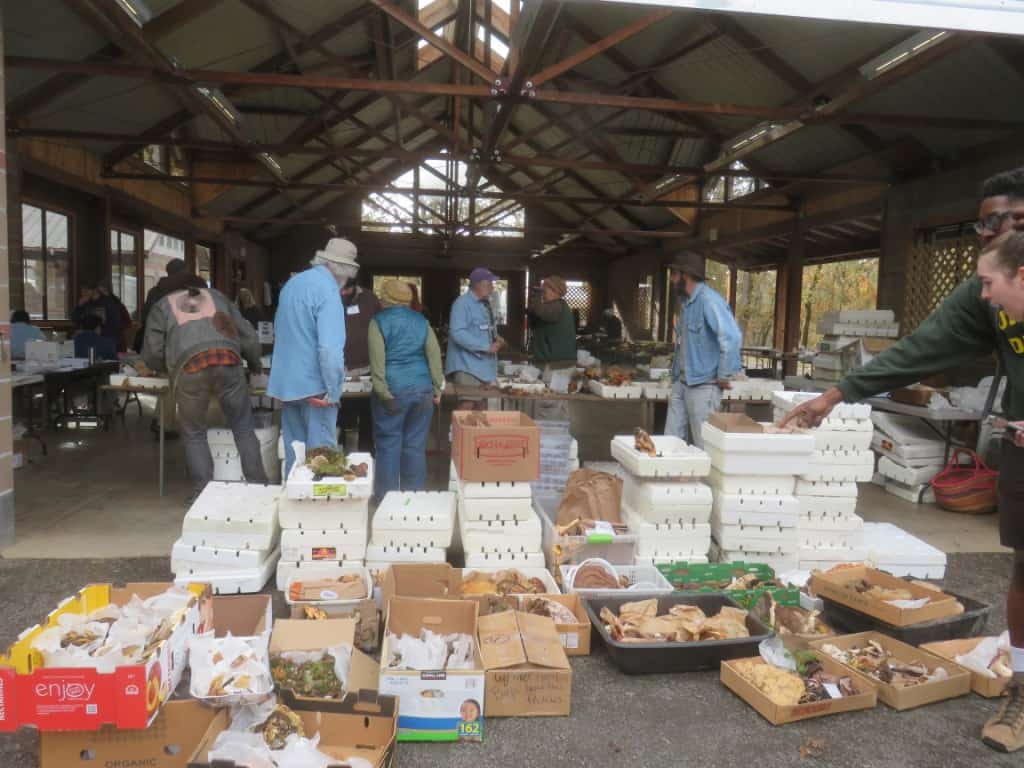 Food, Fun, Discovery, and More
The Mount Pisgah Arboretum (MPA) Mushroom Festival is one the largest mushroom festivals on the west coast. And, is definitely the largest annual educational event of the year for the Cascade Mycological Society (CMS). CMS along with Lane Community College (LCC), have been integral to this event since its inception in 1981. Read the History of the MPA Mushroom Festival to learn how then LCC Professor Freeman Rowe and CMS members-to-be began this fabulous festival.
CMS and LCC organize these displays and activities for the festival
The Mushroom Display – The "star of the show".

We

norm

ally have between 450 to 525 mushrooms identified to species on the display. F

or each, there is

an information card with the scientific and common names, edibility,

key

features, and habitat.

Edible and Poisonous Tent – S

ee and touch many of the edible mushrooms you will find in our local forest. More importantly, see common poisonous mushrooms to avoid. Plus, we display edible mushrooms side-by-side with their look-alike mushrooms that you will want to avoid.

Knowledgeable CMS members staff the tent to answer your questions.
Expert Identification Table – Invited expert mycologists, such as Noah Siegel and Steve Trudell,

will be on hand to identify mushrooms.

They will

also answer all of your

mushroom

related questions.

Culinary Demos – Talks on the Terrace features culinary demos with delicious mushroom recipes by local chefs and fungi aficionados.
Fun Fungal Facts – Learn everything you want to know about mushrooms, plus more that you never thought about!
Medicinal Mushroom Display – Learn all about the nutrition, health benefits, and disease-fighting properties of mushrooms.
Dying with Mushrooms – Learn how to use mushrooms to dye wool and silk, what mushrooms to use, and the colors you can create

.

The LCC Table – LCC students staff an educational table at the festival. They often have microscopes on hand for kids of all ages to peer through.
CMS Booth – Want to learn more about CMS? C

ome

talk to

us at the CMS Booth. While there,

y

ou c

an

purchase CMS merchandise (Cookbook, Earrings, T-shirts & Hoodies). CMS members always receive a discount.
To learn more about all of the activities at this family friendly festival. Click on Mushroom Festival from the Mount Pisgah Arboretum Events Page.