Game of Shrooms 2022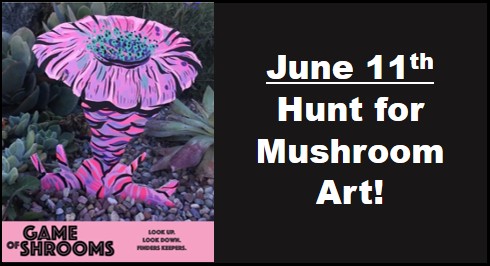 Game of Shrooms is a once a year world-wide art N seek event created by Attaboy (click for more information). The 2022 event is on June 11th. On that day, artists from all over the world hide their original mushroom-themed works in public places then they give hints (often on social media) for others to find AND KEEP!
Sandy Patton who makes mushroom crafts and donates them to CMS to sell at the mushroom festival and in the CMS store, has entered this years event on behalf of CMS. In addition to her normal mushroom crafts of earrings, magnets, and felted pins, she has made some special mushroom art exclusively for this event.
Below is the mushroom art that will be hidden around Eugene, in one of 4 parks: Amazon park, Maurie Jacobs Park, Wayne Morse Family Farim, and Westmoreland park. We will also be dropping hints on the CMS Facebook page and Twitter feed. Because our Facebook page and Twitter feed are completely "public", you don't have to have a Facebook or Twitter account to see them.
Stay tuned for some art-tastic fun!