Teaching and Demonstration Support Grants
The Cascade Mycological Society awards grants of up to $200 for those wishing to teach children (kindergarten through grade 12) about mycology. The grant is intended to introduce children to mycology and may be used by the recipient to teach lessons on mycology, host a speaker, conduct a field trip, grow mushrooms in the classroom, obtain books for school use, and the like.
The amount awarded will be based upon merit and the cost of the proposed project. Cascade Mycological Society is willing to assist applicants in developing projects. In addition, Cascade Mycological Society may be able to provide additional resources for projects, such as by arranging for speakers or foray leaders.
Freeman Rowe Educational Scholarship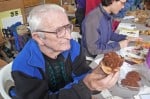 CMS has been proud to offer the Freeman Rowe Educational Scholarship since 2008. Eligibility for the scholarship is limited to Oregon college students (community college or university undergraduate, or graduate) who are engaging in mycology research. The scholarship(s) are awarded for research that forwards the understanding of the biology and ecology of fungi or that demonstrates the practical uses of fungi.
The successful candidate will receive up to $1,000 and will be expected to present the results of the research at a CMS general meeting. Applications may be submitted at any time through our online application form.
For more information, please e-mail president@cascademyco.org.