CMS Meeting – April 20, 2022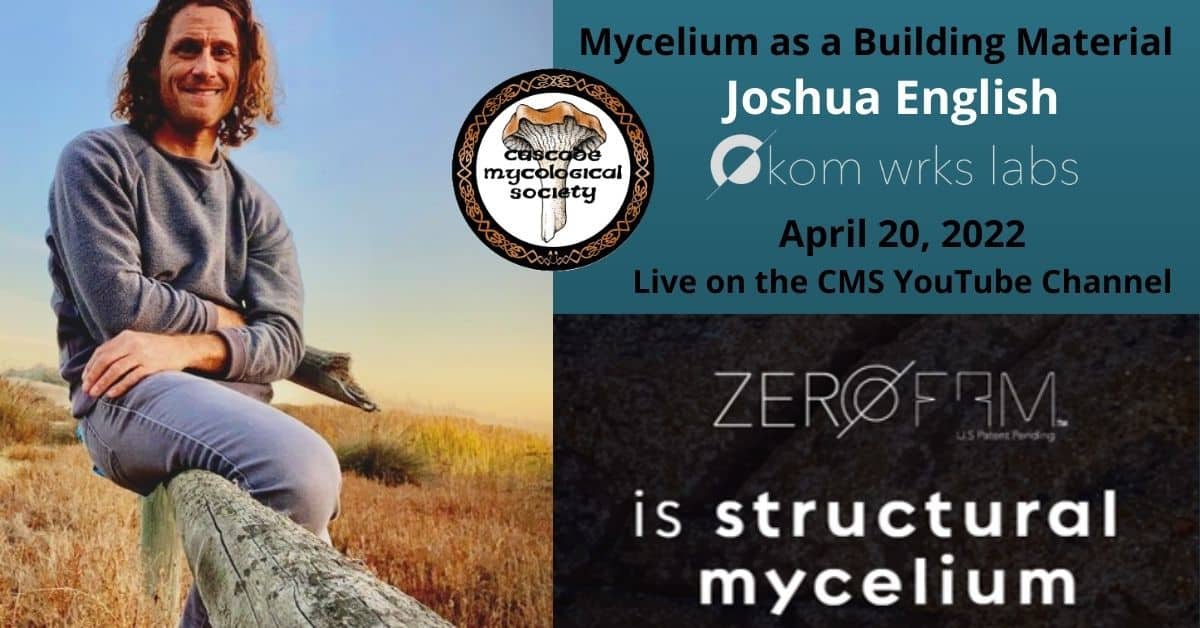 When: Wednesday, April 20, 2022, at 7:00 pm
Where: Live Stream on the CMS YouTube Channel (open and click to set a reminder)
Nature is the best architect of all. Few companies now are employing one of its finest technologies – mycelium – in order to create more sustainable material for architecture, packaging and more. Since the advent of mycelium based composites in 2006, the goal, for many, has been to discover a way to grow a structural, load-bearing formulation. Described with "foam-like" properties, mycelium composites have found their way into several amazing, non-structural applications.
Join CMS and our very special guest speaker Joshua English of Okom wrks labs as we explore the world of mycelium as a building material. Okomwrks envisions a future where regenerative design is standard practice. Building partnerships with our living planet in order to discover new ways to build and live symbiotically. He will discuss the history and possibilities of using mycelium as a medium for structural based material.
Learn more about Okom Wrks
About the Speaker
Joshua lives in San Diego and is a graduate of the Interior Architecture and Design program at Academy of Art in San Francisco. He has been an artist and designer for over 27 years. He has a multi-faceted skillset which includes such varying fields as data visualization and large system design, as well as, architectural and industrial design.
He is part of the vanguard of designers, architects, and engineers forging a new path to help steer humanity away from the cliff before our green, verdant earth is irredeemably lost for future generations. His current work is primarily focused on harnessing the self-replicating wonders of mycelium in order to create 1 to 1 substitutes for materials that have historically led to deforestation. His innovation uses low-tech means of creating load-bearing, structural components from 3 simple ingredients: mycelium, hemp hurd, and organic cotton. And in 2018, he established okom wrks labs making mycelium building material a reality.