Mushrooms can do strange things
This is an interesting time within our mushroom hunting season. Mushrooms like winter chanterelles, bellybutton hedgehogs, and verpas are pretty much finished while morels, spring boletes and coral mushrooms are just getting started. Although much of our spring mushroom hunting action will be taking place farther south and east of the Cascade Mountain Range, a big flush of mushrooms just took place right here in Ron & Sandy's backyard. I'm talking about none other than Stropharia rugoso-annulata, also known as Wine Cap, King Stropharia, and the Garden Giant. It was so exciting to see this amazing flush of mushrooms that I just had to compose this little rap ditty about them. So put on your best rap voice and give it a go.

Garden Giant Mushroom Patch Rap
We were just about to go from April to May,
The sun was coming up on a dry Saturday,
So, I shuffled outside without delay,
Our garden was bloomin' like a big bouquet,
I spied an odd shape just across the way,
It could only be described as a mushroom buffet,
I grabbed my camera and went down the pathway,
A crop of Garden Giant's had come out to play,
They were really puttin' on a sweet display,
Grabbed my knife and a big empty tray,
Gathered some up and let the others stay,
I'm thinking of a stir-fry or a mushroom soufflé,
Maybe butter fried mushrooms with a fish filet,
A garden fresh salad as a tasty entrée,
Pairing it up with a nice Beaujolais,
Or doin' it big with a French Cabernet,
Ya gotta do it right when you go gourmet,
A taste combination that's hard to convey,
Now I got what I needed for our meal today,
But I'll soon be doin' an instant replay.
This was certainly not the first flush of Garden Giant mushrooms we've had but it is the first time I've inoculated such a wide area in a single raised garden bed. In the past I created smaller patches in multiple garden beds interspersed with various vegetables we were growing. This spawn was placed all around the perimeter of a 4'x4' garden bed with a persimmon tree growing in the middle. The mushroom flush came up much like a big fairy ring simply as a result of how the spawn was spread out.
While it was exciting to see, some strange things were going on with some of our mushrooms . It's not uncommon to see wild mushrooms with atypical cap shapes but those are mostly due to interference from various obstacles it encounters while developing. In this case, it seemed more like two different mushroom species were fruiting at the same time. In the upper part of the photo to the right you can see the very classic burgundy colored Garden Giant with its smooth cap. The single mushroom in the lower part depicts the interesting color and texture variations that occurred sporadically within the mushroom patch. Having grown this species of mushroom in the past with spawn from four different sources, my first inclination was that this may be a natural variant of the Garden Giant fungus or perhaps a different strain.

I tried looking online for information regarding this phenomenon but found nothing. I then emailed Field and Forest where I obtained the spawn block to see if they had ever encountered a similar fruiting outcome. I quickly received a very comprehensive email response back from Mary Ellen Kozak. In her email she stated that they have also experienced this condition during their late fall fruiting of the Garden Giant mushroom when temperatures are typically cooler.

As a comparison, Mary described the very popular "donko" shiitake mushroom that is fruited in cool temperatures in Japan. It also depicts some of the same development oddities but these are purposely induced for density, appearance, and flavor. Mary stated; "Like shiitake with the same weird growth effects, this only happens in the early spring and late fall. The classic shiitake "donko" mushrooms grow with the fissures and "tight" cuticle because the growth is very slow when fruiting in early spring and the tissue has time to phenotypically react to the conditions; plus there is the fluctuating temperatures (not to mention humidity differences between day and night… for sure a factor in color development) that facilitate growth rate differences."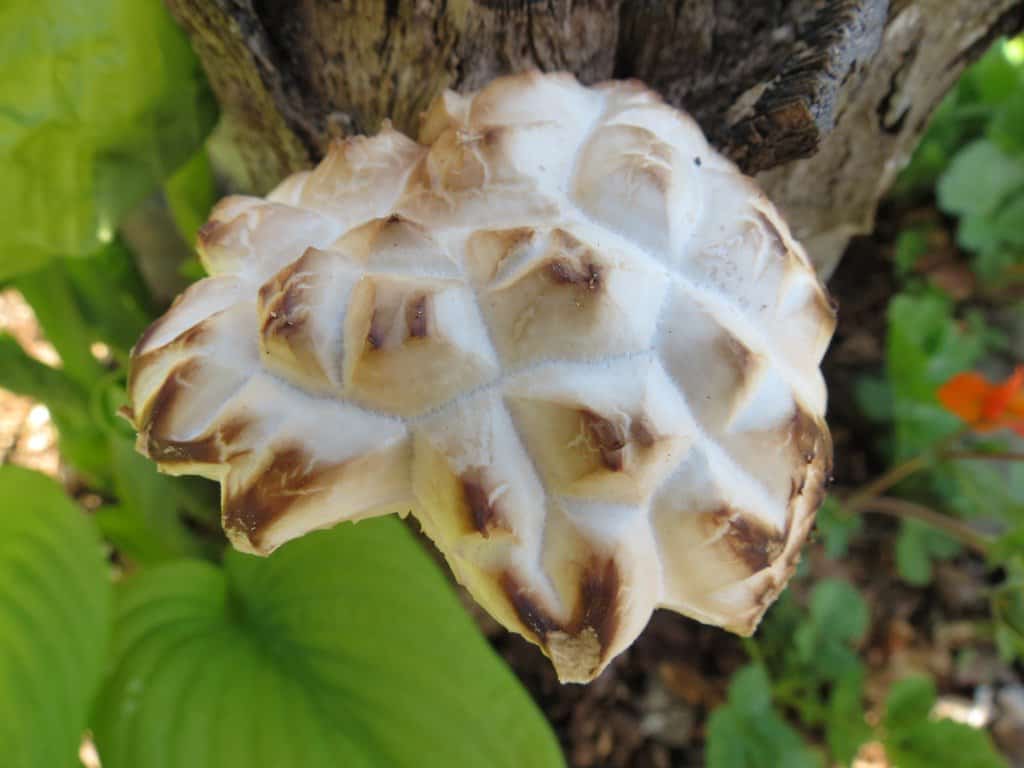 Oddly enough, we had a shiitake mushroom fruit during our email correspondence that went all donko on us, showing all those weird donko features. We have not picked this mushroom yet so I can't tell if the cool weather development has created a gourmet treat or just an alien looking shiitake worthy of being in a science fiction movie. In any case, Mary has contributed a very informative summation of the donko shiitake at this Field and Forest blog site.

Who would have thought that temperature and other environmental conditions would have created such variation in mushrooms growing from the same mycelium patch. Regardless of shape, color, or size, we harvested a nice collection of both classic and odd looking Garden Giant mushrooms for our dining pleasure. And, as we were looking for something new and interesting to create with some of our mushroom harvest, a recipe suggestion arrived via email from none other than Field and Forest. Although we substituted the Garden Giant mushroom for the Almond Agaricus, the outcome was still quite delicious.

Mediterranean Almond Agaricus Wraps
Summer is also a great time for growing delicious Almond Agaricus mushrooms (Agaricus subrufescens). Here is a tasty vegetarian wrap where we cut big Almond caps into slabs and browned them on each side. Juicy and meaty, with a hint of almonds – you won't miss the steak!
Tzatziki Sauce Ingredients:
1/2 c Greek yogurt
1/4 c grated cucumbers
1 tsp salt
1 clove minced garlic
1 TB lemon juice
1 TB chopped dill
Other Ingredients:
Olive oil
6-8 large Almond Agaricus mushrooms
Salt to taste
4 flour wraps
1/2 c chopped tomatoes
Lettuce
1/2 c crumbled feta
Preparation:
Combine all ingredients for Tzatziki Sauce and mix well.
Slice and sauté mushrooms in olive oil, cooking on each side until caps are golden-brown. Salt to taste.
Assemble wraps, layering about 2 TB Tzatziki sauce, mushrooms, tomatoes, lettuce, and feta. Enjoy!
Makes 4 wraps.

Well, this is May and so our newsletter will be taking its usual summer hiatus until it returns in September. Please, stop all that jubilant clapping! Sandy and I hope to see lots of CMS Members at the Morel Grill out where we can personally wish you a wonderful summer of gardening, hiking, and experiencing Oregon's spectacular parks and travel opportunities. And, let's hope this coming fall is not a repeat of last fall's disastrous mushroom season. Until then, take care and have a great summer.
Ron & Sandy