CMS Meeting – Dec 16, 2020
When: Wednesday, December 16, 2020, at 7:00 pm
Where: Online Event – CMS Youtube Channel (click to set a reminder)
Explore mushrooms in a new way with Mycological art. Join CMS for two presentations for our December meeting. The first by Dr. Roo Vandegrift on Scientific Illustrations. Roo will demonstrate the art of ink pen stippling to draw a morphologically accurate depiction of a Marasmius oreades, the Fairy Ring mushroom. Next, Cheshire Mayrsohn will explore the rainbow of dye colors that can be extracted from the mushrooms of the Pacific Northwest. She will then demonstrate the process from start to finish by dyeing fibers with the Phaeolus schweinitzii, the Dyers Polypore, to create yellow, green, and gold yarn.
Dr. Roo Vandegrift is a queer scientist and illustrator. He received his doctorate in mycology (the study of mushrooms and fungi) from the University of Oregon's Institute of Ecology and Evolution, doing much of his dissertation work on the ecology of fungi at Los Cedros, in Ecuador. He has published peer-reviewed research in internationally acclaimed journals such as Microbiome, Biotropica, and the Journal of Tropical Conservation Science. Most recently, he was awarded a National Geographic Explorer grant to coordinate a multi-disciplinary, international expedition to expand knowledge of the biodiversity at the Los Cedros Biological Reserve. He is currently the Producer for the forthcoming documentary film Marrow of the Mountain, about mining and conservation issues in Ecuador.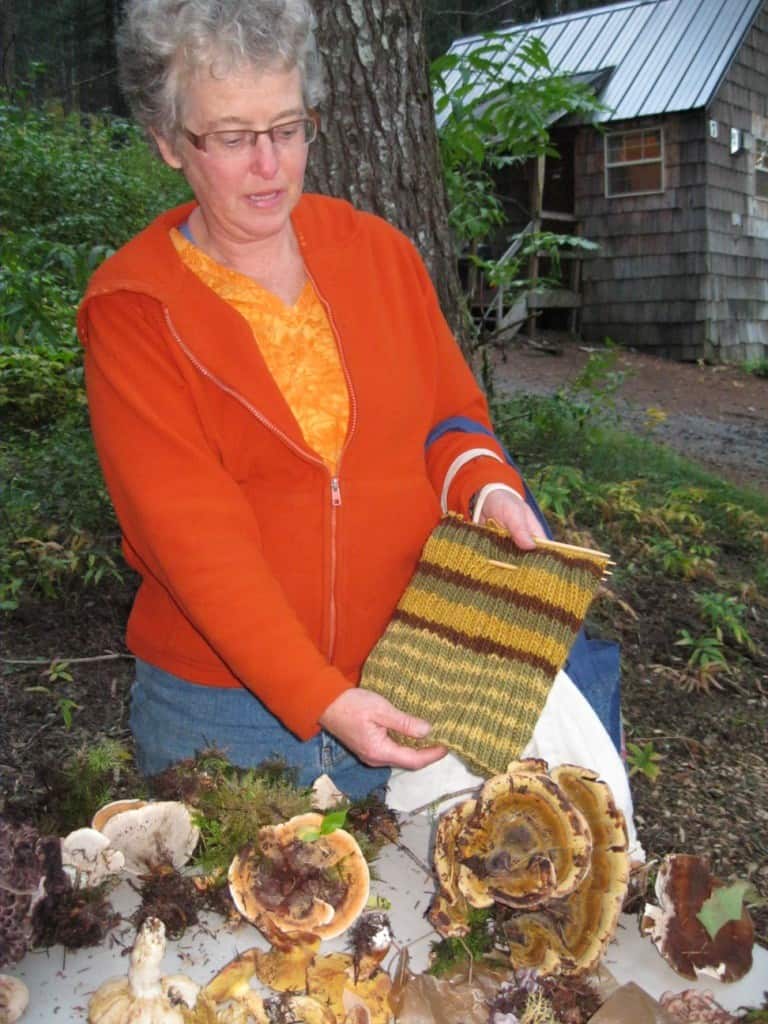 Cheshire Mayrsohn – The Lichen Display at the Mount Pisgah Arboretum Mushroom festival launched Cheshire's interested in dyeing fibers using mushrooms and lichens. Cheshire provides for and helps staff the Lichen display on behalf of Northwest Lichenologists.   She was often asked the question – Can you dye with lichens? This question led Cheshire to explore how to use lichens, mushrooms and plants for dye. Over ten years later she has become a local expert on dyeing with mushrooms and lichens; offering classes through the Eugene Textile Center and giving talks at Mushroom Festivals and Forays throughout the Pacific Northwest. After dyeing yarns, she then knits them into hats and scarves. Cheshire is a retired botanist for the Bureau of Land Management (BLM), a founding member of the Cascade Mycological Society (CMS), and its current President.