On Saturday, Feb. 2 there will be a foray led by David Hammond and Cheshire Mayrsohn with the intention of collecting mushrooms for the Fungal Feast to be held Thursday Feb 7. This time of year we expect to find hedgehogs, winter chanterelles, and black trumpets if we are lucky. We will be going to the Brice Creek area.
As is the case for all CMS forays, participation is limited to members only. Total capacity for this foray will be limited to 24. Information on where to meet will be sent a few days before the foray directly to those who have registered.  To register, send email to forays@cascademyco.org with the following information :
Name of each person coming :
Others in your party (optional) :
E-mail :
Phone :
Please bring on the foray a signed liability waiver of each person, available here: Liability Waiver.  In addition, please bring lunch, water, something to carry mushrooms in, and money for gas.
On Saturday November 17, Chris Melotti and Molly Widmer will be coleading a CMS foray. This foray will be heading to the Cascades, with the exact location to be determined. The emphasis of this trip will be on collecting edible species for Thanksgiving. In the spirit of the holiday season, we will encourage sharing of what we find, so that everyone can go home with something edible. What better way to impress your family than showing up to the Thanksgiving table with a basket of Chanterelles?
Please remember to bring your mushroom picking permits and trail parking permit, if you have one. Expect to carpool, and please be prepared to split the cost of gasoline with whomever drives (bring cash).
Participation in this foray is limited to CMS members, and registration will be limited to 24 people. Registration is required. To register, send an email with your name, phone number, and the names of members coming with you to forays@cascademyco.org. We will respond and let you know that you are on the list, unless space runs out.
We will be meeting at 9:30 am in Eugene, the precise location will be sent to those registered for the foray.
Note : Foray registration is now closed
Coast Mushroom Foray with Steve Trudell
October 25-26th, Jessie M. Honeyman State Park
Join fellow mushroom enthusiasts for a mushroom hunt on Thursday; ID what was found; join in a pot-luck dinner; and stay over in one of Honeyman's yurts on Thursday night; or arrive to join Steve just for the guided mushroom hunt on Friday. Steve Trudell, co-author of Mushrooms of the Pacific Northwest, is an affiliate professor in the College of Forest Resources and lecturer in the Biology Department at the University of Washington. He has been identifying and photographing mushrooms and studying their ecology for over 30 years. He writes for several mycological publications and frequently serves as foray mycologist or invited lecturer for mushroom and other nature groups.
Last year you may have attended Steve's presentation at LCC. He also stayed for the entire weekend and helped to identify mushrooms for the mushroom festival. Because of him we were able to have several Cortinarius mushrooms photographed and identified that otherwise would have been left on the "what is this" table.
October is one of the most beautiful times of the year to visit the coast. Honeyman State Park is a great place to forage for mushrooms and many unusual and rare mushrooms have been found there. Last year someone found Hydnellum geogenium and brought it to the MPA mushroom festival. Steve was instrumental in getting this very rare find identified. We will try to locate it again this year; major points for this. Since the foray is only days before the mushroom festival at Mt. Pisgah Arboretum we will bring back as many specimens as possible to display there.
Yurts: Each yurt has a twin/full bunk bed and a futon couch/double bed. Three people will be assigned to one yurt. Unless you register 3 people that are staying together in one yurt, you will have to share a yurt with others. For more information about Jessie M. Honeyman State Part visit their website at www.oregonstateparks.org.
Mushroom Foray Registration
Important! Space is limited and available to CMS members only. There are only 15 spaces available for the yurts and 15 spaces available for those arriving only on Friday. Registration will close as soon as the Foray has reached maximum capacity. You must be registered to attend this event. There are no "drop ins" allowed since this is a fundraiser for CMS.
Cost: $65 for overnight, Thursday, Oct. 25th, in a Yurt at Honeyman State Park; $45 for the Friday, Oct. 26th, foray only. No dogs allowed. Please pay via Paypal and see below for additional information to send by email to president@cascademyco.org .
Refunds: If you cancel your registration before October 1 your refund is 75%. No refunds are available if you cancel your registration after October 10.
This event is sponsored by Cascade Mycological Society (CMS). Details of the foray will be emailed to registrants.
Once you have registered, please send an email to president@cascademyco.org with the following information:
Name:
Address:
Phone Number:
Email:
How many in your party?__________ Male______ Female______
The foray is limited to CMS members ONLY and pre-registration is required. You must register by the end of day Sunday May 13th in order to attend the foray. NO EXCEPTIONS! This sounds strict, but we need to have a firm count of the number of attendees so that we can plan the appropriate number of leaders and locations. For general information on what to expect at at a CMS foray see http://cascademyco.org/2006/09/cms-2006-foray-schedule/
We will be meeting at 7:45 am Saturday from the Eugene/Springfield area. Alternately, you can elect to camp in the Jack Creek area on Friday night. Either way the specific meeting time, location and any additional instructions will be provided via email to those who are registered for the foray.
An email has been sent out to members with instructions on how to register for the foray. If you are a member but have not received the email instructions (perhaps because you have not shared your email with us yet), please email your request to forays@cascademyco.org and we will provide them to you.
Our resident expert Chris Melotti will be leading a mushroom foray this Saturday February 18th 2012.

Forays are open to CMS members only, and preregistration is required. Please register at forays@cascademyco.org by 12:00 PM Friday the 17th. The group will meet at 10:00am on Saturday at a location approximately 30 minutes from Eugene. Instructions on where to meet will be provided to those who register. Also please see our *General Foray Information*

If you have any questions, please contact the foray coordinator at forays@cascademyco.org.
Changes to CMS Forays:
The CMS board met to discuss forays and issues related to increased foray turnout and membership. First, we are happy that the interest in forays has increased and want to make sure that our forays stay fun and safe for all involved. We also want to make sure that all members have an opportunity to learn through these forays if they are interested. However the increased turnout has brought its own set of challenges as well and some changes needed to be made.
Due to increased turnout at forays and in order to manage size and keep forays safe, registration is now required in advance and is available for members only. This is a change to the previous policy that allowed friends of members to attend without becoming members. This is also a change to the way previous forays were organized where anyone interested could show up that morning without notifying the leader. If you aren't a member and want to attend a foray, keep in mind that there are several membership options open and we want to make this affordable to everyone. Family memberships allow members from a single household to attend.
Registration will be done via email for now, but we may add another online option in the future. By having a list of attendees ahead of time, we will be able to cap forays before they become too large for foray leaders to safely keep track of the group, and to keep our impact on the ecosystems at a healthy level. If you have any questions or concerns about these changes you can contact the foray coordinators at forays@cascademyco.org.
Also please see our *General Foray Information*
Now For The Good Part!
Join us Sunday, Feb 12. for a foray with Harriet Kelly and David Hammond,low elevation, Cascade foothills, within 40 miles of Eugene. We will meet at 10 a.m. and plan to be back by midafternoon. Members only, no guests, no dogs.
We're hoping for hedgehogs, winter chanterelles and black trumpets, and good weather. Terrain will be moderate, no steep climbs required to get to mushrooms but the trail is narrow in spots. Projected range is under 2 miles. Mushroom permits required. The permit you got last fall is now expired. Please get your 2012 mushroom permit from the Forest Service at 3106 Pierce Parkway in Springfield8-4:30 Monday thru Friday or any other Forest Service office.
Reservation required, foray is limited to twenty five peoplePlease bring your trail head parking pass, if you have one. register at forays@cascademyco.orgby Thursday Feb. 9. Please include the names of all people coming including children and a contact phone number (cell phone number is preferred, as I need it for the trip roster). Each person registering must be a member! Please bring a watch, dress for the weather. Meeting location and more information will be sent out with registration confirmation.
NOTE: Updated foray information. There will be one more foray before the festival on Friday the 28th. Since this is on a school day, the high school parking lot is not available and a new meeting place has been chosen. This is the Ray's Food store in Pleasant Hill meeting at 8:45 AM and leaving at 9:00 AM sharp.
There are currently three forays confirmed.
The confirmed dates are Oct. 22nd, 23rd, and 28th.
Forays are limited to CMS members (and friends) only. You can become a member to join us!
Meet at the South Eugene High School by 8:45 for introductions and directions (except for the 28th, see the note above about meeting place). We will leave at 9:00am sharp. *General Foray Information*
NOTE: It would be very helpful for planning purposes if you RSVP'ed if you are planning on attending a foray. This allows us to better plan for group size. You can do this by emailing forays@cascademyco.org and telling us how many are attending.
Note that sometimes destinations are changed based on weather conditions and where we get reports of fungal activity, but here is a rundown of the planned destinations and forest districts. Please check back on this website the day before the foray for any changes or updates on foray details.
Oct. 22nd – Florence coast area / Siuslaw Nat. Forest
Oct. 23rd – Lower Cascades / Willamette Nat. Forest
Oct. 28th – Lower Cascades / Willamette Nat. Forest
Permit Details
We have procured a group permit for the Willamette National Forest that will allow a foray attendee to collect up to 5 specimens for festival purposes. This does not allow for personal collection (e.g. for edibles), a separate (free) permit is required in the Willamette Nat. Forest.
For the Siuslaw National Forest, no permit is required for 1 gallon of mushrooms per person. A group permit for festival purposes is in the works.
NOTE: This permit can also be used outside a foray, provided that you have in your possession a copy of the permit letter and a map of the allowed picking areas for the Willamette National Forest. These were handed out at the CMS meeting, but email forays@cascademyco.org if you need a copy of the letter. The maps must be picked up at a ranger station.
On October 14, 15, and 16th the Oakridge Hostel is hosting a new event called, 'For the Love of Mushrooms, a Weekend Foray.' Activities include lectures on mushroom ecology and sustainable harvesting practices, expert guided forays in the forests surrounding Oakridge, and a demonstration by a local chef on the culinary uses and preparation of mushrooms.
Oakridge, located in the foothills of the Cascades, approximately 40 miles southeast of Eugene is uniquely situated for great mushrooming according to local expert Peg Boulay.
Registration for the weekend includes all meals, lodging, guided walks to gather mushrooms, and evening lectures. For details visit the Oakridge Hostel event page.
Note: A group permit for collecting has been obtained that will let attendees collect for the Mt. Pisgah Arboretum Mushroom Festival. This will allow 5 specimens of each species to be collected for display purposes.
NOTE: Meeting time has changed. Meet-up and parking will be at 8:00 AM in the Albertson's parking lot in Springfield (west section of the parking lot, between McDonald's and Radio Shack).
We will leave promptly at 8am. A foray coordinator will be there at 7:45. Please gas vehicles, get breakfast, coffee and anything you need before meeting.
Alternatively, meet at the Jack Creek bridge near the campground at 11:00 AM.
We will have our May Foray/campout on May 14-15 at Jack Creek Campground in Central Oregon.  Open to members and their guests, please have mushroom picking permits and if camping, be prepared to pay the fee.  (I believe it was $10 per tent.)
Participants can return to Eugene at the end of the day or choose to camp with the group at Jack Creek Campground.
As usual, you should bring water, food, a WATCH!!, a whistle is good and anything you may need for your comfort and safety. We will not be close to any store, gas or other amenities. The weather can be very unpredictable, plan for everything. Fortunately we have usually been pretty lucky with the weather, but it's been a cold wet spring.
This foray will be in the Deschutes National Forest. For personal collection, a free permit is required and is available at Deschutes or Willamette ranger stations one of which is in Springfield. More information on permits is available on the Willamette NFS website. The rules for the Willamette apply the the Deschutes and a permit for one is good for the other.
Our next group foray will be led by board member Joe Spivack, who will lead us into the forests in the coastal range west of Eugene. This foray will take place in BLM areas. No permit is required for small quantities of mushroom collection.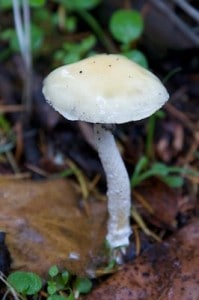 Forays are limited to CMS members (and friends) only. You can become a member on Saturday to join us! 
Meet at the South Eugene High School by 8:45 for introductions and directions. We will leave at 9:00am sharp. An alternative meeting place will be the Lorane Post Office at 9:30.
We have several foray dates coming up in October as the mushroom season unfolds. The first of these trips will occur on Sunday, October 10th. We will also have other forays in anticiaption of the Mount Pisgah Mushroom Festival on Saturday Oct. 23rd, Sunday Oct. 24th, and Friday Oct. 29th.


Forays are limited to CMS members (and friends) only. You can become a member on Sunday to join us! We plan on visiting the Siuslaw National Forest near Florence, dependent on weather over the next couple weeks. In the Siuslaw National Forest no permit is required for small quantities of mushroom collection, up to 1 gallon per person per day. Additional information on permits may be found on the Siuslaw National Forest website.
Meet at the South Eugene High School by 8:45 for introductions and directions. We will leave at 9:00am sharp.