Did you know that the amazing mushroom display at Mount Pisgah Arboretum's (MPA) Mushroom Festival is entirely collected, identified, displayed and interpreted by CMS volunteers? (Of course, we have wonderful guest experts assist us with identification.) You can help! Here's how…
Collect mushrooms
CMS will be organizing special forays to collect mushrooms for the show – watch the CMS website for details. You can also collect mushrooms on your own and bring your treasures to MPA's White Oak Pavilion on Saturday, 10/26, between 10 am and 3 pm. Will your huge Cauliflower Mushroom, fresh young Stinkhorn, or picture-perfect Scaly Pholiota win "Best of Show?"

Help set up on Saturday
You can help place mushrooms in the display, hang posters and signs, set up educational displays, and organize the CMS booth. You don't need to sign up to help out, just show up at the White Oak Pavilion on Saturday, 10/26, between 10 am and 2 pm.
Help set up on Sunday
Sunday morning, 8:30 – 10:00 AM is always a scramble to clear, clean and organize before the show opens. Again, just come early and we'll gratefully put you to work. Help share the fungal fun – booth volunteers talk to people about the CMS mission and upcoming events. You can also Read more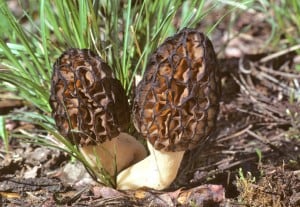 Spring Foray May 18th   
Our annual Spring Morel Foray will be on Saturday, May 18th. It is for CMS members only and dogs are not allowed. This year we will again explore in the general area of  Jack Creek, near the Metolious River in Central Oregon. Details of the meeting time and location will be given to members that have reserved their place in this foray by contacting the foray coordinator, Cheshire, at forays@cascademyco.org. Space will be limited to 25 people. The foray will be led by Board members David Hammond and Skye Weintraub.
Members who are interested in camping friday and/or saturday night are encouraged to stay at Link Creek campground, on the shores of Suttle Lake. Campsites may be reserved through www.reserveamerica.com, there are also 13 campsites that are available on a first-come first-served basis. If you are interested in camping near the rest of the group, please contact David at webmaster@cascademyco.org after signing up for the foray to find the area in Read more
On Saturday, Feb. 2 there will be a foray led by David Hammond and Cheshire Mayrsohn with the intention of collecting mushrooms for the Fungal Feast to be held Thursday Feb 7. This time of year we expect to find hedgehogs, winter chanterelles, and black trumpets if we are lucky. We will be going to the Read more
On Saturday November 17, Chris Melotti and Molly Widmer will be coleading a CMS foray. This foray will be heading to the Cascades, with the exact location to be determined. The emphasis of this trip will be on collecting edible species for Thanksgiving. In the spirit of the holiday season, we will encourage sharing of what we find, so that everyone can go home with something edible. What better way to impress your family than showing up to the Thanksgiving table with a basket of Chanterelles?
Please remember to bring your mushroom picking permits and trail parking permit, if you have one. Expect to carpool, and please be prepared to split the cost of gasoline with whomever drives (bring cash).
Participation in this foray is limited to CMS members, and registration will be limited to 24 people. Registration is required. To register, send an email with your name, phone number, and the names of members coming with you to forays@cascademyco.org. We will respond and let you know that you are on the list, unless space runs out.
We will be meeting at 9:30 am in Eugene, the precise location will be sent to those registered for the foray.
Note : Foray registration is now closed
Coast Mushroom Foray with Steve Trudell
October 25-26th, Jessie M. Honeyman State Park
Join fellow mushroom enthusiasts for a mushroom hunt on Thursday; ID what was found; join in a pot-luck dinner; and stay over in one of Honeyman's yurts on Thursday night; or arrive to join Steve just for the guided mushroom hunt on Friday. Steve Trudell, co-author of Mushrooms of the Pacific Northwest, is an affiliate professor in the College of Forest Resources and lecturer in the Biology Department at the University of Washington. He has been identifying and photographing mushrooms and studying their ecology for over 30 years. He writes for several mycological publications and frequently serves as foray mycologist or invited lecturer for mushroom and other nature groups.
Last year you may have attended Steve's presentation at LCC. He also stayed for the entire weekend and helped to identify mushrooms for the mushroom festival. Because of him we were able to have several Cortinarius mushrooms photographed and identified that otherwise would have been left on the "what is this" table.
October is one of the most beautiful times of the year to visit the coast. Honeyman State Park is a great place to forage for mushrooms and many unusual and rare mushrooms have been found there. Last year someone found Hydnellum geogenium and brought it to the MPA mushroom festival. Steve was instrumental in getting this very rare find identified. We will try to locate it again this year; major points for this. Since the foray is only days before the mushroom festival at Mt. Pisgah Arboretum we will bring back as many specimens as possible to display there.
Yurts: Each yurt has a twin/full bunk bed and a futon couch/double bed. Three people will be assigned to one yurt. Unless you register 3 people that are staying together in one yurt, you will have to share a yurt with others. For more information about Jessie M. Honeyman State Part visit their website at www.oregonstateparks.org.
Mushroom Foray Registration
Important! Space is limited and available to CMS members only. There are only 15 spaces available for the yurts and 15 spaces available for those arriving only on Friday. Registration will close as soon as the Foray has reached maximum capacity. You must be registered to attend this event. There are no "drop ins" allowed since this is a fundraiser for CMS.
Cost: $65 for overnight, Thursday, Oct. 25th, in a Yurt at Honeyman State Park; $45 for the Friday, Oct. 26th, foray only. No dogs allowed. Please pay via Paypal and see below for additional information to send by email to president@cascademyco.org .
Refunds: If you cancel your registration before October 1 your refund is 75%. No refunds are available if you cancel your registration after October 10.
This event is sponsored by Cascade Mycological Society (CMS). Details of the foray will be emailed to registrants.
Once you have registered, please send an email to president@cascademyco.org with the following information:
Name:
Address:
Phone Number:
Email:
How many in your party?__________ Male______ Female______