CMS Holiday Meeting – December 20, 2017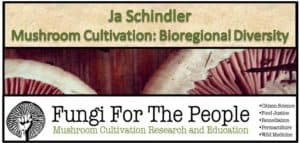 Arrive early for Holiday Shopping!

When: Wednesday, December 20, 2017, from 7:00 pm to 9:00 pm
Where: Amazon Community Center, 2700 Hilyard St, Eugene, Oregon 97405
The talk is free and open to the public. There will be a mushroom identification session prior to the speaker. Bring what's in your basket, edible or not, and learn from the experienced members of our community.
Ja Schindler, founder of FungiForThePeople.org, will present on 50 native species of edible and useful mushrooms to grow through the seasons in a diversity of outdoor habitats. Sharing details on starting new cultures, performing laboratory procedures, and outdoor growing environments, as well as useful tips and cultivation anecdotes, discovered over the past 15 years. Ja will also discuss a current community-driven research initiative studying mycorrhizae symbiosis with Cannabis. A variety of mushroom grow kits will also be available for purchase.
Visit Fungiforthepeople.org for further information on the organization's work.
 About the Speaker
Ja Schindler is a mushroom cultivator, gardener, independent researcher, teacher, writer, and environmental and food justice activist. Ja is the founder and director of Fungi For The People,  an organization with the mission to bring the skills of mushroom cultivation and use to a wide audience with the intent to help build resilient and ecologically enhanced relationships.
Since 2011, more than 2,700 people from all over the world have joined their hands-on courses. From their research lab and mushroom homestead in Westfir, Oregon, they cultivate a diversity of projects to support citizen science and ecological restoration, as well as producing cultivation supplies and mushroom extracts from their culture library of over 200 mushroom species.
With a background in commercial mushroom harvesting, working on a production farm, initiating mycorestoration projects and developing new low-tech mushroom culturing techniques Ja has many skills to offer. In addition to hosting their own workshops, Jas has presented at gatherings such as the Radical Mycology Convergence and the Northwest Permaculture Convergence, and is available for consultation and custom tailored workshops at your location.