Mushroom Adventure Weekend 2015
Food, Fun, Discovery, and More
Thursday, Oct 22nd thru Sunday, October 25th
Set aside the weekend of October 22nd thru October 26th for exploring the world of mushrooms. The Cascade Mycological Society (CMS) is sponsoring a Mushroom Adventure Weekend to provide both locals and visitors from around Oregon with an opportunity to touch, taste, forage for, and learn about Western Oregon's bounty of wild and cultivated mushrooms. 
Mushroom Adventure Weekend is a multiple day celebration of fungi featuring wild mushroom forays, cultivation workshops from Fungi for the People, mushroom tastings at local restaurants, a presentation by Food Writer and Mycophilia author Eugenia Bone, cooking demonstrations, a screening of the award-winning slime mold documentary "The Creeping Garden" at the Bijou, and more! The weekend culminates in the 35th annual Mount Pisgah Arboretum Mushroom Festival on Sunday, October 25.
Schedule of Events 2015
Daily (Thursday thru Sunday)
Wild Mushroom Tasting Tour: Taste a surprising variety of wild mushroom specialties to complement the festivities at a number of small, locally-owned restaurants representing Eugene's flourishing locavore food and beverage scene, including Cornbread Café, Marché Restaurant and Provisions Market Hall, Membrillo Latin Kitchen, Noisette Pastry Kitchen, Kamitori, Oregon Wine Lab, Party Downtown, and Red Wagon Creamery.
Visit Culinaria Eugenius at culinariaeugenius.wordpress.com for a complete listing of all the mushroom specials for the Tasting Tour. Dishes are subject to change, depending on availability, so go early and often!
Thursday, October 22, 2015
Mushroomery Farm Tour: Visit a farm growing certified organic medicinal and gourmet mushrooms. See the entire growing process starting from cultures, to spawn production and then mushrooms fruiting on a variety of substrates. Jen & Dustin Olsen, owners of The Mushroomery, also collect wild mushrooms year round and make medicinal mushroom tinctures. Tours every hour on the hour between 3 pm and 7 pm. For info contact 541-258-5855 or themushroomery@gmail.com.
Education: Award-winning slime mold documentary "The Creeping Garden" at the Bijou from 9:15 pm to 11 pm. "Imagine if Stanley Kubrick and Douglas Trumbull were tasked with making a 1970s educational science film about the pods from Don Siegel's Invasion of the Body Snatchers and you're some way to understanding The Creeping Garden."- James Marsh Documentary – 2015 – USA – 81 Minutes – Unrated
Tickets: $8 Advance/$10 Door Buy Tickets in Advance (recommended, full house projected)
Friday, October 23, 2015
Mushroom Gardening Workshop @ Skinner City Farm with Fungi For The People: Explore a variety of techniques for growing a wide diversity of regionally-appropriate mushrooms right in the living landscape. From 10:30 am – 2 pm we will be making edible mushroom patches and medicinal mushroom log totems at one of Eugene's best community gardens: Skinner City Farm. More details…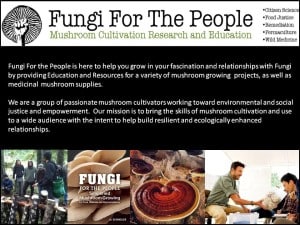 Medicinal Mushrooms @ Bohemia Panacea w/ Valerie Nguyen of Fungi For The People: Cozy up to some mushroom tea and talk about mushroom medicines at Bohemia Panacea w/ Valerie Nguyen of Fungi For The People. Learn about medicinal mushrooms local to our region: how to identify those that grow in the wild as well as sustainable harvesting practices. Get a taste of how you resonate with mushroom teas by sampling brews of 5 different cultivated and wild-harvested varieties. More details…
Members Only Foray: We will go to the Coast Range, maybe all the way to the coast, depending on where the mushrooms are. Maximum driving distance 150 miles round trip. This will be an all-day field trip, returning to Eugene before dark, Leaving at 9 am. Bring lunch and water, be prepared for cooler weather. Beginners are welcome, all levels. We will collect specimens of everything we see for the show. We will carpool, bring your National Forest Parking pass.  Limit 20. FULL
Key Note Speaker: The nationally known food journalist and author of Mycophilia Eugenia Bone is our featured Friday speaker for the Mount Pisgah Arboretum Mushroom Festival.  7:00 pm – 9:00 pm, Unitarian Universalist Church in Eugene, 1685 W 13th Ave, Eugene, Oregon 97402. She is president of the New York Mycological Society and the founder of Slow Food Western Slope in Colorado. Her work has appeared in many magazines and newspapers, including Saveur, Food & Wine, Gourmet, Martha Stewart Living, Sunset, The New York Times, The Wall Street Journal, and The Denver Post.
Saturday, October 24, 2015
Happy Hour Meet & Greet / Book Signing at Party Downtown: Eugenia Bone, Author of Mycophilia, 4:30-6:00 p.m. Join us for Happy Hour, no-host cocktails paired with special wild mushroom appetizer plates at Party Downtown, 64 W 8th Alley (Behind Red Wagon Creamery). Contact (541) 345-8228 for details about Party Downtown or visit partyeugene.com.
Sunday, October 25, 2015
Mount Pisgah Arboretum Mushroom Festival
The weekend culminates with the big mushroom display at the Mount Pisgah Arboretum Mushroom Festival.  LCC students in the "Biology of Mushrooms" class and members of CMS have historically provided critical volunteer labor for collecting and setting up one of the largest fungal displays on the west coast, with named species numbering in the several hundred each year.
Culinary Demo Schedule
This year, CMS will sponsor five 45-minute culinary demos from mushroom-loving local cooks, featuring appealing dishes and skills to use while wildcrafting. The program will be introduced by local food writer Jennifer Burns Bright.
11 – 11:45 "Savory Wild Mushroom Soup," Rachel Mallinga, Grad Student, Non-Profit Management/Food Studies, University of Oregon PPPM Dept.
12:15 – 1:00 "The Sweet World of the Candy Cap," Jennifer and Dustin Olsen, Farm Owners, The Mushroomery
1:30-2:15 "Pairing Wine with Pasta in Chanterelle Cream Sauce," Thomas Bennett-Stroud, Tasting Room Coordinator, Oregon Wine Lab
2:45 – 3:30 "Preserving Wild Mushrooms," Matthew Kilger, Proprietor, Eating Oregon
4:00 – 4:45 "Double Lobster Mac and Cheese," Anne Arndt Boulley, Proprietor, Artisan Chocolatier
Many other festival activities are provided by the Mt. Pisgah Arboretum including guided nature walks, hay rides, a Scarecrow Contest, arts and crafts vendors, a plant sale, and local food venues. Rain or shine, it is your best bet for a fall day in Eugene. Read more…