Puffball Recipes
< return to main recipe page
Fried Puffball Fillets
Recipe Courtesy of Louise Wilson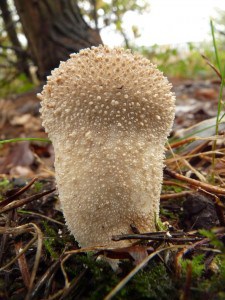 Ingredients
A large puffball, still white
One egg
Salt and pepper
Cracker crumbs
Oil for frying
Preparation
Remove the thin "skin" on the puffball. Slice into 3/4 inch slices. Beat the egg with salt and pepper. Dip mushroom slices into the egg mixture and then into the cracker crumbs. Fry in oil about one inch deep in iron skillet until golden. Drain on paper towels. Some members of our family like to eat them with chutney. Enjoy.
More Puffball Recipes:
Blanche Vaughan's perfect grilled puffball with rosemary and garlic
Cascade Mycological Society Wild Mushroom Cookbook
$21.50 includes shipping to anywhere in the USA
This is really much more than a cookbook. It is a snapshot of the PNW regions most popular edible mushrooms. For example, Chanterelles, Hedgehogs, Matsutake, Morels, and Lobster mushrooms, plus 12 others. We start with some storage and preservation techniques and a fruiting calendar. After that, recipes are organized by season. Each section includes a description of the mushroom along with foraging stories and tips from a network of mushroom lovers with a lifetime of experiences to share. The cookbook has over 184 pages with one-of-a-kind recipes and full-color photographs. The book is printed on wipe-clean gloss paper, has a lay-flat spiral binding, and also includes a convenient index.
All profits from the sale of the book will support the CMS grant and scholarship programs. The cookbook is dedicated to Freeman Rowe. Freeman's love of learning and teaching the beauty and diversity of fungi has touched so many of us.