Chanterelle Recipes
< return to main recipe page
Golden Chanterelle Gravy
Recipe courtesy of Peg Boulay
Ingredients
2 T. butter
2-3 T. flour
1 t. butter
1 cup onions, finely chopped
4 cloves garlic, finely chopped
4 cups golden chanterelles, chopped
1/2 t. salt
1/4 t. pepper
1 t. summer savory
2 T. sherry
2 T. fresh parsley, chopped
3 cups mushroom broth (or chicken stock or vegetable stock)
Preparation
First make a roux: Melt 2 T. butter over very low heat, add flour, stir, cook for a few minutes. Then, set aside. Saute onions in butter until translucent. Add garlic, sauté briefly. Add chanterelles, sauté briefly. Stir in seasonings, sherry, and parsley. Add broth and roux. Cook until thickened. Adjust seasonings.
I've served this gravy with turkey, stuffed peppers, Shepard's pie, and tofu-loafs. You can buy mushroom broth or make your own from dried mushrooms.
Angela's crème de chanterelle soup with a lamb consommé base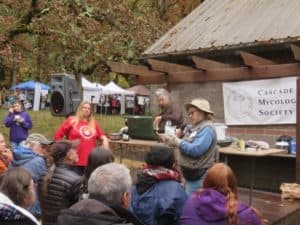 Above – Angela prepared this dish during the Culinary Demos at the 2017 Mount Pisgah Arboretum Mushroom Festival
Tools: Instant Pot or pressure cooker, immersion blender or a regular blender
Ingredients
8 cups broth (lamb, beef, chicken, vegetable, mushroom)
5-6 oz dried chanterelle mushrooms
1-1/2 Tablespoons of Casina truffle salt
2 teaspoons pepper
2 bay leaves
8 ounces cream cheese
One cube salted butter
16 to 24 ounces of half and half
Preparation
Place first five items in Instant Pot. Set on manual, low pressure, for 90 minutes. After allowing the Instant Pot to vent its pressure, remove the lid and remove the bay leaves. Using the immersion blender, blend until smooth, about 2 minutes. The mixture should be very thick. Add the cream cheese, butter, and slowly add half and half to desired consistency. Simmer to reduce for about 15 minutes.
Serve with slices of sautéed chanterelle, a swirl of truffle oil or chives for a visual accent.
As far as the bone broth goes, I don't really have a precise recipe. I put oven roasted lamb bones (maybe 3-4 pounds) in a slow cooker with onions, celery, carrots, some peppercorns and 10-12 cups of water. It simmers for 2 day on low and it gets skimmed a couple times a day. I add back more water to get to the flavor I want. It's easy to use beef broth since they come in 4 cup containers.
Chanterelle Stroganoff
Recipe Courtesy of Charlie Quinn
Ingredients
1/4 cup Butter

1/2 cup Flour

2 quarts Freshly-gathered Chanterelles (Cantharellus

formosus

or C.

subalbidus

),

cut into 2 pieces

2 cloves Garlic, minced or pressed

1/2cup Onion, minced or thinly sliced

1 Bay leaf (commercial or wild-collected Umbellularia californica)

1/4 teaspoon White Pepper 1/4 teaspoon Black Pepper 1/2 teaspoon Paprika 1/2 teaspoon Thyme

1/4 teaspoon Nutmeg

1 teaspoon Salt

1/2 teaspoon Maple Syrup, Honey or sugar

1/2 teaspoon Soy sauce

3 tablespoons Sherry (dry or sweet your call)

3/4 cup Cream or sour cream (or whole milk for less fat), reserving a little for garnish *1-2 cups Milk (non-fat to

whole

, depending on desire) * just add more milk & re-season if you want to make this "sauce into a "soup. (to simplify, use one quart of whole milk instead of milk & cream combo.)

1/2 cup Fresh Parsley for garnish Ladle over:

20 oz. dried Wide Egg Noodles (freshly made is definitely the best, but takes planning!), cooked, drained and buttered.

Garnish with: Fresh Cream drizzle (slightly whipped to thicken) or Sour Cream dollop Paprika, a few shakes

Fresh Parsley, chopped a generous sprinkling.
Preparation
Melt butter in a large pot. Coat chanterelles with flour, then add to butter. Add garlic & onion. Cook over medium-low heat for about 10 minutes, stirring frequently, to just barely brown the mushrooms by the end of the cooking time. During this cooking, add spices: bay leaf, white & black pepper, paprika, thyme, nutmeg. (This mixture will get a bit thick, but don't panic!) At the end, add salt, syrup or honey & sherry. Slowly and gradually stir in the cream & then the milk. Barely simmer over very low heat for 10 minutes more to combine flavors while you cook the noodles. Test for salt, sugar, spice and seasoning balance — add more of each as desired.
Ladle generously over piles of hot egg noodles, then garnish & serve. In addition, try pairing with with a nice beverage, bread, salad and maybe a seasonal side vegetable like chard with vinegar. Makes 4 big hungry folks happy (or 6 not-so-hungry ones).
Bob's Cream of Chanterelle Soup
Recipe Courtesy of Bob Wolfe
This is a killer cream soup with a very intense mushroom flavor and a rich texture. It's a great way to use a lot of chanterelles! The key to the intense flavor is the mushroom stock made in the first three steps, which then becomes the base of the soup.
Ingredients
3 pounds fresh chanterelles

3 medium carrots

1 large leek

4 ribs of celery

6 fourteen-ounce cans of

fat free

chicken stock or vegetable stock

1 cup of heavy cream

1 stick plus one T butter

1/4 cup all

pourpose

flour

3 T fresh minced flat leaf parsley
Preparation
Take take

two pounds of the best mushrooms, then slice the stems off to within an inch or two of the cap. Set the caps aside. Combine the remaining pound of mushrooms with the stems,

then

chop very finely with a knife or food processor.

Roughly chop the carrots, celery, and leek. Add vegetables plus the finely chopped mushrooms and stems to a large pot, and add the chicken stock. Bring to a boil, then reduce heat and simmer for about 45 minutes, stirring occasionally.

Strain the stock through a fine metal strainer to another container to remove all the bits. Use a firm spoon to press the chopped mushrooms against the sides of the strainer to squeeze out all the liquid possible (push hard!).

Place the resulting stock in your big soup pot, then set aside.

Discard the boiled-up veggies and mushrooms

.

Slice or roughly chop the remaining two pounds of prime chanterelle caps. In a large sauté pan, melt a stick of butter over

medium high

heat. When it starts to sizzle, add two tablespoons all purpose flour and stir continuously until the flour is saturated with butter, a couple of seconds. Continue adding flour one tablespoon at a time, stirring continuously, until the mixture will not absorb any more flour and the mixture forms a ball — a quarter cup or so of flour total.

Using a ladle, add one cup of the stock to the mixture (roux) in the sauté pan, and stir continuously. As the liquid is absorbed, keep adding more liquid, up to three or four cups worth, and stir continuously until you have a smooth, lump-free gravy. Add this mixture to the soup pot that has the stock, and keep on medium heat.

Dry

sauté the sliced mushrooms until they are reduced in volume by about half. Add one tablespoon butter to the mushrooms,

sauté

for another 2 minutes, and then add to the

stock pot

. Add the cream to the stockpot, still over medium heat, and mix well.

Lower the heat simmer the soup for an hour, or until desired thickness is reached. If it is too thin, make another roux with one tablespoon flour and one tablespoon butter as in step 5, and add the resulting gravy back to the soup pot. If it is too thick, add additional stock or milk to reach desired consistency. Take about 1/3 of the soup from the pot, mushrooms and all, and puree it in a blender until smooth. Add back to the soup, mix well.

Adjust salt level, and add black or white pepper if desired. Toss in the finely chopped fresh parsley.

Then,

serve with a fresh crusty baguette and some Oregon pinot noir.
More Chanterelle Recipes:
Cascade Mycological Society Wild Mushroom Cookbook
$21.50 includes shipping to anywhere in the USA
This is really much more than a cookbook. It is a snapshot of the PNW regions most popular edible mushrooms. For example, Chanterelles, Hedgehogs, Matsutake, Morels, and Lobster mushrooms, plus 12 others. We start with some storage and preservation techniques and a fruiting calendar. After that, recipes are organized by season. Each section includes a description of the mushroom along with foraging stories and tips from a network of mushroom lovers with a lifetime of experiences to share. The cookbook has over 184 pages with one-of-a-kind recipes and full-color photographs. The book is printed on wipe-clean gloss paper, has a lay-flat spiral binding, and also includes a convenient index.
All profits from the sale of the book will support the CMS grant and scholarship programs. The cookbook is dedicated to Freeman Rowe. Freeman's love of learning and teaching the beauty and diversity of fungi has touched so many of us.
Cascade Mycological Society on Pinterest.