Dave Pilz is CMS' invited speaker for December 2013. He is a consultant and writer through the auspices of his business, PilzWald – Forestry Applications of Mycology. He was formerly a Forest Mycologist with the Department of Forest Science at Oregon State University in Corvallis, OR, where he conducted research on harvested forest fungi, with an emphasis on compatible production of edible mushrooms in forests managed for timber and other amenities. This research focus evolved from 9 years of research with the Pacific Northwest Research Station (USDA-Forest Service) on the Productivity and Sustainable Harvest of Edible Forest Mushrooms.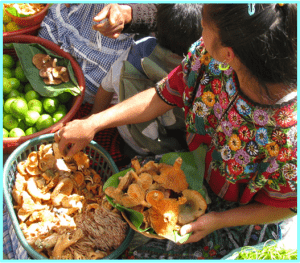 In July, David had the opportunity to attend an interesting workshop on edible mycorrhizal fungi in Guatemala and tour the country afterwards with fellow mycologists. He will recount stories of the adventure with colorful images for illustration. Join him for tales and discussion of the ancient mushroom traditions of the indigenous Maya.
This presentation is free and open to the public. CMS t-shirts and mycologically correct earrings of actual mushroom species will be available for purchase to help support Cascade Mycological Society's non-profit endeavors.
The first meeting of "the mushroom year" for the Cascade Mycological Society will be what we like to call the "identifest." What's an identifest? Just as it sounds, this meeting will be focused on identifying fresh mushrooms that people have brought with them. So, bring whatever fungal finds you've found (fresh, dried, or pictures) and we'll endeavor to identify them to species (using Mushrooms Demystifyed). If you can get a spore print before the meeting and bring that in too, it will help with the identification process.
We will have microscopes available Read more
Come join the rest of the CMS membership for our last general meeting of this season! This is a members only meeting and pizza social, and the last CMS activity before we go into  "hibernation" over the summer. The pizza social will be held on Thursday June 13 at 7 pm at Roaring Rapids Pizza, on 4006 Franklin Boulevard in Glenwood. In addition, Read more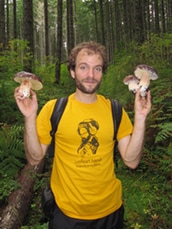 Our April general meeting will feature a talk by Alija Bajro Mujic, titled "Have Rake, Will Travel: Following the Ancestral Migration of Douglas Fir and it False-Truffle Associates"
Come and follow a young American mycologist from the balmy highlands of Southern Japan to the forested sky islands of the American Southwest and Mexico in search of the unknown false-truffles of Douglas Fir. The work presented in this talk seeks a better understanding of the unique ectomycorrhizal relationship shared by the genera Rhizopogon and Pseudotsuga and traces the historical migration of forests around the Northern Pacific Rim.
Alija Bajro Mujic is a doctoral candidate in the Department of Botany and Plant Pathology at Oregon State University.  Alija's interest in Fungi was first cultivated through Read more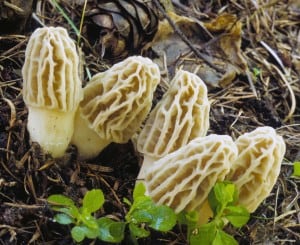 This Thursday, March 14, the CMS general meeting will feature our very own Chris Melotti, who will be presenting "Morels, Truffles and Other Spring Mushrooms". This presentation was originally created by Dr. Micheal Beug, who will not be in attendance. While spring is not the peak time for northwest mushrooms, there are still plenty of interesting fungi out there, please join us for some interesting photos and discussion of what can be found at this season.
Dr. Michael Beug taught Read more