We have heard from Jason Cortlund, who has directed the mushroom foraging themed movie movie "Now, Forager", which is playing from December 28 through Jan 4 at the Living Room Theatre in Portland. From Jason
" Mushroom clubs have been big supporters of the film so far, so I was hoping you might be able to share the screening info with your people. Here's the screening info:
http://pdx.livingroomtheaters.com/coming_movie_detail.cfm?movie_id=1311
We're a tiny production with no budget for advertising and publicity. Good will and word of mouth is the best we can hope for!
I grew up in the Oregon woods (outside Silverton) and graduated from UofO – and I think a certain Northwestern sensibility shows pretty well in the finished work. I know it's kind of a trek up from Eugene, but I thought I let you know anyway. We're trying to get a run at the Bijou as well – if you think your members might come out for a movie about mushrooms, that might help them put it on the calendar. "
Plus, Special Guest Appearance on KLCC's "Food for Thought" from Peg Boulay – 12 – 1 PM
Mycological events are coming at us fast and furious. You'll want to check back on our website frequently so you don't miss anything!
On Sunday, Oct. 23rd's "Food for Thought," Peg Boulay will be talking about mushrooms, and a special upcoming event that is a partnership between the CMS and several local restaurants with a focus on local sourcing and mushroom cuisine.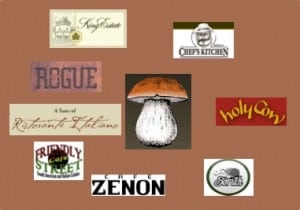 The CMS is proud to announce that 8 restaurants have coordinated with us for the 30th anniversary of the Mt. Pisgah Arboretum Mushroom Festival to offer their own takes on delicious mushroom fare starting on the day of the festival, Oct. 30th and continuing through the following Sunday.
Celebrate the delicious diversity of Oregon's wild mushrooms! Visit these fine restaurants (and brewery) to enjoy their fabulous featured mushroom dishes, created especially for Mushroom Madness Week.
King Estate with Chef Michael Landsberg: Wild Oregon mushroom ragout with Yukon gold potato gnocchi, lamb meatballs, roasted tomato leek vinaigrette with parmesan cheese and crispy artichoke hearts. 80854 Territorial Hwy, 541-942-9874.
Chef's Kitchen with Chef Bruno: Mushroom medley of 5 or 6 mushrooms cooked in a sherry-cream reduction in a way that you can taste their distinct flavors. 3443 Hilyard St, 541-687-2433.
Holy Cow with Chef Anton Ferrara: Ricotta gnocchi with wild mushroom sauce. 2621 Willamette St only, 541-852-4659.
Cafe Soriah with Chef Pierce Kieffer: 3 course mushroom dinner: appetizer is a mushroom strudel with goat's cheese and madeira reduction; salad of marinated chanterelles and spiced walnuts with frisee and sherry vinaigrette; main dish of porcini encrusted chicken with a wild mushroom butter sauce. 384 W. 13th Ave, 541-342-4410.
Cafe Zenon with Chef Cory Brader: Oregon wild mushroom savory pudding with chanterelles, porcini and truffle oil, along with grilled house baked bread. 898 Pearl St, 541-684-4000.
Friendly Street Cafe with Chef Mario Tucci: gnocchi with lamb meatballs and chanterelles in a light mushroom sauce. 2757 Friendly St, 541-343-3460.
Excelsior Inn & A Taste of Ristorante Italiano with Chef Mauritzio Paparo: pasta with 4 mushrooms; a dish that is called Pappardelli ai Quattro funghi in Italian. 754 E. 13th Ave, 541-342-6963.
Rogue Public House–Track Town Ales with Brewer Nate Samson: Porcini Scotch Ale. 844 Olive St, 541-345-4155.
Hemlock Ridge Excursions is offering two mushroom workshops this fall, a Cascades trip at Clear Lake Resort on October 21st-23rd, and a coast trip at Tugman State Park on November 4th-6th. These weekend workshops are hosted at beautiful sites selected for their proximity to great mushroom hunting locations. Participants are introduced to all aspects of "mushrooming" culture, from field identification techniques, family characteristics, wild edible harvesting, mushroom dyeing and cooking, and basic cultivation techniques.
Link below is a flyer with information on the dates and prices for the two weekend excursions:
For more information, see the Hemlock Ridge Excursions website
Don't miss the Keynote Speaker, David Arora, Friday, October 21!
Come savor autumn on the Oregon coast where the fun-guys go – to the Yachats Village Mushroom Fest! Enjoy wild forest mushroom cuisine, expert led mushroom walks, (many led by CMS members) talks and exhibits, culinary mushroom workshops, culinary mushroom markets, wine tasting, and live entertainment. Guided mushroom walks and exhibits are FREE and open to the public.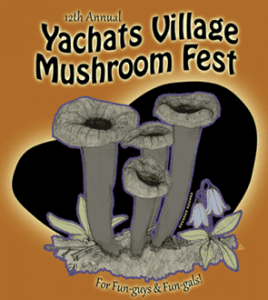 The Yachats Village Mushroom Fest is produced by the Yachats Area Chamber of Commerce and is generously supported by the Cape Perpetua Visitors Center and Scenic Area, Gerdemann Botanical Preserve, the Yachats Commons, the Yachats Ladies Club, Forest Ecologist Marla Gillham, OSU Faculty, Students and Alumni, Cascade Mycological Society, North American Truffling Society, Lincoln Co Mycological Society, Yachats area businesses, Yachats Farmers Market, area naturalists, and many culinary mushroom enthusiasts.
For more information please or call 1-800-929-0477, 541-547-3530. Or see the Website at http://yachats.org/MFest2011.html
As the rains start here in Lane County, opportunities for fun and learning about mushrooms abound.
Two of our founding board members, Peg Boulay and Bruce Newhouse, will be leading a free workshop at REI from 7:00 – 8:00. Spots are limited, preregister at REI's event site if you're interested in attending.