Yachats Village Mushroom Fest: October 16-18, 2015
Yachats is a small coastal village that highlights good regional food, local arts & crafts, and is surrounded by lush temperate rainforest that provides (and depends upon) an astonishing array of fungi and mushrooms.
This annual festival features wild forest mushroom cuisine presented by talented local chefs, culinary markets, wine and beer tastings, arts & crafts, live music and other entertainment.
In addition, you're guaranteed a FUN time while learning all about mushrooms, the role of fungi in forest ecology, how to grow your own culinary mushrooms, and how to create delicious mushroom dishes. A world class team of fungi scholars (many of them CMS members) and educators join this festival annually to provide informative mushroom talks, guided walks, workshops and wild mushrooms displays.
Schedule of Events
FRIDAY, October 16
7:30 p.m. – 10:00 p.m.
Yachats Commons Auditorium
Hwy 101 & W 4th St. [#15]
Doors will open at 7:00 p.m.
FRIDAY NIGHT FUNGUYS BASH!
Lively Music, Delectable Desserts, door prizes &..
Inviting all fun-guys and fun-gals! The festival opens with outstanding gypsy inspired violin and guitar by KIM ANGELIS & JOSEF, a wide selection of delectable desserts prepared by talented local chefs, and an opportunity to have fun with other mushroom enthusiasts. If you arrive in need of supper, mushroom appetizers and mushroom soup will be available here for purchase – or arrive in town early to partake of special mushroom fest dinners offered at village restaurants. Door prizes. No host beer and wine bar. Funguys Bash Tickets are $12 – includes music and desserts. Advance tickets will be available online beginning 9/27/15.
FRIDAY, SATURDAY & SUNDAY, October 16-18
Delectable Dishes In Yachats Restaurants All Weekend
2015 menus are posted as received. In the meantime, you may take a peek at the 2014 menus.
YACHATS VILLAGE FUNGI FEAST
Alder Bistro [Map #28] (2014)
Bread and Roses Bakery [Map #18] (2014)
Drift Inn Historic Cafe and Pub [Map #25] (2014)
Green Salmon Coffee House [Map #24] 2015
Heidi's Homemade Food & Italian Specialties [Map #28] 2015
Luna Sea Fish House [Map #26] (2014)
Ona Restaurant [Map #27] (2014)
The Village Bean Cafe [Map #20] 2015
The Wine Place – Appetizers & Wine Tasting [Map #18] 2015
Yachats Farm Store [Map #17] (2014)
Yachats Underground Pub & Grub [Map #27] (2014)
[Dining Guide] (PDF)
FESTIVAL WRISTBANDS
Your purchase of a $5 Festival Wristband allows you admission to all of the talks in the Speakers Forum and helps us meet annual production costs and sustain the festival. Festival wristbands will be available beginning Oct 1 at the Yachats Visitors Center, 241 Hwy 101 (10 am-4 pm), and during festival weekend at the Yachats Commons, 441 Hwy 101, Saturday 9 a.m. to 5 p.m.
SATURDAY & SUNDAY, October 17-19
ECOLOGY FOR EVERYONE
Scientific Presentations and Workshops for the General Public
Speakers' Forum
Yachats Commons, MP Room
Hwy 101 & W 4th St. [#15]
Open to all with $5 Festival Wristband
There is no pre-registration for the Speakers' Forum.
There will be ample seating.
Saturday 10:00 a.m. What is a Mushroom?
Dr. Steven Carpenter
A general presentation on what fungi are, what they do, and what mushrooms themselves are all about.
Saturday 11:15 a.m. Fantastic Fungi Fuel Forest Growth
Dr. Dan Luoma, Dept. of Forest Ecosystems & Society, OSU
Expand your understanding of the central role that fungi play in the dynamic life of a forest. This program will provide basic context for understanding how fungi contribute to forest growth. We will explore the interrelationships among fungi, plants, and animals in forests of the Pacific Northwest.
Saturday 1:30 p.m. Doggone Eccentric Morels! The Opportunistic Mycelia of an Edible Mushroom Weed
David Pilz, PilzWald (Forestry Applications of Mycology)
Although morels have not been reported to fruit in autumn around Yachats, they are among the most highly prized edible mushrooms worldwide. Species are just now being definitively delineated and named. And they are weirder than Portland. Conjoined morels often have genes from different parents. They can derive nutrition from multiple resources. Triggers for fruiting are complex and predicting where and when they will show up can vary from inscrutable to certain. They are experts at camouflage and require pattern recognition skills to observe. Indeed, trying to pin down morels can cause a form of 'madness' in humans. So we take out our tricorders and scan, "Live long and prosper!" Join me as we delve into the eccentricity of Morels!
Saturday 2:45 p.m. Lichens: Fungi in Disguise
Dr. Matt Trappe, OSU College of Forestry with Northwest Advanced Renewables Alliance
It's amazing how surrounded we are by lichens; they are so common we hardly notice them. This presentation, including photos, covers lichen basics and introduces the most common species that folks probably see every day.
Workshops
Yachats Commons
Hwy 101 & W 4th St., Doors open at 9 a.m.
Open to all with $5 Festival Wristband
Plus small workshop fees, as posted below.
Saturday 1:00 – 3:00 p.m. (Arrive 15 minutes early.)
Yachats Commons, Rm 5, W 4th & Hwy 101.
No pre-registration; seating is first come, first serve.
$3 Materials Fee collected after all are seated. Please bring $1 bills.
Cooking with Mushrooms, Making the Most of Your Bounty
Pam McElroy & Anna Russo, Lincoln Co Mycological Society
This workshop will focus on cooking with main choice edibles and guide you through delicious pairings. It will include information on individual wild mushrooms and the culinary companions to bring out the best in each species. Preservation will also be addressed.
NOTE: Enter the workshop from the single outside door at the center front of the Yachats Commons building so as not to disturb the Speakers' Forum in the main auditorium. Signs will be posted.
Saturday 3:00 – 5:00 p.m. (Arrive 15 minutes early.)
Yachats Commons Picnic Shelter, behind the Yachats Commons.
No pre-registration. $5 Materials Fee payable on site.
Please bring exact change. One bag limit per participant.
Grow Your Own Gourmet Mushrooms
Dr. Steven Carpenter and Kim Kittredge
3:00 p.m. Lecture/Slideshow
4:00 p.m. Workshop
Dr. Steven Carpenter is back this year, joined by Kim Kittredge, to show you how to grow your own oyster mushrooms (Pleurotus spp.). You will be amazed how easy it is to grow gourmet mushrooms, and how much fun it is to do! You will attend a lecture/slideshow followed by a workshop where you make your own bag of pasteurized straw and inoculate it with the mushroom spawn provided. In a few short weeks it will sprout delicious oyster mushrooms! Each bag should produce enough for several meals.
The 4 p.m. workshop is open only to those also attending the 3 p.m. lecture / slideshow.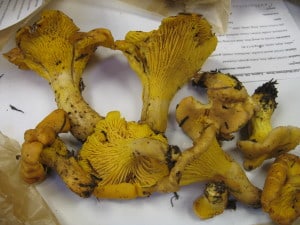 Fungi Exhibits
New Location: Yachats Lions Hall
W 4th St. and Pontiac
(behind Yachats Commons on 4th St.) [#19].
Saturday 10:00 a.m. – 5:00 p.m.
Sunday 9:00 a.m. – 3:00 p.m.
Free Admission
Native Forest Fungi Displays and Educational Exhibits
Provided and staffed by the
Lincoln County Mycological Society
Cascade Mycological Society
North American Truffling Society
Extensive Mushroom Exhibits
Displays and exhibits will include
fresh examples of both edible and toxic wild mushrooms
posters, books and other materials presenting current research
on the ecology of wild mushrooms
an opportunity to ask questions and chat about fungi with
people who know and love them
Ongoing Fungi Slideshow at Cape Perpetua VC
Cape Perpetua Visitors Center, In the Theater.
Saturday and Sunday, 10:00 a.m. – 4:00 p.m.
Free Admission
20-minute slideshow on a loop with over 300 fabulous fungi images by Dr. Matt Trappe. Each slide includes the mushroom's scientific name and common name (if it has one).
NOTE: There is limited parking at Cape Perpetua Visitor Center located about 3 miles S of downtown Yachats (east side of Hwy 101). The Parking Fee is $5 (or) display your Oregon Coast Passport or Siuslaw National Forest Passport. The parking lot has self-serve day use payment stations. Passports may be purchased at the Cape Perpetua Visitor Center.
THANK YOU Exhibits Staff:  Phil Lamberson (LCMS), Pam McElroy (LCMS), Anna Russo (LCMS), Marilyn Hinds (NATS), Pat Rawlinson (NATS), Zelda and Everett Carter (NATS), and Mysti Weber (NATS). Special thanks to Lincoln County Mycological Society and Cascade Mycological Society CMS for providing scores of mushroom specimens.\
GUIDED MUSHROOM WALKS
Guided Walks Schedule
All walks are free, but pre-registration is required.
Select a walk # from the walks schedule above and
Register Online (Brown Paper Tickets) beginning September 27
Maximum 12 people p/walk.
Oct 17-18, walks registration for any final spaces will continue at the Yachats Commons.
Saturday: Walks are scheduled every half hour from 10:00 am to 3 pm.
Sunday: Walks are scheduled every half hour from 10:30 am to 1:00 pm.
For a complete schedule and a description of the various walks levels, please click on the green link just above on the right.
Please Note: ALL Mushroom Walks are instructional.
Foraging is not permitted on these walks.
Well behaved leashed dogs are permitted on the guided walks although not encouraged.
Cape Perpetua Scenic Area Walks
Guided mushroom walks of various levels (A-D) are offered on easy trails in the Cape Perpetua Scenic Area during the weekend. Maximum of 12 people on each walk. NOTE: The trailhead location just south of town will be provided to you after you register. Walks DO NOT begin from the Visitor Center at Cape Perpetua this year.
Forest Trail Walks in the Village
Guided mushroom walks (Levels A, B) are offered on an in-town forest trail; trail includes moderate climb and descent with rustic steps/stairs, as well as flat level areas. Maximum of 12 people on each walk. NOTE: 15 minutes before your walk time, meet your Walk Leader at the Flagpole of the Yachats Commons. Your walk group will car pool to the trailhead from here.
THANK YOU Mushroom Walk Leaders: Dr. Susie Dunham, Joyce Eberhart, Dr. Dan Luoma, Chris Melotti, David Pilz, Joe Spivack, Dr. Matt Trappe, Molly Widmer, Anna Moore (CMS), Susie Holmes (CMS/LCC).
Shopping/Dining Brochure – Z Fold
Culinary Mushroom Markets
In the Village Shops…
FuNgi BOOKs, ArTS & CRaFTs, SPeCiaLTy GOODs
BOOKs
Mari's Books and…, Hwy 101 & W 3rd. 541-547-3022.
Stop here for your copy of David Arora's, All That The Rain Promises and More, and…
Green Salmon Coffee House, 220 Hwy 101. 541-547-3077.
New and old books on mushroom lore & hunting and medicinal mushrooms.
Ya-Hots Video Country Store, Hwy 101 & E 3rd. 541-547-4117.
Mushroom books on harvesting, identification and cookbooks.
ArTS & CRaFTs
Antique Virgin, Hwy 101 & E 3rd, 541-547-2757.
Glass Mushroom Pendants.
Touchstone Gallery, 2118 N Coast Hwy. 541-547-4121.
Intriguing pieces by selected artists. FMI Email Jacquee.
Turtle Island Candles & Gifts, 153 Hwy 101.
Artisan mushroom candles made on site.
Village Gift Gallery, 1881 Hwy 101 (Fireside Motel Lobby Shop).
Colorful, whimsical, artsy ceramic mushrooms.
Wave Gallery, 2118 N Coast Hwy. 541-547-4405.
Beautiful images of Pacific NW mushrooms by photographer Bob Keller.
Ya-Hots Video Country Store, Hwy 101 & E 3rd. 541-547-4117.
Mushroom theme beads and greeting cards.
SPeCiaLTy GOODs
Green Salmon Coffee House, 220 Hwy 101. 541-547-3077.
A mini-market, including packaged specialty Mushroom Cocoa and Tea Latte drink mixes, Green Salmon Mushroom festival T-shirts and mugs, packaged Candycap Gingersnaps and Cordyceps Chocolate Crinkle Cookies, powdered and dried medicinal mushrooms and more!
Judith's Kitchen Tools, Hwy 101 & W 3rd. 541-547-3020.
Great tools for the chef! Mushroom brushes, mushroom keeper bags, and mushroom slicers (German made), even a truffle/chocolate shaver (Italian made).
The Drift Inn Lobby Shop, 124 Hwy 101. 541-547-4477.
Special items for fun-guys and fun-gals. Open 8 a.m. – 9 p.m.
Yachats Mercantile, 130 Hwy 101. 541-547-3060.
Mushroom Fest aprons and kitchen towels.
Ya-Hots Video Country Store, Hwy 101 & E 3rd. 541-547-4117.
Mushroom gathering tools, including Burgon & Ball (Sheffield steel) mushroom knives.
CULINARY MUSHROOMS MARKETS
Saturday 10:00 a.m. – 5:00 p.m. (+)
Sunday 9:00 a.m. – 2:00 p.m. (+)
Stay posted for updates.
C & K Market Outdoor Tent, Hwy 101 & W 2nd.
In the parking lot of C & K Market, find a tent filled with a delicious mix of cultivated culinary mushrooms! Store open 'til 10 pm. 541-547-4561.
The Mushroom People Outdoor Booth, Yachats Commons front lawn. Hwy 101 & W 4th St. Choice edible wild harvested Oregon mushrooms, fresh and dried.
Rainforest Mushrooms Outdoor Tent at Yachats Video Country Store, Hwy 101 & E 3rd St. Rainforest Mushrooms is certified organic and produces exotic mushrooms, including shiitake, maitaki, lions mane, oyster, yellow oyster and pink oyster, and also offers mushroom kits. They have been growing mushrooms for 30 years and have a new farm in Yachats.
Ya-Hots Video Country Store Indoors & Out, Hwy 101 & E 3rd.
High quality certified organic and wild harvested fresh and dried Oregon mushrooms, including candy caps, porcini, lobster, chanterelle, chicken of the woods, maitake, matsutake, shiitake, wood ear (tree ear), hedgehogs, and others. You'll also find Oregon truffle powder, dried Black Trumpet and dried Yellowfoot, vegan and vegetarian terrine/pates in both earthy mushroom (vegan) and mushroom & artichoke mousse, along with the truffle mousse (meat based) that we carry throughout the fall. We also carry a mushroom cheese (baby bella jack) from Sierra Nevada Cheese Co in N Calif.
HARVEST FARMERS' MARKET
Yachats Commons, Hwy 101 & W 4th.
Sunday 9:00 a.m. – 2:00 p.m.
Weather Permitting – Outdoor market with fresh local produce, fresh and dried native forest fungi, and local arts and crafts. This is the last Yachats Farmers' Market weekend of the season.
LIVE MUSIC & MORE…
in restaurants, cafe's, pubs and lounges.
---
WE THANK OUR 2015 SPONSORS
The following businesses make it possible to host the phenomenal team of educators who travel to Yachats and volunteer their time to the festival every year.
Gold Level ($500-$999):
Adobe Resort, Fireside Motel, Ocean Odyssey Vacation Rentals, Overleaf Lodge & Spa
Silver Level ($150-$499):
Deane's Oceanfront Lodge, Drift Inn Historic Cafe & Pub, Ona Restaurant and Lounge, Sweet Homes Vacation Rentals, The Yachats Commons, Vacasa Vacation Rentals, Ya'Tel Motel
Bronze Level (up to $149):
Dublin House Motel, and to be announced.
---
Special Thanks to Our Original Idea People
Marla Gillham, the Festival's Education Program Coordinator Emeritus and Forest Ecologist: Marla joined the planning committee in year one, bringing scientific knowledge, environmental passion, and love of teaching. She has our continuing and sincere thanks for establishing the festival's education program, and for bringing in the phenomenal team of educators, many of them her friends and former colleagues, who make the festival's "Ecology for Everyone" programs possible.
John Ullman, the Festival's Initiator and exuberant optimist:
John proposed the festival to his fellow chamber board members upon returning from Italy where he'd been captivated by a village mushroom fest held in the Italian countryside. After winning chamber support for the Yachats festival, he chaired its planning committee for its first ground breaking years, and co-coordinated the Friday Nite Village Fungi Feast. As well as being an active chamber board member and citizen of Yachats, John was an artist, chef, architect, and all around enthusiast of life. He has left us with many fun and fond memories and is widely and dearly missed.
---
Chamber Directors David Locke, starting in year two, and Linda Hetzler, joining in some years later, have coordinated or co-coordinated the festival's welcome event through the wild Friday Nite Fungi Feast years to its current incarnation. They have each contributed in countless other ways, as well. Their individual knowledge, organizational skill, generosity and dedicated hands-on participation have made them invaluable team players and builders of this festival.
The Yachats Village Mushroom Fest is produced by the Yachats Area Chamber of Commerce with the generous support and collaboration of Yachats area businesses, the Yachats Commons, Cape Perpetua Visitors Center and Scenic Area, OSU Faculty, Students and Alumni, the Cascade Mycological Society, Lincoln County Mycological Society, the North American Truffling Society, and local and visiting naturalists.
FMI, please Email,
Beverly Wilson, Event Coordinator for the Yachats Chamber.
Tel: 541-547-3530; Toll-free: 800-929-0477