CMS Meeting – Nov 20, 2019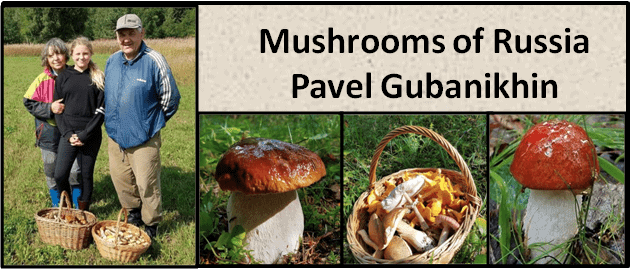 When: Wednesday, November 20 , 2019, from 7:00 pm to 9:00 pm
Where: Amazon Community Center, 2700 Hilyard St, Eugene, Oregon 97405
This event is free and open to the public. There will be a mushroom identification session. Bring what's in your basket, edible or not, and learn from the experienced members of our community.
Russians learn to pick mushrooms as soon as they can walk, and all of them go to the woods on weekends in August. By Sunday night virtually every well-known edible within a 100km radius of the city is gone. Our November speaker is CMS Board member Pavel Gubanikhin who grew up in St. Petersburg Russia. He recently returned with his daughter Alexandra so that she could experience mushroom foraging with his parents as he had always done while growing up there. This picture of Pavel's parents with Alexandra speaks volumes about Pavel's life-long love of mushrooming. This month he will share with us some of those experiences and the mushrooms of Russia.
We will have mushroom gifts for sale at our November meeting. Everyone will receive the CMS member discount. Cash or credit cards will be accepted.
CMS T-shirts
CMS Wild Mushroom Cookbook
Mushroom Magnets
Mushroom Christmas Ornaments
Mushroom Wine Charms
Mushroom Prayer Flags by Cada Johnson
Pavel Gubanikhin (CMS Board Member, Treasurer)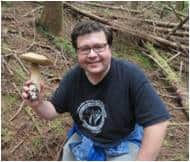 Pavel started foraging for wild mushrooms at the age of four with his grandparents while growing up in Russia.  When Pavel and his family moved to Eugene from Florida in October 2008, they attended their first MPA Mushroom Festival the very next day after coming into town, and have been enjoying mushroom foraging ever since.
Pavel has a Bachelor's degree in urban and regional planning, a Master's degree in public administration, and twenty years of experience in local government budgeting and finance with city and county governments in Ohio, Florida and Oregon. Pavel currently works as a finance manager for the City of Eugene, and had previously served as a treasurer for the Southeast Neighborhood Association and the Downtown Public Speakers Club.