CMS Meeting – Dec 19, 2018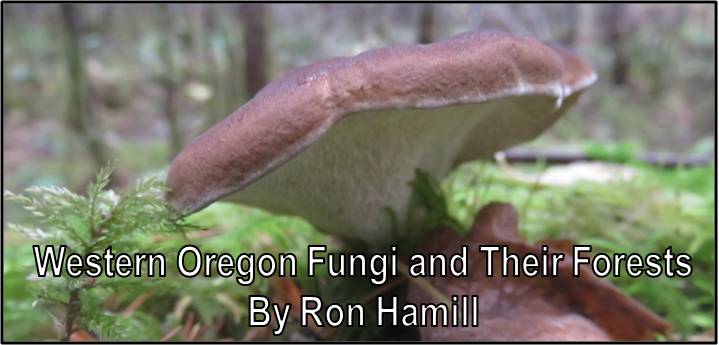 When: Wednesday, December 19, 2018, from 7:00 pm to 9:00 pm
Where: Amazon Community Center, 2700 Hilyard St, Eugene, Oregon 97405
This event is free and open to the public. There will be a mushroom identification session. Bring what's in your basket, edible or not, and learn from the experienced members of our community.
Western Oregon is home to a diverse array of fungi that are integral to the function of the forests they are found in and the communities of organisms they support. Forests change over time, and so do the fungal communities that shape them. We'll take a look at the forests, the fungi,  the animals that live there, and how they interact with the environment and over time.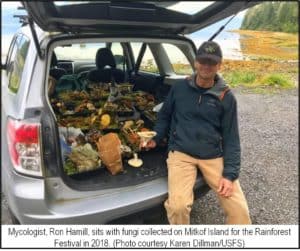 About the Speaker: Ron Hamill has spent a lifetime in the field observing nature.  He discovered mycology while attaining a botany degree and has been deeply interested in the taxonomy and ecology of fungi ever since. He has worked as a field mycologist and botanist for more than 25 years, doing surveys to describe habitats and to record and document rare and uncommon species from California to Alaska. He is a member of the Pacific Northwest Key Council is a founding member of The Cascade Mycological Society. He, along with co-pilot and dog Rubi, live in fungal Shangri-La on the North Umpqua River in Douglas County Oregon, where they look for fungi nearly every day of the year.
CMS will also be selling mushroom themed gifts for the Holidays at the December meeting. We will be offering the CMS Wild Mushroom Cookbook, wild mushroom earrings, ornaments, wine charms, and magnets, CMS t-shirts, and mushroom Prayer Flags.  Everyone present at the meeting will received the CMS Member Discount (even non-members).
We will be accepting both Cash and Credit Cards.