Meet the Artists – Wayne, Cheshire and Sandy
We have come to the last 3 artists in our "Meet the Artists" series providing biographies of everyone who has generously donated their time and talents to make the Mushroom Art Exhibit at the Morning Glory Cafe a success.  If you have not yet been, you have until the end of the month to view this diverse and creative collection of Mushroom Art.  Morning Glory Cafe is located at 450 Willamette St., Eugene, OR (next to the train station), Cafe hours are 7:30am-3:30pm.
Our last 3 artists, Wayne Gammie, Cheshire Mayrsohn, and Sandy Patton are all CMS members who are passionate about mushrooms and have found their artistic talents because of their love of mushrooming.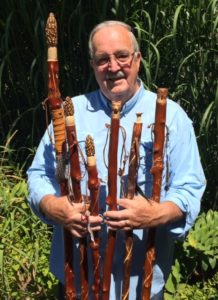 Wayne Gammie was a professional carver of meat for  23 years as a Meat Manger for Safeway. After retiring, it seems only fit that he would decide to take up wood carving as a hobby.  After taking classes in wood carving and wood burning he was on his way to carving sticks, drift wood, conks (shelf mushrooms), and any piece of suitable material he could find that looked interesting.
Wayne also enjoys mushroom hunting with his son Doug Gammie. He often picks up wood while they are out in the woods foraging. Of course, both he and Doug have pretty nice walking sticks to get around the woods with.  His walking sticks are also great for moving ferns and salal aside to see mushrooms hiding beneath.
It was Doug that introduced Wayne to the Cascade Mycological Society (CMS). He has learned a lot about the ecology and biology of fungi through the club and especially enjoys going out on forays.  His favorite forays are those that collect mushrooms for the Mount Pisgah Arboretum Mushroom Festival. It is always fun to go to the festival and see the mushrooms he found on display.
If you are interested in purchasing a carved walking stick from Wayne, you may email him at mapagam@aol.com.
=============================================================================================================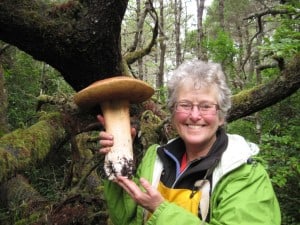 Cheshire Mayrsohn is a founding member of the Cascade Mycological Society and the current President. She is also active in the Northwest Lichenologists organization. Cheshire has been foraging for edible plants and mushrooms since the 1970s and began dyeing with mushrooms in 2005. Cheshire has always enjoyed knitting her mushroom dyed yarns into hats and scarves and has recently ventured into dying silk scarves and blouses with mushrooms.  Ms. Mayrsohn has given classes on dyeing with mushrooms and lichens at numerous mycological events and currently gives classes at the Eugene Textile Center.
You may contact Cheshire at cmayrsohn@efn.org
================================================================================================================
Sandy Patton has always considered herself to be creative, but mostly in solving engineering problems. After a 26 year career in Information Security, she and her husband decided to retire where they always enjoyed vacationing, Oregon. They picked Eugene and soon discovered CMS and foraging for mushrooms.  A CMS call for volunteers to create Mushroom Centerpieces out of clay for the annual CMS Fungal Feast event in 2012 brought out the artsy/crafty side in Sandy.   Afterward, she started crafting Mushroom earrings and donating them to CMS to raise funds for the Freeman Rowe Scholarship fund.  As seen in the above picture, Sandy recently started making Mushroom Christmas ornaments.  She has been in production mode with her earrings and ornaments for several months.  She is looking forward to selling both at the CMS booth during the Mushroom Festival.  She hopes to see you there – Mount Pisgah Arboretum, Sunday August 30th.
You may purchase "Sandy's Shrooms" Earrings (Chanterelle, Morel, King Bolete, Fly Amanita, Violet Cortinarius, Oregon White Truffle) year round on the CMS website: https://cascademyco.org/ (click on Store). We place them in a nice gift box and ship nationwide.  They make a great gift for any Mushroom Fan.