Meet the Artists – Kelly, Phoebe, and Julie
Kelly McTimmonds, Julie Hamilton, and Phoebe Roberts are three of the fifteen Artists featured in the Morning Glory Cafe Mushroom Art Exhibit sponsored by the Cascade Mycological Society.  If you would like to see their artwork along with many other Mushroom themed artworks, please visit the Cafe now through October 31st. Morning Glory Cafe is located at 450 Willamette St., Eugene, OR (next to the train station), Cafe hours are 7:30am-3:30pm.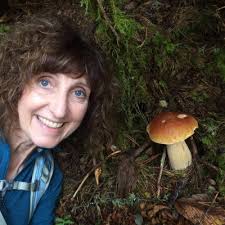 If you have never seen Kelly's felted mushrooms up close you are in for a treat.  Her work is one of the reasons I was inspired to put together the Mushroom Art Exhibit.  I had seen her mushrooms on Etsy and Pinterest and could not believe the detail. I have felted mushrooms myself; it is time-consuming and very difficult to incorporate the intricacies that she has mastered so well.  Obviously, the third picture here is not of a mushroom. But, it is so beautiful it needed to be included.  If you stop by the cafe you will be able to see the felted King Bolete and Zeleri Bolete pictured above. Plus, an adorable cluster of Sulfur tuft mushrooms with a slug lurking nearby. If her felting talents are not enough … you will also see an original Chanterelle watercolor painted by Kelly on display.
Kelly McTimmonds love for both art and nature was nurtured from the time she was very young. Growing up in northern California, she was able to gather collections of everything from rocks to butterflies, which later became the inspiration for drawings and paintings. The time she spent in the forest were a special part of her young life; family trips to a cabin in the Sierra Nevada mountains were times of great joy and discovery.  It was during her years at Humboldt State University that she discovered the wonderful and diverse world of fungi.  The towering Redwood forest is home to over 400 different species.  Their amazing diversity and design continue to fuel Kelly's creativity and inspire her work.
In addition to drawing and painting, Kelly  is the Mushroom Queen of Needle Felting! She has a flare for detail and intimacy with her subjects. She is able to find the right fiber to recreate what she sees in nature. Her observation of the Earth is inspiring. You can  imagine her walking quietly through the forests of Oregon kneeling down to see things more closely.
To see or purchase more of Kelly's fabulous felted artwork, visit her shop on Etsy: Fernwood Felting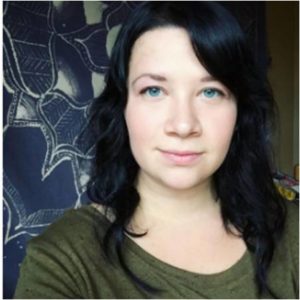 I found out about Phoebe through Mycologist, Author (to be), and artist Roo Vandergrift.  He asked me to take a look at her drawings and I was impressed.  She had only one mushroom depicted among her many drawings, a classic Amanita muscaria, the most recognizable and photographed mushroom in the world.  It would not be a Mushroom Art Exhibit without a Fly Amanita (common name).
Phoebe Roberts is a recent University of Oregon graduate who studied Environmental science and fine arts. She draws black and white nature-themed pieces using micron pens, ink or charcoal and hopes to one day have a career in environmental protection .
To contact Phoebe, send an email to: phoebelynneroberts@gmail.com
Adding Julie Hamilton to the exhibit was completely unplanned and happenstance.  But, I was very happy to learn about her. Julie is past President of the Central Oregon Mushroom Club in Bend and only began painting in the fall of 2015. She knows her mushrooms and paints them beautifully.  She had been thinking about offering her artwork to the public and this exhibit has given her the little push she needed to make it a reality. Julie has 5 original watercolors on display at the cafe.  Since they are her first, they are not for sale. But, read on and learn how to order prints.
Julie Hamilton was born in the Upper Peninsula of Michigan in 1953.  She moved to Wyoming at the age of 13 and after some adjustment, she grew to love the open space and colors abundant on the high plains of the Rocky Mountains.  She grew up in a household surrounded by the love of science and nature.  Inevitably, geology, wild flowers and vegetable gardens were always a present in her life.  After moving to Oregon in 1976, she began her studies at the University of Oregon to combine early experiences with her new-found love of art.
She married in 1980 and with her husband Jim, settled in the Willamette Valley to raise their family.  Being a parent, gardening and preserving it's bounty served as her creative outlets. In 1992 a move to northern California allowed them to be closer to family.  There, she worked for twelve years as a special education assistant in Bay area schools.   She loved teaching and providing a path for all students to explore science and art.   She and Jim moved back to Oregon in 2009, settling in Bend to be close to her mom.
Early retirement became a reality with the economic downturn, and she now had time to explore the beauty of central Oregon.  After discovering the abundance of local wild mushrooms she became an avid hunter.  Learning what, where and when to find them became an obsession.  With the help of the Central Oregon Mushroom Club and Linda Gilpin, club mycologist, she learned to key out mushrooms for identification.  Julie took on leading the club in 2012, where she now had the perfect place to share her love of science and teaching while in the midst of nature's beauty.
Along with exploring the world of mycology Julie searched for a creative outlet.  Watercolor painting was her choice and in the fall of 2015, Julie took a class from renowned botanical watercolor artist Jeanne Debons.  With great appreciation for the painting techniques of Jeanne, Julie seeks to capture the fleeting details and beauty of mushrooms at the exact moment of discovery.
Continuing the learning process along with developing her style and technique are Julie's current goals.  With the Cascades of Central Oregon in her backyard providing endless beauty to witness and explore, she looks forward to painting wild mushrooms for years to come.
Julie is pleased to offer prints of any of her original illustrations for sale.  Through the process of giclee digital reproduction and the use of high quality archival watercolor paper, you can be assured of a quality print.  For pricing and ordering information contact Julie at    wildmushroomportraits@gmail.com. You can also keep up with Julie on her new Facebook page.