Mushroom Art Exhibit – Morning Glory Cafe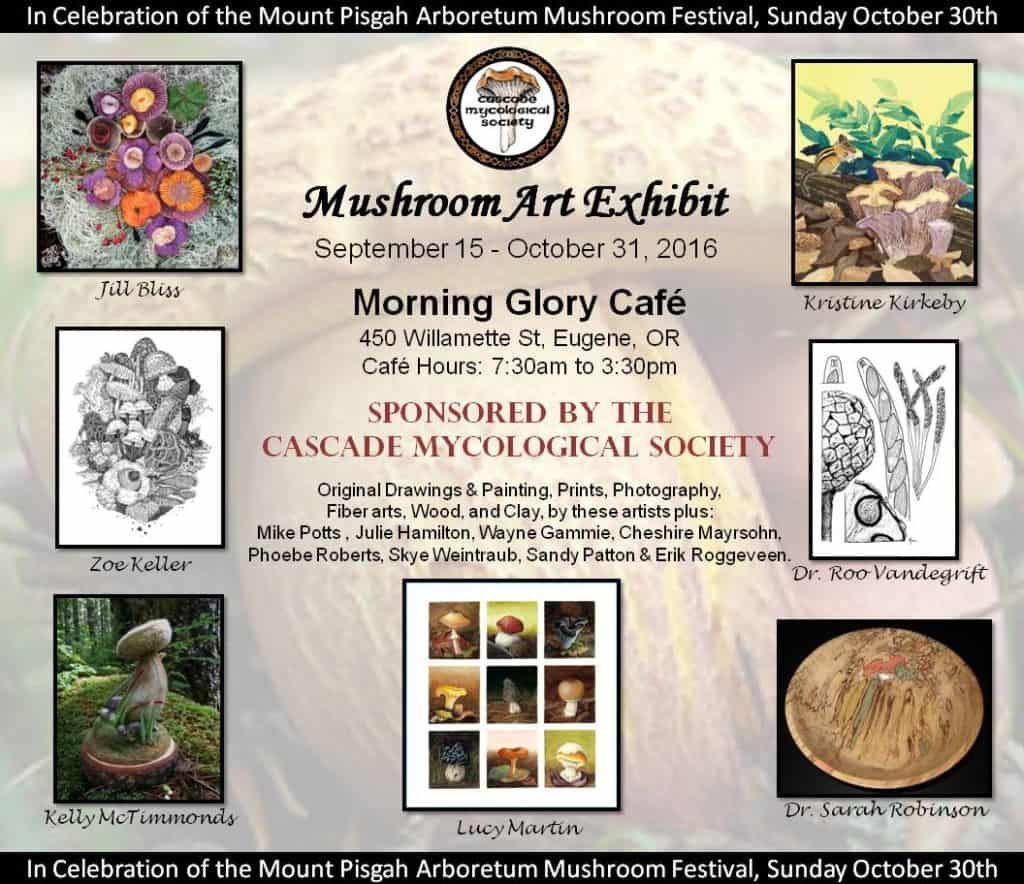 The Cascade Mycological Society (CMS) along with Lane Community College have been long time partners of the Mount Pisgah Arboretum Mushroom Festival by providing the centerpiece of the festival, the Mushroom displays. CMS is now bringing a little bit of the festival to downtown Eugene in the form of a Mushroom Art Display at the Morning Glory Cafe. The cafe is located at 450 Willamette Street (next to the train station) and is open daily from 7:30am to 3:30pm.
The Mushroom Art Exhibit will run from September 15th through October 31st and will feature original drawings and paintings, prints, photography, fiber arts, wood, and clay by fourteen artists of the Pacific Northwest: Kristine Kirby, Zoe Keller, Jill Bliss, Lucy Martin, Julie Hamilton, Dr. Roo Vandegrift, Mike Potts, Dr. Sarah Robinson, Kelly McTimmonds, Wayne Gammie, Cheshire Mayrsohn, Dr. Skye Weintraub, Pheobe Roberts, and Sandy Patton.
We hope you will stop by and see this vibrant and educational display of mushroom artwork, including the original painting commissioned for the 2016 Mount Pisgah Arboretum Mushroom Festival Poster and t-shirt.  Facebook Event Link – Please join us and share!