Mushroom Madness Week! — Sunday, Oct. 30th – Sunday, Nov. 6th 2011K
Plus, Special Guest Appearance on KLCC's "Food for Thought" from Peg Boulay – 12 – 1 PM
Mycological events are coming at us fast and furious. You'll want to check back on our website frequently so you don't miss anything!
On Sunday, Oct. 23rd's "Food for Thought," Peg Boulay will be talking about mushrooms, and a special upcoming event that is a partnership between the CMS and several local restaurants with a focus on local sourcing and mushroom cuisine.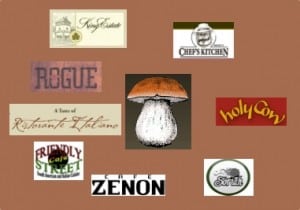 The CMS is proud to announce that 8 restaurants have coordinated with us for the 30th anniversary of the Mt. Pisgah Arboretum Mushroom Festival to offer their own takes on delicious mushroom fare starting on the day of the festival, Oct. 30th and continuing through the following Sunday.
Celebrate the delicious diversity of Oregon's wild mushrooms! Visit these fine restaurants (and brewery) to enjoy their fabulous featured mushroom dishes, created especially for Mushroom Madness Week.
King Estate with Chef Michael Landsberg: Wild Oregon mushroom ragout with Yukon gold potato gnocchi, lamb meatballs, roasted tomato leek vinaigrette with parmesan cheese and crispy artichoke hearts. 80854 Territorial Hwy, 541-942-9874.
Chef's Kitchen with Chef Bruno: Mushroom medley of 5 or 6 mushrooms cooked in a sherry-cream reduction in a way that you can taste their distinct flavors. 3443 Hilyard St, 541-687-2433.
Holy Cow with Chef Anton Ferrara: Ricotta gnocchi with wild mushroom sauce. 2621 Willamette St only, 541-852-4659.
Cafe Soriah with Chef Pierce Kieffer: 3 course mushroom dinner: appetizer is a mushroom strudel with goat's cheese and madeira reduction; salad of marinated chanterelles and spiced walnuts with frisee and sherry vinaigrette; main dish of porcini encrusted chicken with a wild mushroom butter sauce. 384 W. 13th Ave, 541-342-4410.
Cafe Zenon with Chef Cory Brader: Oregon wild mushroom savory pudding with chanterelles, porcini and truffle oil, along with grilled house baked bread. 898 Pearl St, 541-684-4000.
Friendly Street Cafe with Chef Mario Tucci: gnocchi with lamb meatballs and chanterelles in a light mushroom sauce. 2757 Friendly St, 541-343-3460.
Excelsior Inn & A Taste of Ristorante Italiano with Chef Mauritzio Paparo: pasta with 4 mushrooms; a dish that is called Pappardelli ai Quattro funghi in Italian. 754 E. 13th Ave, 541-342-6963.
Rogue Public House–Track Town Ales with Brewer Nate Samson: Porcini Scotch Ale. 844 Olive St, 541-345-4155.