2019 Mount Pisgah Arboretum Mushroom Festival
~ Sunday, October 27, 2019 ~
Fun and educational for the whole family!
The Mushroom Festival is located at and is organized by the Mount Pisgah Arboretum. If you are a vendor and want to participate, or want more details about all of the festival activities and logistics, check out the Mount Pisgah Arboretum Mushroom Festival page.
The Cascade Mycological Society (CMS) along with Lane Community College (LCC) students in the Biology of Mushroom class taught by Susie Holmes are responsible for putting "the mushrooms in the mushroom festival". Together we search from the Cascades to the Coast to collect every species of mushroom we can find. Then, we invite nationally recognized mycologists to help us with identifying the mushrooms we collect; along with our local CMS experts. Only the mushrooms that are identified to both genus and species (or group/complex), are put on display. In addition to the mushroom display, you won't want to miss the following CMS and LCC provided displays and activities:
Bring mushrooms to be identified to our "Ask an Expert" table, located at the front of the White Oak Pavilion, where the main mushroom display is located.
Check out the Fungi Science corner at the back of the White Oak Pavillion, sponsored by our partner Lane Community College.
Both kids and adults can learn about fungi at the "Fun Fungal Facts" tent.
Be sure to visit our "Edible, Poisonous and Look-Alikes" tent to learn about some mushroom species to enjoy and some others to avoid! This display is staffed all day with experienced CMS members who can answer your questions.
Visit "Talks on the Terrace" to experience some mouth-watering culinary demonstrations!
Stop by the CMS Membership table and learn about everything CMS has to offer.
And don't forget to visit the CMS booth, where t-shirts, cookbooks, and other mushrooms accessories will be for sale.
Want to learn more about how the MPA Mushroom Festival got started in 1981? Check out the History of the MPA Mushroom Festival to learn how then LCC Professor Freeman Rowe and CMS members-to-be started this fabulous festival to benefit the Mount Pisgah Arboretum.
2019 CMS Guest Expert Mycologists
CMS is happy to have both Steve Trudell and Noah Siegel return this year, and are delighted to welcome Else Vellinga to her first MPA Mushroom Festival. Local CMS experts Joe Spivack, Molly Widmer, Susie Holmes, Ron Hamill, and others will also assist with identification. While CMS members Bruce Newhouse & Peg Boulay coordinate all of this coming together.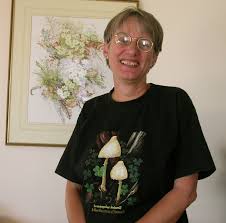 Else Vellinga is a mycologist who is interested in naming and classifying mushroom species in California and beyond, with a focus on the Lepiotaceae family of fungus. She has described 22 species as new for California, and most recently worked at the herbaria at UC Berkeley and SFSU for the Macrofungi and Microfungi Collections Digitization projects. She received her PhD at Leiden University, Netherlands and also received training at the National Herbarium of the Netherlands.
Else is a prolific publisher, with 62 technical papers she has authored or co-authored listed on her UC Berkeley page. You may enjoy several of the 36 articles she has written for the Mycena News (newsletter of the Mycological Society of San Francisco ), which are available on Mykoweb.
If you are curious why your old Shaggy Parasol favorite, Lepiota rhacodes, is now Chlorophyllum rhacodes, C. olivieri and C. brunneum, you should ask Else, as her research brought about this change.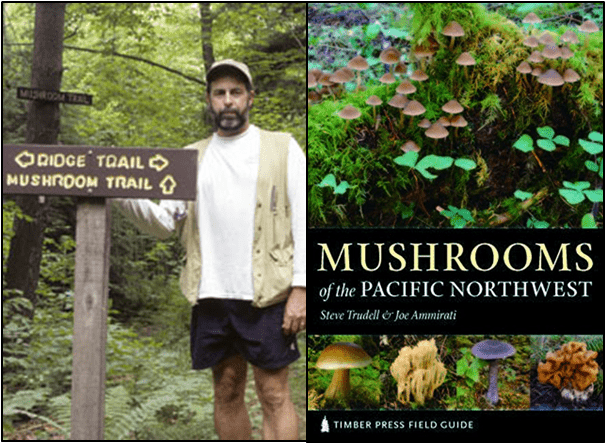 Steve Trudell, co-author of Mushrooms of the Pacific Northwest. Steve is a forest ecologist and educator who has been hunting, photographing, and learning about mushrooms for over 35 years. He is a life member of NAMA, Chair of NAMA's Literature Committee, member of the Education, Photography, and Website committees, and previously served as Vice President. Author of, and photographer for, Mushrooms of the Pacific Northwest (with Joe Ammirati), Tricholomas of North America: A Mushroom Field Guide (with Alan Bessette, Arleen Bessette, and Bill Roody), and Mushrooms of Alaska's National Forests (with Kate Mohatt and Karen Dittman), he has taught mycology, botany, and biology courses at the University of Washington, The Evergreen State College, and Bastyr University, as well as workshops at many festivals, NAMA forays, and local mushroom club forays. His particular interest is in understanding why there is such a tremendous diversity of mushroom-fungi and the roles that they play in forest carbon and nutrient cycling.
Noah Siegel, co-author of Mushrooms of the Redwood Coast has spent over two decades seeking, photographing, identifying, and furthering his knowledge about all aspects of macrofungi. He has hunted for mushrooms throughout the United States and Canada, as well as on multiple expeditions to New Zealand and Australia. His book, Mushrooms of the Redwood Coast is highly regarded as one of the best for the Northern California Coast (and also Oregon, from the Coast to the valley). His photographs have appeared on the covers and have been featured in articles of multiple issues of FUNGI Magazine, Mushroom; the Journal of Wild Mushrooming, numerous mushroom books, as well as many club publications. His technique and attention to detail are unrivaled, arising from a philosophy of maximizing utility for identification purposes while maintaining a high degree of aesthetic appeal. Noah lives in Michigan, but travels and lectures extensively across America, following the mushrooms from coast to coast, and everywhere in between.