General Meeting : Thursday Feb 14, 7:00 pm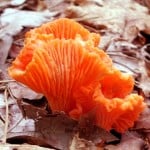 Our February general meeting will feature our very own CMS members Sue Docksteader & Steen Mitchell. Sue and Steen will be telling us about what they did over their summer vacation, giving a talk on their 2012 cross-country camping & mushrooming trip. Rumor has it that pictures of the elusive red chanterelles may appear! This will be a great opportunity to see lovely photos of some north american mushrooms from outside of the pacific northwest region.
Our general meetings are the second Thursday of the month. Meet at 7 PM, Room 115, Science Building (Building 16) at Lane Community College in Eugene. The presentation is free and open to the public.