Spring Sale: Handcrafted Morel Earrings
Now through the end of the month, our morel earrings are $15 per pair, including shipping. All proceeds from earring sales benefit the Freeman Rowe Scholarship Fund to help those that contribute to the advancement of mycology.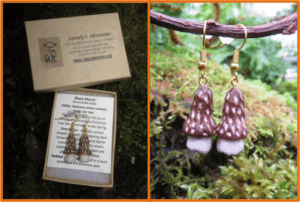 Most Mushrooms (without earring wire), are 3/4 inch to 1 inch in length, but sizes and shape may vary. The size of each earring set are made to match. All product materials are non-toxic. Earrings are shipped in ready to gift packaging and includes a description of the wild mushroom depicted.