Dave Pilz is CMS' invited speaker for December 2013. He is a consultant and writer through the auspices of his business, PilzWald – Forestry Applications of Mycology. He was formerly a Forest Mycologist with the Department of Forest Science at Oregon State University in Corvallis, OR, where he conducted research on harvested forest fungi, with an emphasis on compatible production of edible mushrooms in forests managed for timber and other amenities. This research focus evolved from 9 years of research with the Pacific Northwest Research Station (USDA-Forest Service) on the Productivity and Sustainable Harvest of Edible Forest Mushrooms.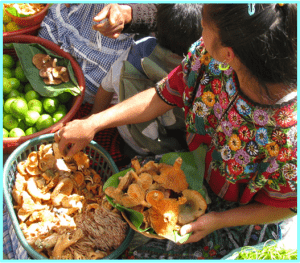 In July, David had the opportunity to attend an interesting workshop on edible mycorrhizal fungi in Guatemala and tour the country afterwards with fellow mycologists. He will recount stories of the adventure with colorful images for illustration. Join him for tales and discussion of the ancient mushroom traditions of the indigenous Maya.
This presentation is free and open to the public. CMS t-shirts and botanically correct earrings of actual mushroom species will be available for purchase to help support Cascade Mycological Society's non-profit endeavors.
Do Edible Mushrooms in Oregon Contain Radioactive Contaminants?
Matt Trappe, one of the authors of "North American Truffles," will talk about local mushrooms having radioactive contaminants on October 10th. Matt is a research ecologist with over 15 years experience working in western forests. He specializes in disturbance ecology particularly fire, and mycology, as well as soil microbiology, DNA and isotopic analysis, forestry, and botany. Matt has a Ph.D in Environmental Sciences and a MS in Forest Science/Forest Resources, both from OSU. He also has a BS in Electronic Engineering/Automated Manufacturing and worked as Read more
As you've heard, Langdon Cook, author of "The Mushroom Hunters" and "Fat of the Land" is our featured speaker at the LCC Forum this Friday. He is also going to be at the Mt. Pisgah Arboretum Mushroom Festival on Sunday.
Steve Trudell will also be available at the Mushroom Festival on Sunday. He is the co-author of "Mushrooms of the Pacific Northwest" along with Joe Ammirati and has recently co-authored the new book, "Tricholomas of North America – A Mushroom Field Guide."
CMS has a great new design for T-shirts this year, Hydnum repandum. Mushroom earrings and mushroom center pieces will also be available for sale, along with a mushroom walking stick that will be raffled off.
Hope to see you Friday evening at 7 PM at the LCC Forum and at the Mt. Pisgah Arboretum Mushroom Festival on Sunday, 10 AM to 5 PM.
Suggested Donation: $8 per person, children under 12 free.
Take exit 189 off I-5, just south of Eugene-Springfield.
Free shuttle from Civic Stadium every hour on the hour!
The Cascade Mycological Society is soliciting contributions for an upcoming cookbook. All proceeds from our cookbook sales will go towards supporting the CMS grant and scholarship programs. The cookbook will be available for sale in fall 2013 and will feature over 100 one-of-a-kind recipes, plus anecdotes, tips, and photographs, featuring foraged, wild-crafted mushrooms from our geographic region. Tell us your best tips for cleaning, gathering, storing, pickling, drying, cooking, serving, decorating with, wearing, harvesting, and preparing mushrooms. Send us the incredible pictures that you would just love to have a wider audience. Now is your chance. Submit your contribution and become a published author.
Submit your recipe using our online form or download a submission form to print and mail, along with any photos or images, to Cascade Mycological Society, PO Box 110, Eugene, OR 97440.
Submit your tips and anecdotes using our online form or download a PDF to print and mail, along with any photos or images, to Cascade Mycological Society, PO Box 110, Eugene, OR 97440.
Send your digital photos to us at cmscookbook2013@gmail.com.
If we accept your contribution, we will publish your name alongside your submission and invite you to the fall 2013 Cookbook Release Feast in order to celebrate the final publication of our cookbook. It's sure to be a party to remember.
Questions: Contact us at cmscookbook2013@gmail.com.
Related Items:
Cookbook Fact Sheet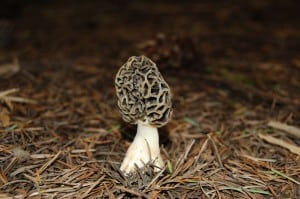 The fall mushroom season has officially begun, with chanterelles, lobsters and other edible fungi popping up in Oregon. Join the Cascade Mycological Society on the first monthly meeting of the season. Joe Spivack will present on the topic of common wild edible mushrooms of the PNW. Learn about the ecology of local edible mushrooms, where and how to find and how to cook and preserve.
The meeting will take place on Thursday September 11th, 2008 at Lane Community College Building 16, room 115 at 7:00pm (Directions).