December 4, 2011 · Filed Under
CMS Events
·
Comments Off
The Cascade Mycological Society presents Daniel Winkler. He will be discussing his new book 'A Field Guide to Edible Mushrooms of the Pacific Northwest'.  December 8th, 2011.  Meet at  7:00 pm, room 115, Science Building (Building 16) at Lane Community College in Eugene. The talk is free and open to the public.
Speaker Background: Daniel grew up in Munich, Bavaria, and started hunting Steinpilz (Boletus edulis) with his family at age 3. Finding mushrooms was just as exciting as finding Easter eggs, an excitement that is still to be had each time hunting for mushrooms. Later Daniel studied geography, ecology and botany in order to work on environmental issues in the Himalayas and Tibet, where he has been researching and consulting for twenty years.
In 1996, Daniel moved to Seattle and joined the Puget Sound Mycological Society. Being part of PSMS enticed him to take his life-long love for mushrooms to a whole new level. Daniel trained to become an expert mushroom identifier for the club and teaches classes.
Daniel has collected edible mushrooms on three continents and is an organizer of mushroom tours [www.MushRoaming.com]. He keeps venturing out into new and old habitats and cultures to feed his curiosity and his family, along the way capturing images and gathering stories to share in his writings and presentations.
November 17, 2011 · Filed Under
Forays
·
Comments Off
NOTE: The foray on November 19th has been cancelled due to weather conditions. If the foray leader reschedules, the information will be available on the website. Sorry for the late notice, the weather system coming through now is just too cold for the elevations that were to be visited, as of this afternoon they had already received significant snow there.
We will be having two more members forays into the coast range on Friday, November 11th, and the Willamette National Forest on Saturday November 19th, just in time to find some mushrooms before Thanksgiving. Interested members should contact forays@cascademyco.org to register their intent to attend and receive more information. Please include your name and how many will be attending.
The meeting place and time for the foray on the 11th has not been announced yet but you will be informed if you email the address above.
For the 19th, meet at 10 AM at Cottage Grove Ranger Station.
Forays are limited to CMS members (and friends) only. You can become a member to join us!
Please read the following *General Foray Information*, and please no dogs on these forays.
Note that sometimes destinations are changed based on weather conditions and where we get reports of fungal activity. Please check back on this website the day before the foray for any changes or updates on foray details.
We received many beautiful photos of mushrooms for the contest and selected three for display at the festival. Here they are in case you didn't get a chance to see the prints there. We'll also be looking at some photos (time-permitting) at November's general meeting.
The three winners are:
Joaquin

Romero, who sent this picture of Mycena seinesii from Vizcaya, Spain
Stewart Meyers, who sent a picture of Amanita muscaria from Honeyman State Park, OR.
Kevin Hups, who sent a picture of oyster mushrooms fruiting from a plywood deck in a shipping container that had been sealed up for a decade, in Colorado.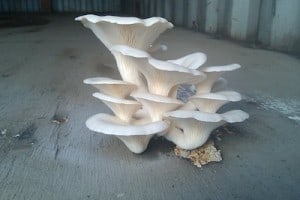 (You may click on the photos for a higher resolution version)
November 7, 2011 · Filed Under
CMS Events
·
Comments Off
Geoffrey Johnson on Mycoremediation at the Oregon Country Fair.
The Cascade Mycological Society presents Geoffrey Johnson. He will be discussing his mycoremediation project on a site at the Oregon Country Fair. November 10th, 2011. Meet at  7:00 pm, room 115, Science Building (Building 16) at Lane Community College in Eugene.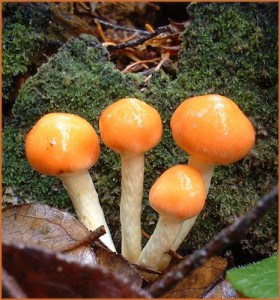 Geoffrey has been involved with the Oregon Country Fair's Mycological Restoration Project since 2010. As an environmental science major at the University of Oregon, he is committed to the process of expanding functional knowledge into sustainable human societies. Geoffrey is particularly interested in partnering with Fungi as biological allies in the design of systems for dealing responsibly with waste streams and effluent.
Meet at 7:00 pm, room 115, Science Building (Building 16) at Lane Community College in Eugene.
"Why Mushrooms Matter"
Come hear Steve Trudell's important message Friday, October 28th, 7pm, at the LCC forum building.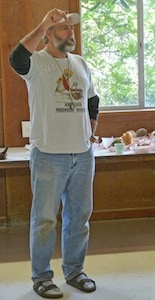 Steve Trudell is a forest ecologist and educator who has been hunting, photographing, and learning about mushrooms for over 35 years. Author of "Mushrooms of the Pacific Northwest" with Joe Ammirati, he has taught mycology, botany, and biology at the University of Washington, Evergreen State College, Bastyr University, and Santa Barbara City College, as well as workshops at many NAMA and local mushroom club forays. His particular interest is in understanding why there is such a tremendous diversity of mushroom-fungi and the roles that they play in forest carbon and nutrient cycling.
The PNW is home to a wide array of colorful, beautiful, bizarre, and edible mushrooms. Few realize that, without these mushrooms, there would be no forests. Come hear why and get a glimpse of some of the Northwest's most popular edible and most dangerous toxic fungi. Donations accepted.
Also find Steve at the Mt. Pisgah Mushroom Festival, Sunday, October 30th. He will have copies of his book for sale, as will be helping with mushroom identification.