We received many beautiful photos of mushrooms for the contest and selected three for display at the festival. Here they are in case you didn't get a chance to see the prints there. We'll also be looking at some photos (time-permitting) at November's general meeting.
The three winners are:
Joaquin

Romero, who sent this picture of Mycena seinesii from Vizcaya, Spain
Stewart Meyers, who sent a picture of Amanita muscaria from Honeyman State Park, OR.
Kevin Hups, who sent a picture of oyster mushrooms fruiting from a plywood deck in a shipping container that had been sealed up for a decade, in Colorado.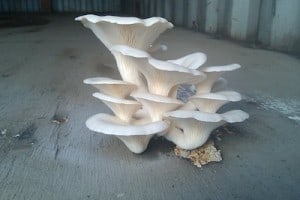 (You may click on the photos for a higher resolution version)
"Why Mushrooms Matter"
Come hear Steve Trudell's important message Friday, October 28th, 7pm, at the LCC forum building.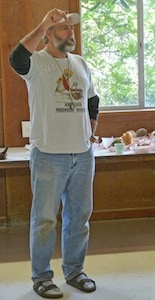 Steve Trudell is a forest ecologist and educator who has been hunting, photographing, and learning about mushrooms for over 35 years. Author of "Mushrooms of the Pacific Northwest" with Joe Ammirati, he has taught mycology, botany, and biology at the University of Washington, Evergreen State College, Bastyr University, and Santa Barbara City College, as well as workshops at many NAMA and local mushroom club forays. His particular interest is in understanding why there is such a tremendous diversity of mushroom-fungi and the roles that they play in forest carbon and nutrient cycling.
The PNW is home to a wide array of colorful, beautiful, bizarre, and edible mushrooms. Few realize that, without these mushrooms, there would be no forests. Come hear why and get a glimpse of some of the Northwest's most popular edible and most dangerous toxic fungi. Donations accepted.
Also find Steve at the Mt. Pisgah Mushroom Festival, Sunday, October 30th. He will have copies of his book for sale, as will be helping with mushroom identification.
NOTE: Updated foray information. There will be one more foray before the festival on Friday the 28th. Since this is on a school day, the high school parking lot is not available and a new meeting place has been chosen. This is the Ray's Food store in Pleasant Hill meeting at 8:45 AM and leaving at 9:00 AM sharp.
There are currently three forays confirmed.
The confirmed dates are Oct. 22nd, 23rd, and 28th.
Forays are limited to CMS members (and friends) only. You can become a member to join us!
Meet at the South Eugene High School by 8:45 for introductions and directions (except for the 28th, see the note above about meeting place). We will leave at 9:00am sharp. *General Foray Information*
NOTE: It would be very helpful for planning purposes if you RSVP'ed if you are planning on attending a foray. This allows us to better plan for group size. You can do this by emailing forays@cascademyco.org and telling us how many are attending.
Note that sometimes destinations are changed based on weather conditions and where we get reports of fungal activity, but here is a rundown of the planned destinations and forest districts. Please check back on this website the day before the foray for any changes or updates on foray details.
Oct. 22nd – Florence coast area / Siuslaw Nat. Forest
Oct. 23rd – Lower Cascades / Willamette Nat. Forest
Oct. 28th – Lower Cascades / Willamette Nat. Forest
Permit Details
We have procured a group permit for the Willamette National Forest that will allow a foray attendee to collect up to 5 specimens for festival purposes. This does not allow for personal collection (e.g. for edibles), a separate (free) permit is required in the Willamette Nat. Forest.
For the Siuslaw National Forest, no permit is required for 1 gallon of mushrooms per person. A group permit for festival purposes is in the works.
NOTE: This permit can also be used outside a foray, provided that you have in your possession a copy of the permit letter and a map of the allowed picking areas for the Willamette National Forest. These were handed out at the CMS meeting, but email forays@cascademyco.org if you need a copy of the letter. The maps must be picked up at a ranger station.
Plus, Special Guest Appearance on KLCC's "Food for Thought" from Peg Boulay – 12 – 1 PM
Mycological events are coming at us fast and furious. You'll want to check back on our website frequently so you don't miss anything!
On Sunday, Oct. 23rd's "Food for Thought," Peg Boulay will be talking about mushrooms, and a special upcoming event that is a partnership between the CMS and several local restaurants with a focus on local sourcing and mushroom cuisine.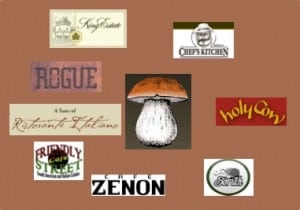 The CMS is proud to announce that 8 restaurants have coordinated with us for the 30th anniversary of the Mt. Pisgah Arboretum Mushroom Festival to offer their own takes on delicious mushroom fare starting on the day of the festival, Oct. 30th and continuing through the following Sunday.
Celebrate the delicious diversity of Oregon's wild mushrooms! Visit these fine restaurants (and brewery) to enjoy their fabulous featured mushroom dishes, created especially for Mushroom Madness Week.
King Estate with Chef Michael Landsberg: Wild Oregon mushroom ragout with Yukon gold potato gnocchi, lamb meatballs, roasted tomato leek vinaigrette with parmesan cheese and crispy artichoke hearts. 80854 Territorial Hwy, 541-942-9874.
Chef's Kitchen with Chef Bruno: Mushroom medley of 5 or 6 mushrooms cooked in a sherry-cream reduction in a way that you can taste their distinct flavors. 3443 Hilyard St, 541-687-2433.
Holy Cow with Chef Anton Ferrara: Ricotta gnocchi with wild mushroom sauce. 2621 Willamette St only, 541-852-4659.
Cafe Soriah with Chef Pierce Kieffer: 3 course mushroom dinner: appetizer is a mushroom strudel with goat's cheese and madeira reduction; salad of marinated chanterelles and spiced walnuts with frisee and sherry vinaigrette; main dish of porcini encrusted chicken with a wild mushroom butter sauce. 384 W. 13th Ave, 541-342-4410.
Cafe Zenon with Chef Cory Brader: Oregon wild mushroom savory pudding with chanterelles, porcini and truffle oil, along with grilled house baked bread. 898 Pearl St, 541-684-4000.
Friendly Street Cafe with Chef Mario Tucci: gnocchi with lamb meatballs and chanterelles in a light mushroom sauce. 2757 Friendly St, 541-343-3460.
Excelsior Inn & A Taste of Ristorante Italiano with Chef Mauritzio Paparo: pasta with 4 mushrooms; a dish that is called Pappardelli ai Quattro funghi in Italian. 754 E. 13th Ave, 541-342-6963.
Rogue Public House–Track Town Ales with Brewer Nate Samson: Porcini Scotch Ale. 844 Olive St, 541-345-4155.
LAST CALL FOR PHOTOS!!!
Deadline extended to Oct. 24th, last chance to send in your photos!
As some of you might know, this year's Mt. Pisgah Arboretum Mushroom Festival will be the 30th! The Cascade Mycological Society has been a big part of this festival from the beginning and we are excited to be bringing a number of special events and activities to celebrate.

The first of these we are proud to announce is a mushroom photography contest. Any and all are free to contribute photos related to mushrooms, mushroom culture, and our fungal pals in general. The best of the bunch will be selected for a special display at the festival and the winners will receive recognition and prizes from the CMS.
The rules are simple, just send up to 3 digital photos to photocontest@cascademyco.org. In your email include your full name as you'd want it to appear next to your prize winning photo and any details you might want us to know about the photo and what it means to you. Note that we greatly prefer digital files but if you have a picture that you must submit and don't have in digital form, you can send us an email and we'll try to help with other arrangements. Please send pictures as JPG files at full resolution, so that prints of the images look their best.
The photos need to be in by Oct 24th so they can be judged before the show.
Fine print stuff:
By sending us your pictures, you grant the CMS a license to use your photo for contest purposes and to display your photo at the festival and at later dates in CMS communications including this website. If your image is used for CMS communication, you will be credited as the photographer.
Hemlock Ridge Excursions is offering two mushroom workshops this fall, a Cascades trip at Clear Lake Resort on October 21st-23rd, and a coast trip at Tugman State Park on November 4th-6th. These weekend workshops are hosted at beautiful sites selected for their proximity to great mushroom hunting locations. Participants are introduced to all aspects of "mushrooming" culture, from field identification techniques, family characteristics, wild edible harvesting, mushroom dyeing and cooking, and basic cultivation techniques.
Link below is a flyer with information on the dates and prices for the two weekend excursions:
For more information, see the Hemlock Ridge Excursions website
Don't miss the Keynote Speaker, David Arora, Friday, October 21!
Come savor autumn on the Oregon coast where the fun-guys go – to the Yachats Village Mushroom Fest! Enjoy wild forest mushroom cuisine, expert led mushroom walks, (many led by CMS members) talks and exhibits, culinary mushroom workshops, culinary mushroom markets, wine tasting, and live entertainment. Guided mushroom walks and exhibits are FREE and open to the public.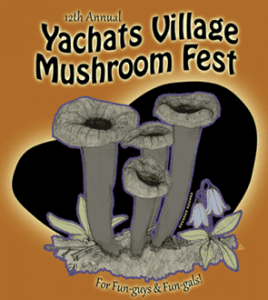 The Yachats Village Mushroom Fest is produced by the Yachats Area Chamber of Commerce and is generously supported by the Cape Perpetua Visitors Center and Scenic Area, Gerdemann Botanical Preserve, the Yachats Commons, the Yachats Ladies Club, Forest Ecologist Marla Gillham, OSU Faculty, Students and Alumni, Cascade Mycological Society, North American Truffling Society, Lincoln Co Mycological Society, Yachats area businesses, Yachats Farmers Market, area naturalists, and many culinary mushroom enthusiasts.
For more information please or call 1-800-929-0477, 541-547-3530. Or see the Website at http://yachats.org/MFest2011.html
As the rains start here in Lane County, opportunities for fun and learning about mushrooms abound.
Two of our founding board members, Peg Boulay and Bruce Newhouse, will be leading a free workshop at REI from 7:00 – 8:00. Spots are limited, preregister at REI's event site if you're interested in attending.