The Cascade Mycological Society is pleased to make available Educational Mushroom Activity Sheets for Children, and Teens & Adults. These Activity Sheets were created for the Mushroom Art Exhibit at the Morning Glory Cafe and in celebration of the Mount Pisgah Arboretum Mushroom Festival. Descriptions of each sheet are below. Just click on the highlighted link and a PDF file will automatically download.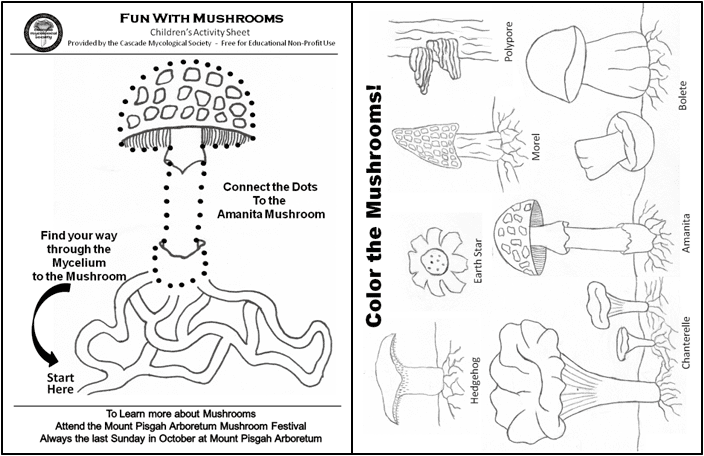 Fun with Mushrooms – Activity Sheet for Children – The front side of this Activity Sheet is a Connect the Dots Amanita and a Find your Way through the Mycelium Maze. The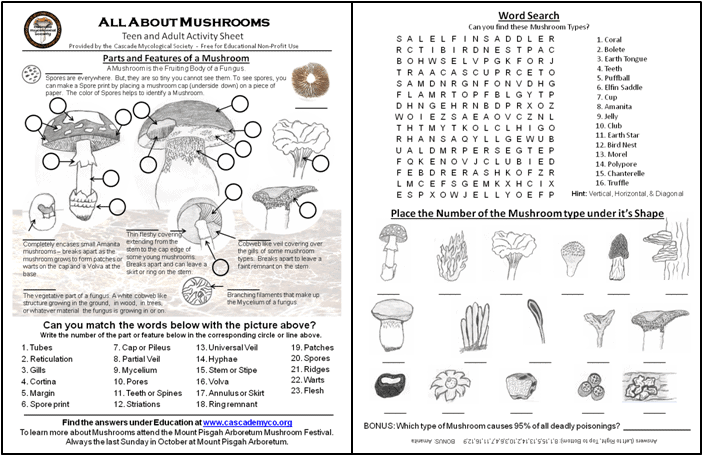 backside or second page is a Coloring Page of 7 mushrooms: Chanterelle, Amanita, Bolete, Hedgehog, Earth Star, Morel, and Polypore.
All About Mushrooms – Teen & Adult Activity Sheet – The front side of this Activity Sheet is a graphic of the Parts and Features of a Mushroom with the challenge to match the provided words (parts and features) to the picture. The backside or second sheet is a Word Search of 16 Mushroom Types and a challenge to match the Mushroom Types to pictured shapes. There is also a Bonus Question.
All About Mushrooms – Answer Sheet – This Activity Sheet is very educational and a little difficult. So, we thought we should provide the answers.