CMS Meeting – Sept 16, 2020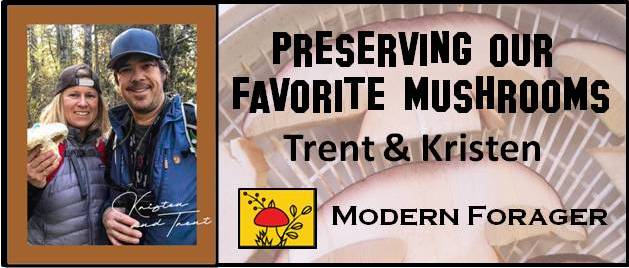 When: Wednesday, Sept 16, 2020, at 7:00 pm
Where: Online Event – CMS Youtube Channel (click to set a reminder)
When the rains come the mushrooms often come out in abundance. If you are serious about mushrooms and foraging, as Trent and Kristen Blizzard are, you will go out early and often and end up with way more fresh edible mushrooms than you can cook up and eat. So, if you do not want all those fresh shrooms to go to waste, what can you do with them? Come learn about some of the best edibles in the Pacific Northwest and the tips and techniques to preserve them from Trent and Kristen. Once preserved you can enjoy them in the coming year, or give them as gifts to friends and family.
About the Speakers
Self proclaimed "modern foragers" Trent and Kristen Blizzard reside in Glenwood Springs, Colorado. They have been trekking the forests of Colorado, the Midwest and the Pacific Northwest for years mostly with wild, edible mushrooms in mind. At first a hobby, the hunt for mushrooms quickly became nothing short of an obsession for these two mycophiles, both of whom are certified Wild Mushroom Identification Experts in their home state of Colorado.
They are the authors of the soon to be released, Wild Mushrooms: A Cookbook and Foraging Guide. Whether you are a seasoned forager or new to the wild and wonderful word of edible forest fungi, this book has something for you! You will find a wealth of tips and tricks for harvesting each mushroom, along with general cooking techniques and preservation methods. They endeavor to explore not only a selection of delicious cuisine and new methods of cooking these wild edibles, but the question of how to preserve and enjoy your harvests all year long. The book is also a celebration of people they have met over the years. You will find stories, tips and well-loved recipes from some of your own well known CMS members!
Regardless of what mushroom they are after or where they are searching, Trent and Kristen often have their two crazy doodles (Benzie and Lulu) helping out. They also employ a wide range of technologies that bring a modern twist to an ancient practice. As modern foragers, they utilize digital mapping, social media, GPS, phone apps, and even satellite internet while on the road. You will find them blogging about their adventures at modernforager.com.