2020 Mushroom Festival Presenters
Note: This is an initial list of persons who have committed to presenting at the 2020 Mount Pisgah Arboretum Virtual Mushroom Festival. This list is subject to change. We will also post presentation titles when finalized.
---
Peter McCoy speaks on behalf of the fungi, the most overlooked and misrepresented organisms in the web of life. As an interdisciplinary, systems-oriented mycology educator with 17 years of experience, Peter is considered one of the most prominent voices in the modern mycology movement. His work is widely regarded as pioneering in the topics of accessible mushroom cultivation and mycoremediation, while his in-depth mycological knowledge has also elevated his voice to one of the foremost in the less-explored fields of fungal evolution, fungal communication, and the history of fungi in human cultures. Peter is the co-founder of  Radical Mycology, the author of Radical Mycology: A Treatise on Seeing & Working With Fungi , and the founder of MYCOLOGOS.
Peter's unique work has been featured in various news and media outlets, including Yes!, Salon, GOOD.is, Grist, Vice, and The Survival Podcast. He has been featured in the documentary films Fungiphilia Rising and Fantastic Fungi. And over the last decade he has taught mycology to tens of thousands of people across North American and Europe, including at The North American Mycological Association, The Telluride Mushroom Festival, The Permaculture Voices Conference, The Village Building Convergence, The Breitenbush Herbal Conference, and The National Brownfields Conference.
---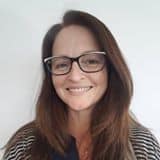 Shannon Adams has been painting mushrooms for over a decade and has conducted several foray workshops enabling beginners to get started.  She is a member of the Puget Sound Mycological Society and focuses on fungal taxonomy in genus Cortinarius.  She has studied mushroom painting techniques with the renowned Russian botanical illustrator of mushrooms – Alexander Viezmensky (http://www.alexandermushrooms.com/)
---
Andy MacKinnon is a forest ecologist who lives in Metchosin, British Columbia (BC). His recent research interests include ecology of BC's ectomycorrhizal fungal species. He was lead BC scientist for Environment Canada's 2017 ranking of our province's threatened and endangered fungal species. Andy has taught rainforest ecology field courses in Bamfield and Tofino (for the University of Victoria) and Haida Gwaii (for UBC). He has also taught mushroom identification courses in Tofino (for the Rainforest Education Society) and in Victoria. He is co-author of six best-selling books about plants of western North America, and co-author of the Royal BC Museum Handbook "Mushrooms of British Columbia" (anticipated date of publication: June 2021). He is past-president of the South Vancouver Island Mycological Society (SVIMS), and an enthusiastic participant, speaker and field trip leader for various mushroom festivals in southwestern BC each autumn.
---
Noah Siegel has spent over two decades seeking, photographing, identifying, and furthering his knowledge about all aspects of macrofungi. He has hunted for mushrooms throughout the United States and Canada, as well as on multiple expeditions to New Zealand and Australia. His book, Mushrooms of the Redwood Coast is highly regarded as one of the best for the Northern California Coast (and also Oregon, from the Coast to the valley). His photographs have appeared on the covers and have been featured in articles of multiple issues of FUNGI Magazine, Mushroom; the Journal of Wild Mushrooming, numerous mushroom books, as well as many club publications. His technique and attention to detail are unrivaled, arising from a philosophy of maximizing utility for identification purposes while maintaining a high degree of aesthetic appeal. Noah lives in Michigan, but travels and lectures extensively across America, following the mushrooms from coast to coast, and everywhere in between. Noah has been a guest expert identifier for the mushroom display at the annual Mount Pisgah Arboretum Mushroom festival every year since 2016. CMS affectionately calls Noah the "Mushroom ID Machine."
---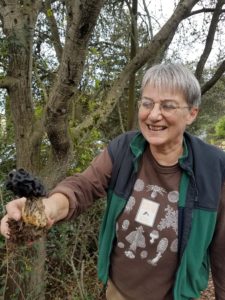 Else Vellinga is a mycologist who is interested in naming and classifying mushroom species in California and beyond, with a focus on parasol mushrooms and their relatives. These systematic studies lay the basis for further research, and especially for conservation purposes. She has described 22 species as new for California. She received her PhD at Leiden University, Netherlands and also received training at the National Herbarium of the Netherlands.Else is a prolific publisher, with more than 110 technical papers she has authored or co-authored. You may access many of her papers on her UC Berkeley page. You may also enjoy several of the 36 articles Else has written for the Mycena News (newsletter of the Mycological Society of San Francisco ), which are available on Mykoweb. Else is also addicted to knitting, and you'll find her often with needles in hand, using mushroom dyed yarn for her creations.

---
Chad Hyatt, author of the Mushroom Hunter's Kitchen, has made a name for himself in Northern California and beyond by sharing his delicious spin on wild mushroom cookery at public and private events. Both an expert forager and classically trained chef, he has cooked in a variety of restaurants and private clubs around the San Francisco Bay area, where he can often be found putting on wild mushroom themed dinners and teaching mushroom related classes.
Chad's cooking career began more than a decade ago, after leaving an enginerring career for culinary school. He has cooked in a wide range of kitchens, from Michelin-starred fine dining to opening a BBQ restaurant, and from country club to gastropub. He is passionate about approachable comfort food, based on local, seasonal ingredients, and of course, wild mushrooms.
Chad dove into mushroom hunting shortly after beginning his cooking career, and quickly gained a local reputation for eating the "weird mushrooms" that nobody else collected. As his mushroom hunting knowledge improved his kitchen skills began to open up doors to cooking and teaching at various mushroom events in California and beyond. He still has a reputation for eating all of the weird mushrooms, though these days people often pay to share the experience.
---
Self proclaimed "modern foragers" Trent and Kristen Blizzard reside in Glenwood Springs, Colorado. They have been trekking the forests of Colorado, the Midwest and the Pacific Northwest for years mostly with wild, edible mushrooms in mind. At first a hobby, the hunt for mushrooms quickly became nothing short of an obsession for these two mycophiles, both of whom are certified Wild Mushroom Identification Experts in their home state of Colorado. You will find them blogging about their adventures at modernforager.com.
They are the authors of recently released, Wild Mushrooms: A Cookbook and Foraging Guide. Whether you are a seasoned forager or new to the wild and wonderful word of edible forest fungi, this book has something for you! You will find a wealth of tips and tricks for harvesting each mushroom, along with general cooking techniques and preservation methods. They endeavor to explore not only a selection of delicious cuisine and new methods of cooking these wild edibles, but the question of how to preserve and enjoy your harvests all year long. The book is also a celebration of people they have met over the years. You will find stories, tips and well-loved recipes from some of your own well known CMS members!
---
Cheshire Mayrsohn – The Lichen Display at the Mount Pisgah Arboretum Mushroom festival launched Cheshire's interested in dyeing fibers using mushrooms and lichens. Cheshire provides for and helps staff the Lichen display on behalf of Northwest Lichenologists. She was often asked the question – Can you dye with lichens? This question led Cheshire to explore how to use lichens, mushrooms and plants for dye. Over ten years later she has become a local expert on dyeing with mushrooms and lichens; offering classes through the Eugene Textile Center and giving talks at Mushroom Festivals and Forays throughout the Pacific Northwest. After dyeing yarns, she then knits them into hats and scarves. Cheshire is a retired botanist for the Bureau of Land Management (BLM), a founding member of the Cascade Mycological Society (CMS), and its current President.
---