Happy 20th Anniversary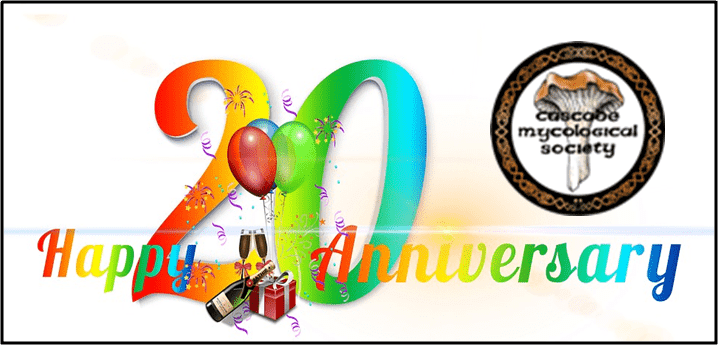 Yes, CMS turns 20 years old this week! On, September 21, 1999 the Cascade Mycological Society held its first official Board of Directors meeting with 3 persons in attendance; Peg Boulay, Bruce Newhouse, and Marcia Peeters. Here are the official minutes of the first organizational meeting. These 3 were soon joined by: Chris Melotti, Kyle Hammon, Rebecca Meyer, Cheshire Mayrsohn, Alma Sapienza and Molly Widmer. Other persons essential to the formalization of CMS into a non-profit were Joseph Spivack, Eric Muench, Ron Hamill, and Freeman Rowe who provided the inspiration. If you want to learn the full story of how CMS came to be, and it's integral relationship to Lane Community College and the Mount Pisgah Arboretum Mushroom Festival, read the History of the Mushroom Festival.
Thank you to these early CMS pioneers who believed it was important to form our fungal community. Hopefully, you will recognize many of these names as most are still with CMS today. So, the next time you see one of them, you should say Thank you, and Happy Anniversary!