Cascades Foray – Sept 29, 2019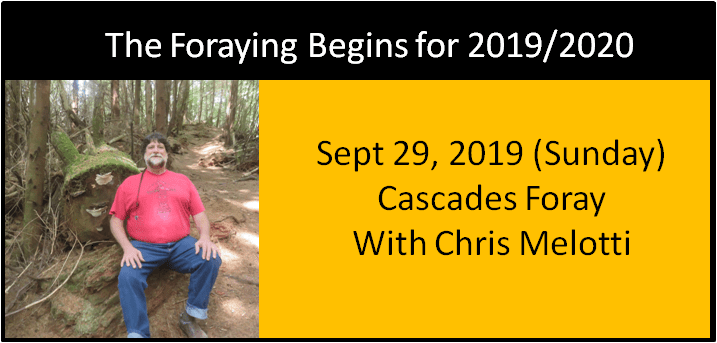 CMS Forays are open only to CMS members, for more information on membership click here.
Join CMS for our first foray of the 2019/2020 season. In addition to edibles, your foray leader, Chris Melotti will be happy to answer all of your questions about mushroom foraging and ecology and also identify any non-edibles you gather. Chris has extensive knowledge and is an experienced foray leader.
Members will also have the opportunity to observe LCC students documenting mushrooms with INaturalist during the foray. CMS and the CMS MLCO organization are partnering with the LCC Biology of Mushrooms Class to ensure fungi from the foray area are documented in INaturalist and a sampling are gathered for DNA testing. Four students will be invited on each foray this season (in addition to our normal count), to do this vital research work.
Chris Melotti (current Board Member, Speaker Coordinator & Vice President)
Chris is a Wildlife & Ecology Consultant, a former BLM Wildlife Biologist, and grew up in Pennsylvania in a mushroom loving family. After attending LCC's Biology of Mushrooms taught by the famous Freeman Rowe in 1995, Chris became part of the core group that puts together the Mushroom Display at the annual Mount Pisgah Arboretum Mushroom Festival and subsequently formed the Cascade Mycological Society. You will usually find Chris staffing the Edible and Poisonous Mushroom Display at the Mt. Pisgah Mushroom Festival. He also gives Guided Mushroom Walks at the Yachats Mushroom Festival. Chris has served on the CMS Board continuously since it's inception. Chris frequently gives talks on the Ecology and Biology of Mushrooms at local community events with his wife, Molly Widmer, another founding CMS board member.
Location: Cascades (Hwy 58), Willamette National Forest.
Attendee limit: 20, children accompanied by an adult are welcome, no dogs/pets.
Required mushroom permits: – No permit required for up to 1 gallon..
Registration for this foray is closed.