2018 Mount Pisgah Arboretum Mushroom Festival
Mount Pisgah Arboretum Mushroom Festival 2018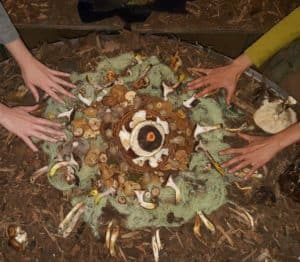 Given that it has been such a dry year festival-goers were not disappointed with the bountiful display of mushrooms CMS put together.  Once again, this was a record-setting year for the festival. Attendance was off the charts @ 5400 people coming through the gates! That's almost 700 more than the previous record set back in 2008.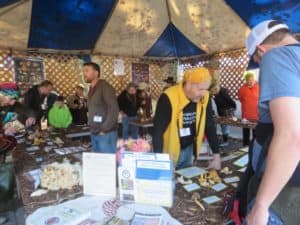 The Mushroom Festival is an important source of support for the Mount Pisgah Arboretum's (MPA) nature education programs, and this year the festival once again set a fundraising record for the MPA.
For those of you who keep track, here are the statistics for this years display along with the recipients of the Best in Show Awards. In case you did not know, Best in Show is not necessarily awarded for the rarity of a mushroom (although that has happened). Rather, Best in Show is for mushroom specimens that are carefully and patiently collected and arrive for the display table in perfect condition. Plus, it helps if they are a particularly beautiful or unusual mushroom. 
Stats for this year's Mushroom display: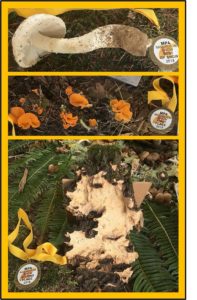 Total # of species – 351  (Not a record, but excellent for the dry conditions)
Best in Show awards –
Best in Show: Smith's Amanita (Amanita smithii; Shannon Adams)
1stPlace: Orange Peel Fungus (Aleuria aurantia; Doug Gammie
2ndPlace: Conifer-base polypore (Heterobasidion occidentale; Sandy Patton)
The MPA does all of the organizing and work associated with everything for the festival (advertising, music, vendors, etc.), except for the grand mushroom display and educational displays inside the White Oak Pavillion, the Edible & Poisonous display tent, the Fun Fungal Facts display tent and Talks on the Terrace. CMS and our Lane Community College (LCC) partner are responsible for all of these.  It takes a lot of volunteers to pull this off, about 100 if you include everyone who collects the mushrooms. Since I have been reporting on the festival (the past 4 years) I have not mentioned all of the people who make this happen. So, I decided it is time to do some shout-outs.  
From leading forays (Harriet, Marcia, Cheshire), collecting mushrooms (too many to list) to setting up the  mushroom display on Saturday (Aryanna, Anne, Alice, Loretta, Matthew, Matt, Cheshire, Chris, Sandy, Marcia, Bitty, Hannah,  Scott, Kenzi, Phillip, Barbara, Alan, Michelle,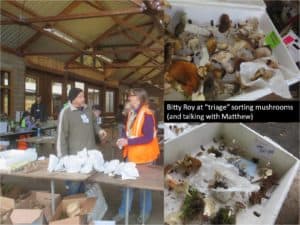 Stephen, Joe, Mike, Scott, Angela, Sean, Jeff, Roo, Skye, Molly), staffing the Edible & Poisonous Display (Matthew, Jared, Joe, Sue, Chris, Peg, Alice, Ron, Sandy), the Expert ID table (Joe Spivack, Ron Hamill), the CMS sales booths (Pavel, Sandy, Erin, Matt, Glen, Ingrid, Marc, Diana, Scott, Tree, Cori, Kelly, M, Joshua, Lyu, Kristen, Eva), the CMS Membership Table (Angela, Sean, Roxanne) and taking care of setup/teardown details on Sunday (Jeff, Jeem, Loretta, Eva, Sandy, Glenn) CMS volunteers were superstars!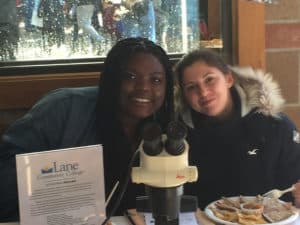 And, as always, CMS would not be able to pull this off without the assistance of our Lane Community College (LCC) partner. LCC instructor, Susie Holmes, and her Biology of Mushrooms students did a great job with collecting mushrooms, helping with the setup on Saturday, and staffing the LCC Science tables on Sunday.
A special thank you to our Expert IDers Noah Siegel and Steve Trudell who spent all day Saturday identifying then spent all day Sunday at the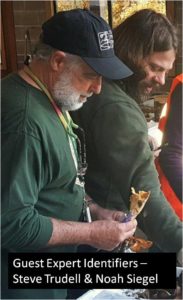 Expert ID table. We all wish we had both your energy and knowledge! Shannon Adams from Puget Sound Mycological Society also assisted with ID and staffing the microscopes at the LCC Science table.  
We also appreciate those who volunteered for the CMS-sponsored Talks on the Terrace: Bob Rudell of Rainforest Mushrooms, Jen from the Mushroomery, Matthew Kilger of Eating Oregon LLC, and CMS member Ron Patton.
Chef Joseph & Elica Pirrone always provide a delectable spread at the Volunteer After Glow get together. Thank you!
Yes, of course, I saved the Biggest Super Stars for last. Many of you may not know who is CMS's organizing force behind putting together the
mushroom displays at the festival.  From budgeting to maintaining the database of mushroom species, inviting guest identifiers, printing species labels, creating educational displays, space planning, documenting processes, creating checklists, evaluating ways to improve, keeping the CMS Board informed, and storing all of the posters and props in their home, Peg Boulay and Bruce Newhouse are a powerhouse of organizational skills and enthusiasm! Without the hard work and dedication of Bruce & Peg, the display would not be the same.
Link to the news report on KVAL 
You will find more pictures here. I apologize if I missed anyone, everyone's efforts are very much appreciated.
Below are some pictures of both the setup and the festival. Click through to see all of the fun!
[soliloquy id="13431″]