MLCO Benefit – First National Taphouse – Nov 11, 2018
  A Fungal Event to Benefit MLCO
This event at the First National Tap House (51 W Broadway, Eugene) is being sponsored by 500 Women Scientists – Eugene Pod. CMS members Dr. Krista McGuire and Dr. Bitty Roy are the featured speakers (topics & biographies below).  All proceeds from the $5 suggested donation will benefit the Macrofungi of Lane County Project.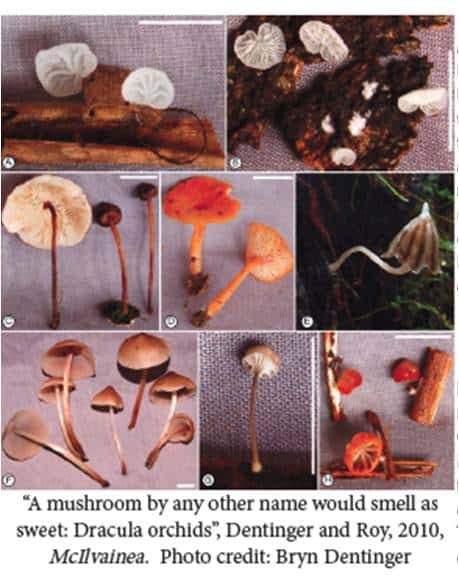 "From farms to cities: how fungi respond to human activity"
Dr. Krista McGuire is an Associate Professor of microbial ecology at UO. As an undergrad at Muhlenberg College, she took a course in Costa Rica that solidified her decision to study rainforest ecology. Her Ph.D. at the University of Michigan studied the role of fungi in tree diversity patterns in the rainforests of South America, and as a postdoc at UC Irvine worked across the boreal forests of Alaska and the tropical rainforests of Panama. As faculty at Barnard College, Columbia University, she began studying fungi in urban systems. Krista has been at UO since July 2017 studying how plants and fungi respond to human disturbance such as agriculture, urbanization, and shifting climate, conducting research in tropical ecosystems of Malaysia, Puerto Rico, and Panama; as well as green infrastructure in urban environments; and a local project on microbial diversity in Oregon vineyards.
"Fungal Mimicry"
Dr. Bitty Roy is a Professor of fungal and plant ecology at UO. During her master's in Paleobotany from Southern Illinois University, she took Forest Pathology with Walt Sundberg and hasn't seen the world the same way since. Her Ph.D. work at Claremont Graduate School examined pathogen influence on plant populations, and the discovery of a rust fungus that mimics flowers, which led to a National Science Foundation Postdoctoral Fellowship at UC Davis. Her first faculty position was at the Swiss Federal Institute of Technology, the ETH, which is Europe's MIT, where she received tenure and continued her work on fungal mimicry. She moved to UO in 2001, where she has divided her research between the effects of fire and climate change on the plants and fungi in the local prairies and the ecology of tropical fungi.
Tickets at the door
RSVP on Facebook: "500 women scientists – Eugene pod"
Featuring
Fungi!