Why I Volunteer
Why did I ever volunteer to write an article about "The Benefits of being a CMS Volunteer"?  What have I gotten myself into? What kind of propaganda can I come up with to convince people they should give up some of their extra time to occasionally volunteer for CMS?   I guess the best place to start is "Why do I do it?"   I can't say I started volunteering because of any benefits I would receive.  I started volunteering because I thought I might have something to offer. But, in retrospect, my involvement with CMS has added a lot to my retirement life.
When Ron and I first retired from our computer careers and moved to Eugene we were ready to "unplug", garden, and get outdoors.  Shortly after moving to Eugene in 2007 we heard about CMS through Marcia Peeters, a CMS founding member.  We had met Marcia through our mutual interest in gardening.  But, we are not usually joiners, so our involvement with CMS started pretty slowly.  Like most people, we were primarily interested in learning to identify edible mushrooms. So, at first, we only went to CMS meetings if the discussion was about how to find and identify edibles.   A few years went by and we started to realize that there are more to mushrooms than just eating them.  So, we started to attend more meetings and discovered those "too scientific for my taste" talks were really interesting.  Who knew that there are millions of species of fungi yet to be identified and that mushrooms could clean up oil spills, help cure cancer, and improve the vigor of our vegetable garden?  It was not until 2011 that we joined CMS and attended the Fungal Feast and 2 CMS forays.  Doing so gave us the opportunity to meet and get to know a few CMS members. We found CMS members to be an interesting and diverse group of people with a sense of adventure, a love of the outdoors and fungi, with a strong sense of community and desire to understand and protect the natural world around us.
It wasn't until 2013 that I stepped out of my comfort zone and decided I would volunteer when then President, Skye Weintraub, asked for help with making clay mushroom centerpieces for an upcoming Fungal Feast. Doing so allowed me to discover my artsy side, which I never knew existed. Other than some fading memories of working with clay in a Middle School art class, I had never pursued anything artistic. Helping with the mushroom centerpieces turned out to be a fun experience that allowed me to get to know Skye and sent me down the road of making and painting clay mushroom earrings, ornaments, and models. Our current President, Cheshire Mayrsohn, got me hooked on fiber arts which started me down the path of felting mushrooms.
It was also through Marcia that I learned CMS needed new signs for the Mushroom Display at the Mushroom Festival.  Making signs was something I did have some experience with, so I said I could help. I worked with Peg Boulay and Bruce Newhouse the CMS co-coordinators of the Mushroom Display.  Working with Peg & Bruce was a delight, so when Peg asked if I would help her with the 2014 Mushroom Display setup, I said yes. The Volunteer Coordinator "job description" was pretty simple: ensure volunteers provide their contact information on a sign-up sheet, help link volunteers to tasks, and send a thank you email to volunteers after the festival.  This volunteer opportunity allowed me to meet at least 30 new people and gave me a behind the scenes experience with setting up the mushroom display. Mushroom Festival weekend is a lot of work with a lot of great people, with a fabulous volunteer appreciation party at the end.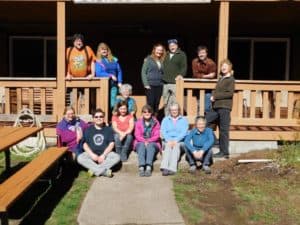 My involvement with the CMS Board also started slow.  I was first invited to attend a CMS Board meeting by Heather Seilicki in 2015. I ended up attending Board Meetings for a year before I officially joined the Board.  Yes, any CMS member can attend Board meetings without being a Board Member.   When I did officially join the board in 2016 I volunteered to help Heather with Community Outreach through our online activities.  A pretty easy assignment since my career was in computers. Well, not quite.  My career mostly involved protecting classified computers that were not connected to the INTERNET.  I did join Facebook after I retired, so that was my starting point.  A year later, I have now learned how to use a whole host of online tools and also managed to spread the CMS volunteering bug to my husband Ron. He now writes the Mushroom of the Month article for CMS E-News and has put his presentation skills to work by teaching the CMS sponsored community Mushroom classes at the Amazon Community Center.  As it turns out, we missed not having a reason to use and improve our computer and training skills.
Looking through my contact list 10 years after we moved here, I find that over half of the people we know in Eugene we met through CMS. Some I know better than others. But, I would say that most of my closest friends in Eugene are all mushroom people.
I got involved with CMS because I was interested in learning about edible mushrooms. But, CMS has given me so much more. CMS has taught me that fungi are both amazingly important and vastly understudied.   CMS has brought many interesting and fun new friends into my life. CMS has allowed me to discover new interests (that artsy stuff) and provided me with an outlet to improve my computer skills (keep my brain active). As my mother always said, you basically get out of something what you are willing to put into it. CMS has definitely been worth the effort!
I know we have a lot of very talented people in CMS with all types of skills.  You do not need to be an expert in Mycology to help out.  Some projects involve just sending a few emails or making a few phone calls to organize an event.  If you would like to let the CMS Board know you are willing to help out just send an email to volunteer@cascademyco.org.  The next time we would like help with something, we will send you an email with the details. Signing up to receive these emails does not commit you to anything. Another great way to start is with being a co-leader for a CMS Foray, you can learn more on our new Volunteer Page.