Mushroom Festival Volunteer Schedule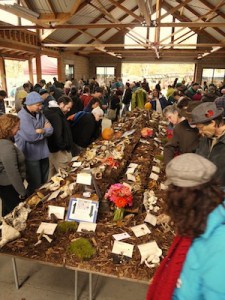 Did you know that the amazing mushroom display at Mount Pisgah Arboretum's (MPA) Mushroom Festival is entirely collected, identified, displayed and interpreted by CMS volunteers? You can help! Here's when and how…
Saturday Oct 25
Mushroom Display
Volunteers are needed to help with the labeling and setup of the Cascade Mycological Society Mushroom Display. This process goes on all day, from morning until night. It is an exciting and invaluable way to learn about the mushrooms that fruit in our region. Contact Peg Boulay to volunteer for any part of a shift.
Erin Blanchard is one of the invited mycologists who will be identifying the fungi at this year's Mt. Pisgah Mushroom Festival.
About Erin Blanchard
Erin is studying the taxonomy and identification of fungi. Originally from San Diego, she moved north to San Francisco five years ago in favour of the damp weather and flourishing fungi.  She has been an active member of the Mycological Society of San Francisco and Bay Area Mycological Society, and has been involved with other California Mycology Clubs in organizing and setting up events. Erin has identified fungi for the annual MSSF Fungus Fair, San Diego Mycological Society, Fungus Federation of Santa Cruz, Point Reyes Fungus Fair, Marin Mushroom Mania, Point Reyes MycoBlitz, Humboldt Bay Mycological Society, Northeast Mycological Federation, UC Berkeley Fungal Survey of Yosemite, among other events.
Erin has moderated a message board for Mushroom Hunting and identification; she consults wild crafted food businesses, and has organized and led mushroom forays in the San Francisco Bay Area. She has worked with Dr. Else C. Vellinga sequencing the DNA of Paxillus and co-authored a poster presentation for the Mycological Society of America conference in 2009.  She has also been involved in research efforts directed by the UC Berkeley Mycology Department to identify and document species of fungi in Yosemite National Park and Point Reyes National Seashore.
Educational Displays
Volunteers are also needed to hang posters and signs, set up educational displays, and organize the CMS booth. Contact Peg Boulay for details.
SunDAY OCT 26
Mt. Pisgah Arboretum Mushroom Show and Fall Festival
Event Day Volunteers
Best of Show Coordinator. Help organize a process to identify the best mushroom specimens (and who collected them), coordinate with the judges (Cheshire and Marcia), and deliver prizes to the winners (this may require follow-up work after the show). Contact Peg Boulay for details.
Volunteer Coordinator. During the show weekend, help link volunteers to tasks and use a sign-up system to track volunteer contact information. After the show, send a thank you email to volunteers. Contact Peg Boulay for details.
Hospitality Coordinator. Check in with our honored guests to make sure that they have what they need during the festival. Bring lunch to our esteemed experts at the identification table (you will be reimbursed). Contact Peg Boulay for details.
Help set up on Sunday: Sunday morning, 8:30 – 10:00 am is always a scramble to clear, clean and organize before the show opens. Just come (before 9:30) and we'll gratefully put you to work. Contact Peg Boulay for details.
Staff the CMS booth: Help share the fungal fun – booth volunteers talk to people about the CMS mission and upcoming events. You can also help sell t-shirts, mushroom earrings, and the new wild mushroom cookbook, all which go to support CMS activities and scholarship funds. Sign up for a shift here.
Help clean up on Sunday: When the show ends at 5 pm, we need volunteers to take down signs and posters and to collect and organize labels/holders. Contact Peg Boulay for details.