Morel Recipes
< return to main recipe page
Morels in Tarragon Cream
Recipe Courtesy of Gerry Wilson
Ingredients
1/2 lb. fresh morels, sliced
1/4 cup shallots, thinly sliced
1 T unsalted butter
2 T sweet Marsala wine
2 T tamari soy sauce
1 cup heavy cream
1 sprig of fresh tarragon
Freshly ground white pepper
1 dash of hot pepper sauce
2 T plain strained* yogurt
*24 hours in advance, drain yogurt in a yogurt strainer or cheesecloth to a soft cream cheese consistency.
Preparation
Add morels to a large wash pan of cold water. Agitate. Drain. Repeat two more times until morels are clean. Place morels in a salad spinner and whirl dry. Saute shallots in butter in a heavy saucepan until translucent. Add morels, marsala, and tamari and cover saucepan with tight lid. Cook over medium heat 10 minutes. Remove lid and cook just until liquid evaporates. In a separate saucepan bring heavy cream to a boil and reduce to about 1/2 cup, stirring regularly, about 10 minutes. Add Tarragon sprig to hot cream for 5 minutes. Remove Tarragon sprig. Pour cream over Morels, whisk in yogurt and season to taste with white pepper and a dash of hot pepper sauce. I use Nancy's Plain Honey Yogurt, Crystal Extra Hot red pepper sauce, San-J wheat free Tamari soy sauce, and a good quality Italian Marsala wine. This cream sauce is spectacular over grilled beef. You may want add some sea salt to intensify the flavors. Or toss a couple of tablespoons into hot chicken rice-noodle soup. This recipe is wheat free.
More Morel Recipes:
Cascade Mycological Society on Pinterest.
CMS Wild Mushroom Cookbook
$21.50 includes shipping to anywhere in the USA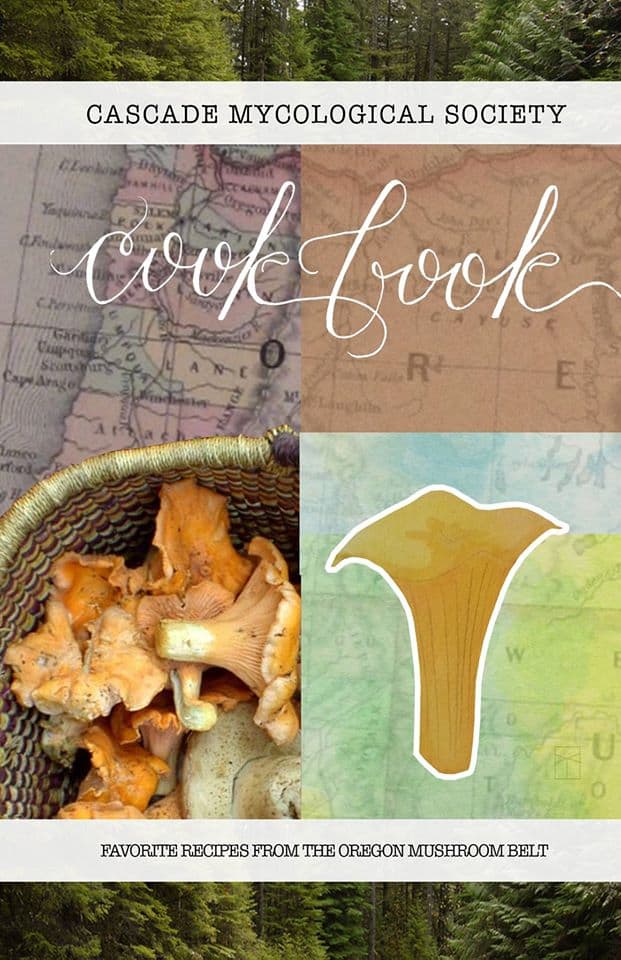 This is really much more than a cookbook. It is a snapshot of the PNW regions most popular edible mushrooms. For example, Chanterelles, Hedgehogs, Matsutake, Morels, and Lobster mushrooms, plus 12 others. We start with some storage and preservation techniques and a fruiting calendar. After that, recipes are organized by season. Each section includes a description of the mushroom along with foraging stories and tips from a network of mushroom lovers with a lifetime of experiences to share. The cookbook has over 184 pages with one-of-a-kind recipes and full-color photographs. The book is printed on wipe-clean gloss paper, has a lay-flat spiral binding, and also includes a convenient index.
All profits from the sale of the book will support the CMS grant and scholarship programs. The cookbook is dedicated to Freeman Rowe. Freeman's love of learning and teaching the beauty and diversity of fungi has touched so many of us.