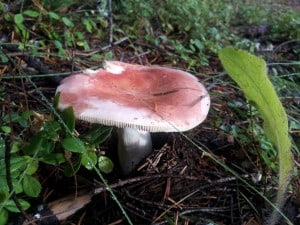 Bart Buyck from Paris will present "Russulas"
Several of the regional mycology clubs have worked together to bring Dr. Bart Buyck to the PNW. He is here to gather local Russulas for study and to talk to the various mycology clubs about his research. This is a special meeting to accommodate Bart's visit to Eugene.
Dr. Bart Buyck is Associate Professor in the Department of Systematics and Evolution at the Museum National d'Histoire Naturelle in Paris, France. Bart obtained his PhD in 1989 at the University of Gent in Belgium with a revision of Russula in Africa for which he received the Augustin Pyramus de Candolle prize of the Academy of Natural Sciences in Geneva, Switzerland. He has continued his research in tropical mycology, first at the University of Louvain-la-neuve, Belgium, and later at the University of Bujumbura in Burundi, Central Africa. Since 1996 Bart joined the Laboratoire de Crytogamie of the National History Museum in Paris, France, where he is responsible for the Mycology Herbarium. Read more
Do Edible Mushrooms in Oregon Contain Radioactive Contaminants?
Matt Trappe, one of the authors of "North American Truffles," will talk about local mushrooms having radioactive contaminants on October 10th. Matt is a research ecologist with over 15 years experience working in western forests. He specializes in disturbance ecology particularly fire, and mycology, as well as soil microbiology, DNA and isotopic analysis, forestry, and botany. Matt has a Ph.D in Environmental Sciences and a MS in Forest Science/Forest Resources, both from OSU. He also has a BS in Electronic Engineering/Automated Manufacturing and worked as Read more
As you've heard, Langdon Cook, author of "The Mushroom Hunters" and "Fat of the Land" is our featured speaker at the LCC Forum this Friday. He is also going to be at the Mt. Pisgah Arboretum Mushroom Festival on Sunday.
Steve Trudell will also be available at the Mushroom Festival on Sunday. He is the co-author of "Mushrooms of the Pacific Northwest" along with Joe Ammirati and has recently co-authored the new book, "Tricholomas of North America – A Mushroom Field Guide."
CMS has a great new design for T-shirts this year, Hydnum repandum. Mushroom earrings and mushroom center pieces will also be available for sale, along with a mushroom walking stick that will be raffled off.
Hope to see you Friday evening at 7 PM at the LCC Forum and at the Mt. Pisgah Arboretum Mushroom Festival on Sunday, 10 AM to 5 PM.
Suggested Donation: $8 per person, children under 12 free.
Take exit 189 off I-5, just south of Eugene-Springfield.
Free shuttle from Civic Stadium every hour on the hour!
The first meeting of "the mushroom year" for the Cascade Mycological Society will be what we like to call the "identifest." What's an identifest? Just as it sounds, this meeting will be focused on identifying fresh mushrooms that people have brought with them. So, bring whatever fungal finds you've found (fresh, dried, or pictures) and we'll endeavor to identify them to species (using Mushrooms Demystifyed). If you can get a spore print before the meeting and bring that in too, it will help with the identification process.
We will have microscopes available Read more
Come join the rest of the CMS membership for our last general meeting of this season! This is a members only meeting and pizza social, and the last CMS activity before we go into  "hibernation" over the summer. The pizza social will be held on Thursday June 13 at 7 pm at Roaring Rapids Pizza, on 4006 Franklin Boulevard in Glenwood. In addition, Read more