Movie Night  – The Cloud Forest Project
Join us for popcorn with truffle oil and a movie. "The Cloud Forest Project" film is based on a group of U.S. scientists' funded by the National Geographic and the National Science Foundation, working on experiments about orchid mimicry, decomposing fungi, and their pollinators in the tropical cloud forest of Ecuador. Dr. Bitty Roy from the U of O, and one of her students and CMS scholarship recipient, Roo Vandergrift, will be present to answer questions following the film. Dr. Roy has been working for the last four years in the cloud forest working out the pollination system of a mushroom-mimicking orchid in the genus, Dracula.
This film is the work of British film maker and nature photographer, Jacky Poon, who vividly captures a never-before-seen moment of a newly discovered method of pollination used by Ecuadorian orchids in a cloud forest. This film is filled with spectacular footage ranging from birds to monkeys to orchids to interviews with villagers who have been threatened by mining operators. It was filmed with personal-diary style in mind, with lots of interesting science as well as banters and moments of laughter. The film also documented conservation issues and mining conflicts in the heart of the Intag Valley, what the local people are facing, and what we can do to help.
Our general meetings are the second Thursday of the month. Meet at 7 PM, Room 115, Science Building (Bldg. 16) at Lane Community College in Eugene. As always, the presentation is free and open to the public.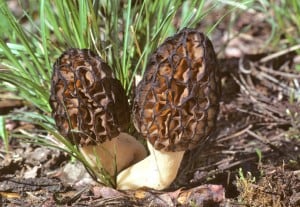 Spring Foray May 18th   
Our annual Spring Morel Foray will be on Saturday, May 18th. It is for CMS members only and dogs are not allowed. This year we will again explore in the general area of  Jack Creek, near the Metolious River in Central Oregon. Details of the meeting time and location will be given to members that have reserved their place in this foray by contacting the foray coordinator, Cheshire, at forays@cascademyco.org. Space will be limited to 25 people. The foray will be led by Board members David Hammond and Skye Weintraub.
Members who are interested in camping friday and/or saturday night are encouraged to stay at Link Creek campground, on the shores of Suttle Lake. Campsites may be reserved through www.reserveamerica.com, there are also 13 campsites that are available on a first-come first-served basis. If you are interested in camping near the rest of the group, please contact David at webmaster@cascademyco.org after signing up for the foray to find the area in Link Creek where we will stay.
You will need a current mushroom picking permit for personal use. They are free from the forest service. If you are camping in the campgrounds there is a fee. Also, unless you want to pay the day fee for parking ($5) you will need a parking pass such as the NW Forest Pass, the Senior National Parks and Federal Recreational Lands pass, the Access pass, or an Annual pass.
For those that want to come just for the day, we will try to carpool anyone needing a ride. Let Cheshire know this when you make your reservation.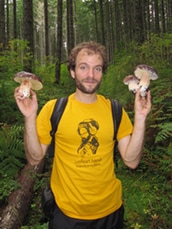 Our April general meeting will feature a talk by Alija Bajro Mujic, titled "Have Rake, Will Travel: Following the Ancestral Migration of Douglas Fir and it False-Truffle Associates"
Come and follow a young American mycologist from the balmy highlands of Southern Japan to the forested sky islands of the American Southwest and Mexico in search of the unknown false-truffles of Douglas Fir. The work presented in this talk seeks a better understanding of the unique ectomycorrhizal relationship shared by the genera Rhizopogon and Pseudotsuga and traces the historical migration of forests around the Northern Pacific Rim.
Alija Bajro Mujic is a doctoral candidate in the Department of Botany and Plant Pathology at Oregon State University.  Alija's interest in Fungi was first cultivated through foraging as a member of the Santa Cruz Fungus Federation while he was completing his bachelor's degrees at the University of California, Santa Cruz.  After undergraduate study, Alija found employment as a restoration ecologist where his interests in mycorrhizal fungi and conservation deepened and grew. These interests led Alija to pursue graduate study where he strives to develop a better understanding of mycorrhizal symbioses and their roles within forest ecology and conservation.  You can find more information about Alija and his work at http://people.oregonstate.edu/~mujica
Our general meetings are the second Thursday of the month. Meet at 7 PM, Room 115, Science Building (Building 16) at Lane Community College in Eugene.  As always, the presentation is free and open to the public.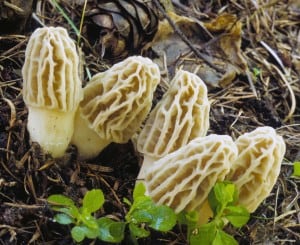 This Thursday, March 14, the CMS general meeting will featureour very own Chris Melotti, who will be presenting "Morels, Truffles and Other Spring Mushrooms". This presentation was originally created by Dr. Micheal Beug, who will not be in attendance. While spring is not the peak time for northwest mushrooms, there are still plenty of interesting fungi out there, please join us for some interesting photos and discussion of what can be found at this season.
Dr. Michael Beug taught chemistry, mycology and organic farming at The Evergreen State College in Olympia, Washington for 32 years. He lectures to mushroom enthusiasts throughout the West and loves to teach beginners workshops. His mushroom photographs have appeared in over 30 books and articles on mushrooms. He is a member of the North American Mycological Association (NAMA) where he serves as Editor of the journal McIlvainea, Chair of the Toxicology Committee, and member of the Education Committee. Michael was winner of the 2006 NAMA Award for Contributions to Amateur Mycology and has prepared over two dozen PowerPoint presentations about mushrooms for the NAMA Education Committee.
Our general meetings are the second Thursday of the month. Meet at 7 PM, Room 115, Science Building (Building 16) at Lane Community College in Eugene.  As always, the presentation is free and open to the public.
Our February general meeting will feature our very own CMS members Sue Docksteader & Steen Mitchell. Sue and Steen will be telling us about what they did over their summer vacation, giving a talk on their 2012 cross-country camping & mushrooming trip. Rumor has it that pictures of the elusive red chanterelles may appear! This will be a great opportunity to see lovely photos of some north american mushrooms from outside of the pacific northwest region.
Our general meetings are the second Thursday of the month. Meet at 7 PM, Room 115, Science Building (Building 16) at Lane Community College in Eugene. The presentation is free and open to the public.
We have heard from the North American Truffling Society about their upcoming truffle dog training seminar. Please note that this is not a CMS event, but may be of interest to our members.
Noted dog trainer, Jeannine May, will lead the NATS truffle dog training seminar at
The Forestry Club Cabin at Peavy Arboretum in Corvallis, Oregon, on Saturday,
February 23, 2013 from 9:00 AM to 5 PM.
Map
The seminar will be a combination of lecture, fundamentals of scent training and practical fieldwork.
Attendance is limited to six dogs and six audits. A waiting list will be maintained.
Fees must be paid at time of registration. All dogs will be required to be under handler control and be well mannered in the company of other dogs and people. Dogs that are not friendly with people or other dogs must have instructor approval prior to registering. Auditing may be recommended depending on issues. There is plenty if room for crates next to you for well mannered dogs. If dogs are too disruptive to other participants during the lecture they may be asked to wait in your vehicle.
Current rabies vaccination required for participating dogs.
Beverages and Continental breakfast will be provided.
Dog and owner training ~ $200 for NATS members
$215 for non-members (includes NATS 2013 membership)
Audit class, sans dog ~ $100 for NATS members
$115 for non-member (includes NATS 2013 membership)
For questions contact:
Marilyn Hinds,
President
North American Truffling Society
mkhinballard@peak.org
541-929-7136
Note : Ticket sales are no longer available online
Cascade Mycological Society will be celebrating Oregon's bountiful wild mushroom harvest with the 2013 Fungal Feast on Thursday, February 7, beginning at 6:30 PM at the NW Youth Corps school at 2621 Augusta Street in SE Eugene. In addition to being a delightful meal surrounded by your fellow mycophiles, this event is a significant fundraiser for CMS. The doors will open at 6:00 PM so that you have time to bid on items in the silent auction. There will also be center pieces and T-shirts for sale. This is a "Bring Your Own Wine" event. A corkage fee of $5 will be charged for each bottle.
A description of the menu, and bio of Chef Joseph Crawford may be seen here.
The Cascade Mycological Society is soliciting contributions for an upcoming cookbook. All proceeds from our cookbook sales will go towards supporting the CMS grant and scholarship programs. The cookbook will be available for sale in fall 2013 and will feature over 100 one-of-a-kind recipes, plus anecdotes, tips, and photographs, featuring foraged, wild-crafted mushrooms from our geographic region. Tell us your best tips for cleaning, gathering, storing, pickling, drying, cooking, serving, decorating with, wearing, harvesting, and preparing mushrooms. Send us the incredible pictures that you would just love to have a wider audience. Now is your chance. Submit your contribution and become a published author.
Submit your recipe using our online form or download a submission form to print and mail, along with any photos or images, to Cascade Mycological Society, PO Box 110, Eugene, OR 97440.
Submit your tips and anecdotes using our online form or download a PDF to print and mail, along with any photos or images, to Cascade Mycological Society, PO Box 110, Eugene, OR 97440.
Send your digital photos to us at cmscookbook2013@gmail.com.
If we accept your contribution, we will publish your name alongside your submission and invite you to the fall 2013 Cookbook Release Feast in order to celebrate the final publication of our cookbook. It's sure to be a party to remember.
Questions: Contact us at cmscookbook2013@gmail.com.
Related Items: