Mushroom Prayer Flag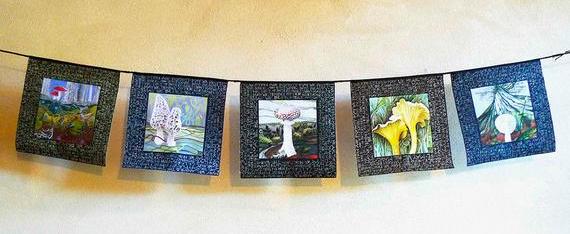 CMS members love these Mushroom Prayer Flags! So much so that local to Eugene area artist, Cada Johnson, has kindly allowed CMS to offer her Mushroom Prayer Flags in the CMS Store.
This is a set of 5 prayer flags dedicated to mushrooms and inspired by the dream that we humans may have qualities that are shroom-like so that we may better live in harmony with this earth. The prayers are the same on each flag, coupled with a different species of mushroom. Each flag measures approximately 7″x7′. The flags stretch approximately 37″ with additional string on each side. The total string length is roughly 90″ or 7.5′. The flags are made in Oregon of 100% recycled polyester with nylon string and sewn with black thread.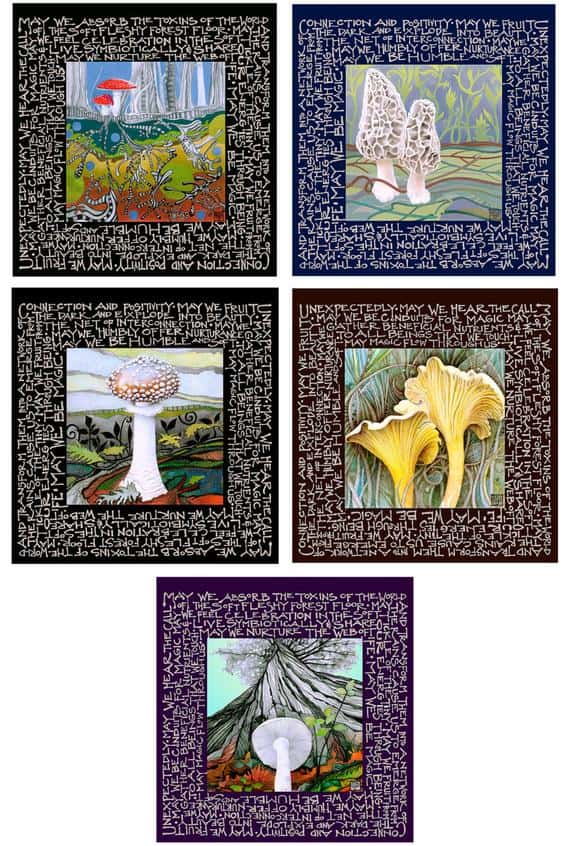 Here are the prayers:
May we absorb the toxins of the
world and transform them into a
network of connection and positivity.
May we fruit unexpectedly.
May we hear the call of the soft
fleshy forest floor. May the rains cause us to emerge
from the dark and explode
into beauty.
May we be conduits for magic.
May we feel celebration in the
soft tickle of the tiny.
May we fruit from the net
of interconnection.
May we gather beneficial nutrients and
live symbiotically and share our energies
through being.
May we humbly offer nurturance to all
beings that we touch.
May we nurture the web of life.
May we be magic.
May we be humble and soft.
May magic flow through us.
---
Price (with shipping): Non-member $33.00, Member $30.00
---
---
Continue shopping at the CMS Store