If you are looking for mushroom earrings that look like the real thing you have come to the right place. These earrings are hand sculpted and painted by Sandy Patton, an artisan member of the Cascade Mycological Society. They look very much like the actual wild mushrooms they depict.
---
Product materials: Non-toxic natural clay, non-toxic water-based acrylic paint, non-toxic varnish sealer, fish hook style wire earrings (silver or gold plated over brass).
Most Mushrooms (without earring wire), are 1/2 inch to 3/4 inch in length, but sizes and shape may vary.
Earrings are shipped in ready to gift packaging and includes a description of the wild mushroom depicted.
All proceeds from the sale of Wild Mushroom Earrings go towards supporting CMS Mycology Grants and Scholarships.
---
Chanterelle (Cantharellus formosus/cascadensis)
Chanterelles are the most popular mushroom to wild harvest in the Northwest. Excellent mushroom for beginners. There is also a very tasty white species of Chanterelle.
Price (with shipping to USA): Non-member $16.00, CMS Member 13.00 
---
Black Morel (Morchella snyderi – formerly elata)
There is nothing like the joy of finding this miniature Christmas tree like a mushroom in the Spring. Broadly conical shaped cap with meandering dark brown to black ridges and lighter colored pits. Whitish to a cream-colored stem. Cap and stem are attached; both are hollow.
Price (with shipping to USA): Non-member $16.00, CMS Member 13.00 
---
 Fly Amanita  – (Amanita muscaria)
The most recognizable of all mushrooms and the most common to be depicted in art, fashion, décor, etc. Bright red to red-orange cap with white or yellowish warts or flakes. White gills and stem with a ring on the stem and a bulbous base with one or more scaly rings.
---
King Bolete/Porcini (Boletus edulis)
---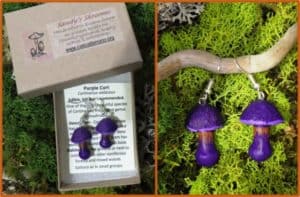 Return to shopping at the CMS Store