CMS Meeting – March 15, 2023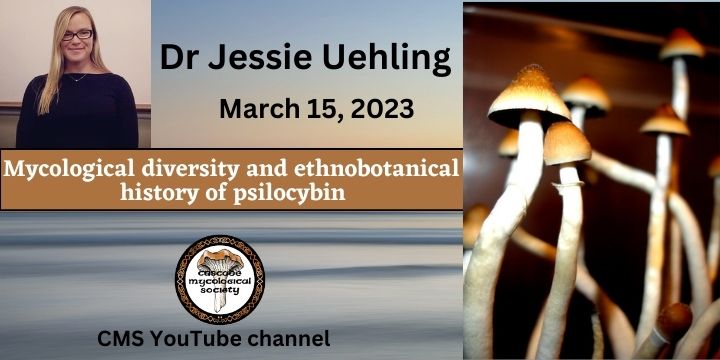 When: Wednesday, March 15, 2023, at 7:00 pm
Live Stream ONLY: CMS YouTube Channel (open and click to set a reminder)
This event is free and open to the public.
Our March speaker will be OSU professor Dr. Jessie Uehling. In 2020, Oregon voters approved a ballot measure to allow use of psilocybin (the hallucinogenic compound found in some mushrooms) in therapeutic settings. Preliminary data show psilocybin has potential to address mental health issues such as depression, anxiety, and PTSD. Dr. Uehling is the mycologist for Oregon's Psilocybin Advisory Board, which has developed the administrative rules to ensure a safe and equitable system for psilocybin use. Jessie will discuss mycological diversity and the ethnobotanical history of psilocybin use, and will be glad to answer questions about her area of expertise as it relates to psilocybin services.
Dr Jessie Uehling is an assistant professor of fungal biology in the department of botany and plant pathology at Oregon state university. In addition to overseeing the research laboratory at OSU, she teaches mycology and population genomics, curates the OSU fungal herbarium collection, and helps to develop public health policy around fungal technologies. In 2022 Dr. Uehling was named by Business Insider as one of the top women for shaping the future of psychedelics. For more information about Jessie check out the Uehling Lab, jessieuehling.com or follow us on Twitter @uehlingLab.