CMS Field Trip Leaders
Listed below are all the CMS members who typically lead CMS field trips. Not everyone leads a field trip every year, while some folks (CMS Board members), may lead multiple field trips per year.
Trent and Kristen Blizzard
Self proclaimed "modern foragers" Trent and Kristen Blizzard first took up foraging near their home in Glenwood Springs, Colorado. They have been trekking the forests of Colorado, the Midwest and the Pacific Northwest for years mostly with wild, edible mushrooms in mind. At first a hobby, the hunt for mushrooms quickly became nothing short of an obsession for these two mycophiles, both of whom are certified Wild Mushroom Identification Experts in the state of Colorado. They are the authors of Wild Mushrooms: A Cookbook and Foraging Guide, and you will find them blogging about their adventures at modernforager.com.
Trent and Kristen recently left Colorado and took up residence in Cable, Wisconsin during the summers, and Reedsport, Oregon during the fall and winter. Kristen is on the Board of Directors for the Wisconsin Mycological Society, while Trent is currently the President of the North American Mycological Society. We are very happy to welcome them both to the CMS community.
Erin Brown
Erin has been an avid outdoor enthusiast for a long as she can remember. Born and raised in Spokane, WA, she relocated to Springfield, OR in 2008. Prior to the move, she was a Park Ranger in North Cascades National Park. As an amateur photographer, she has always had a passion for nature photography and is drawn to the diversity of color, texture, and shape of mushrooms. She began foraging wild edibles on her own about 15 years ago after several years of 'just looking'. Erin joined CMS in 2016 and enjoys going on mushroom outings with her daughter Madison and son Parker. Erin currently works for the Springfield School District as a substitute Educational Assistant and also enjoys volunteering at her kid's school. Pastimes include camping, fly fishing, floating rivers, hiking, pottery, reading, knitting, and cooking… to name a few. Erin joined the CMS board in March of 2019.
Dylan Eckert
For Dylan, the first wild mushroom he ever consumed morphed into thousands of hours of searching for the "pot of gold", the "Where's Waldo" scavenger hunt, the all-consuming mushroaming lust. He has now been hunting for mushrooms and honing his identification skills for over 10 years. Prior to joining CMS, he co-led field trips for the Oregon Mycological Society in Portland.
Like many who have caught the mushrooming bug, Dylan has been fortunate to meet awesome individuals who were willing to share their knowledge and help with his journey. He hopes to do the same for others. Someone once stated, "I don't want to ruin your journey of discovery", after a request to give away mushroom spots. He agrees with this philosophy and feels that rewards are best when earned. However, he does enjoy sharing the many tidbits for success he has learned and the passion to keep pursuing those adventures.
Pavel Gubanikhin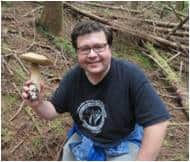 Pavel started foraging for wild mushrooms at the age of four with his grandparents while growing up in Russia. When Pavel and his family moved to Eugene from Florida in October 2008, they attended their first Mount Pisgah mushroom show the very next day after coming into town, and have been enjoying mushroom foraging in Oregon ever since. Pavel has been a CMS board member and Treasurer since 2012 and leads CMS mushroom field trips annually.
Matthew Johnson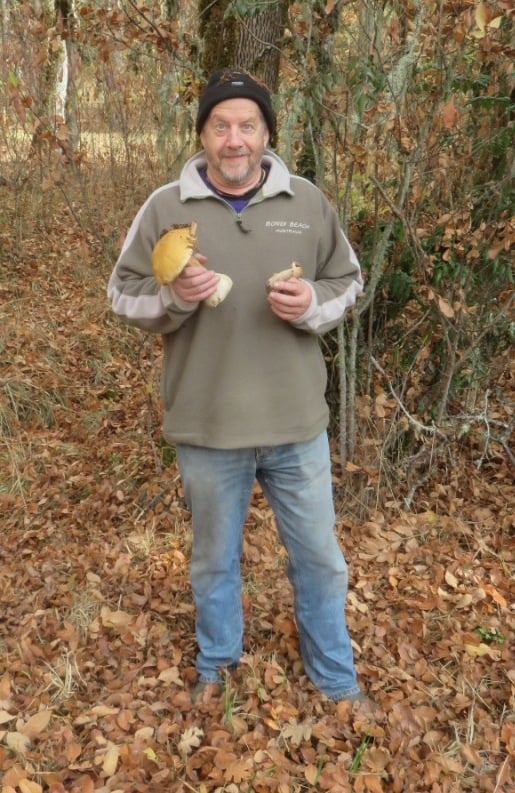 Matthew Johnson first started foraging for mushrooms in the mid-'80s. In 1989 he was lucky enough to attend Freeman Rowe's Biology of Mushrooms class at LCC. Since that time he has helped each year to put together the annual Mount Pisgah Mushroom show.
He first joined the CMS Board in 2001 but had to quickly resign because he got a job offer in the Republic of Palau, a small island nation in the Western Pacific. He re-joined the Board in 2005 when he returned. Over the years he has served in various officer position on the board. He has led many a field trip for CMS and also leads mushroom walks each year at the Yachats Mushroom Festival.
Matthew is a banjo player, a SCUBA diver, a photographer, an amateur anthropologist, and a dad. He is also an attorney, as is his wife Meredith, who is a former Board member and past President. Matthew & Meredith have a teenager, who is an avid if reluctant mushroom picker, who won First Place in the Best of Show at the 2015 Mushroom festival with a potentially new species of Hypomyces.
Matt Mathiason
Matt spent a lot of time outdoors growing up in southern Oregon. He frequently went out with his dad to scout for hunting season, camp and/or fish. All of the time wandering around looking at the ground for game signs brought many different mushrooms into view. Coupled with an unending curiosity about the natural world eventually led to the purchase of a few mushroom ID guides and the confidence to identify a few species. After moving to the Eugene area in 2016 he discovered CMS and quickly joined. He has since been a sponge attending the monthly presentations, going on mushroom outings, reading mycology related books and volunteering at the annual festival. Matt decided to put his talents as a software engineer to use and volunteered to contribute to the web site in 2020, joining the board in February 2021. Matt's wife Eugena often accompanies Matt on CMS field trips he leads.
Cheshire Mayrsohn
Cheshire has been an active CMS member since it's founding and is a past CMS Vice President, Membership Chairperson, Newsletter Editor, Speaker Coordinator, and most recently President from 2014-2021. Cheshire is a retired Botanist for the BLM and is also an active member of the Northwest Lichenologist Society. Cheshire has been foraging for edible plants and mushrooms since childhood.  Her interest in mushrooms of the Pacific Northwest started when she attended Freeman Rowe's Biology of Mushrooms class at LCC in 1983.  Cheshire leads field trips annually for CMS and is a wealth of information about mushrooms and our local forests. She is also teaches a Mushroom Dyeing Class at the Eugene Textile Center..
Chris Melotti
Chris is a Wildlife & Ecology Consultant, a former BLM Wildlife Biologist, and grew up in Pennsylvania in a mushroom loving family. After attending LCC's Biology of Mushrooms taught by the famous Freeman Rowe in 1995, Chris became part of the core group that puts together the Mushroom Display at the annual Mount Pisgah Arboretum Mushroom Festival and subsequently formed the Cascade Mycological Society. You will usually find Chris staffing the Edible and Poisonous Mushroom Display at the Mt. Pisgah Mushroom Festival. He also gives Guided Mushroom Walks at the Yachats Mushroom Festival. Chris has served on the CMS Board continuously since it's inception. Chris often leads CMS field trips, and frequently gives talks on the Ecology and Biology of Mushrooms at local community events with his wife, Molly Widmer, another founding CMS board member. If you are lucky, Molly will accompany Chris on his field trip.
Valerie Nguyen & Ja Schindler
Valerie Nguyen and Ja Schindler live at the base of the Cascades just outside of Westfir, OR where they own and operate Fungi for the People. When they are not educating others about mushroom cultivation, or cultivating mushrooms, they are out exploring the Cascades in search of fungi. Both Ja and Valerie are very knowledgeable about the mushrooms of the cascades, medicinal mushrooms, and mushroom cultivation. Valerie is also well known as a fabulous chef of mushroom dishes.
Ron & Sandy Patton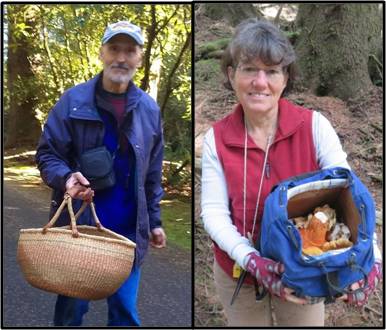 Ron and Sandy have been mushroom hunting in Oregon since they retired here in 2008; and have been CMS members since 2011. They teach the Introduction to Wild Mushroom Hunting Class at the Amazon Community Center on behalf of CMS. They both volunteer at the annual Mount Pisgah Mushroom Festival in the Edible & Poisonous Tent. Sandy maintains the CMS website and they both publish the monthly CMS Enews.
Marcia Peeters
Marcia Peeters (aka The Mushroom Queen) is a co-founder of the Cascade Mycological Society. She has been foraging for mushrooms since the early 80s when she took the Biology of Mushroom class at Lane Community College from Freeman Rowe. Marcia was so fascinated by fungi that she took the class twice, started driving the LCC bus on class outings, became an assistant to Freeman, and eventually taught the class after Freeman retired. Marcia has lead mushroom outings both privately and for CMS. Many CMS members have been taught the basics of mushroom identification from Marcia and she has contributed many hours as an expert identifier for the Mushroom Festival.
Dr Bitty Roy
Bitty is a lifetime member of CMS and heads the CMS Macrofungi of Lane County Oregon project. She is a Professor Emerita at the University of Oregon in the Department of Biology, Institute for Ecology and Evolution . She had an early introduction to mushrooms growing up near Aspen Colorado where the late summer Bolete flushes were prolific. Her professional interest in fungi began during her undergraduate degree at Evergreen College in Washington, where Mike Beug nudged her in the direction of fungi. Numerous degrees and colleges later, she landed in Eugene Oregon in 2001, where we hope she will stay. Bitty has numerous publications and has made significant significant ecological contributions. An outing with Bitty will always be about science and ecology rather than foraging for edibles.
Joe Spivack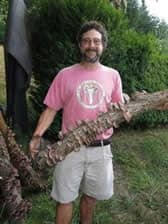 If you have ever brought in a mushroom for identification to the Mount Pisgah Arboretum Mushroom Festival, you may have met and talked to Joe Spivack. Along with helping to identify mushrooms for the festival Joe also spends time at the Expert ID table. Joe Spivack has been collecting and eating wild fungi since 1983. He has taught courses on wild mushrooms at Lane Community College and has given mushroom talks and walks at the Yachats Mushroom Festival for many years. Joe has been a dedicated member of CMS since its inception. He is a past Board Member, volunteers his time and talents as an Expert IDer for the annual Mushroom Festival, and often leads field trips.
Lee Yamada
Lee Yamada has been foraging for and cooking wild edible mushrooms since he was 7 years old. He has traveled to Europe, South America, and Asia with his wife late Phyllis in search of mushrooms. And, has catered mushroom featured dinners at numerous wineries in his native California. It was a mushroom identification class taught by David Arora (author of Mushrooms Demystified and All that the Rain Promises) in the early 80s that started Lee on his quest to learn more about fungi. He would eventually become an assistant leader for David and also lent a hand with the cooking at the Annual David Arora Thanksgiving Weekend Wild Mushroom Workshops.
Lee was an early member of the Santa Cruz Fungus Federation formed in 1984 by David and his students. And, when David was ready to hand over the reigns as Director of the Santa Cruz Fungus Fair; Lee stepped up and organized the fair from 1993 until 2003. Lee joined the CMS Board in 2016.