CMS Meeting – Dec 18, 2019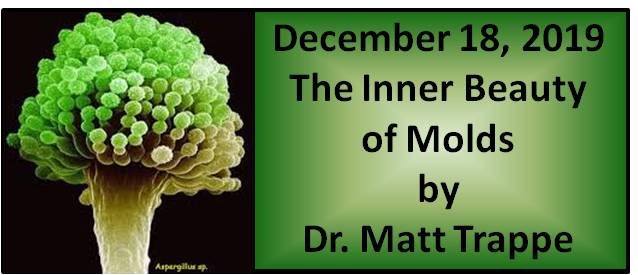 When: Wednesday, December 18, 2019, from 7:00 pm to 9:00 pm
Where: Amazon Community Center, 2700 Hilyard St, Eugene, Oregon 97405
This event is free and open to the public. There will be a mushroom identification session. Bring what's in your basket, edible or not, and learn from the experienced members of our community.
Dr. Matt Trappe is a mycologist who started out specializing in truffles, took a detour into plant pathology, and ended up moldy like an old piece of fruit. He will share his enthusiasm for conidiophores, secondary metabolites, and Japanese food with the hope that you too will come to appreciate the Inner Beauty of Molds!
About the Speaker
Matt Trappe is the foray leader for the North American Truffling Society and author of the "Field Guide to North American Truffles." He earned his MS and PhD at Oregon State University studying the effects of disturbance (such as fire) on fungal communities. He currently works with the Agricultural Research Service researching fungal diseases of grape vines. Matt is well known among western Mushroom Clubs/Societies for sharing his knowledge in a humorous and visually intensive style that is accessible to beginners. His repertoire of presentations includes: basics of fungal ecology, fungal evolution, lichens, and forest ecosystems.