Festival Foray – Cascades – October 25, 2019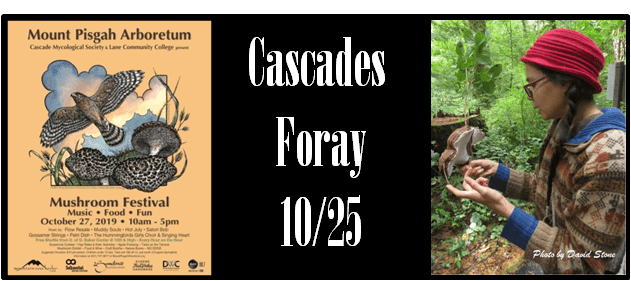 CMS Forays are open only to CMS members, for more information on membership click here.
Join CMS for a foray to the Cascades to collect for the Mount Pisgah Arboretum Mushroom Festival. Festival Collection forays are all about collecting every different type of species we can find. You may have the opportunity to pick a few edibles along the way, but that is not the focus of the foray. Festival collecting forays are your opportunity to learn a lot more about the diversity of fungi we have here in Oregon. CMS member Valerie Nguyen will lead the foray.
Date: Friday, October, 25, 2019
Location: Cascades (Hwy 58)
Mushroom permits: None required.
# of participants is 20, children accompanied by an adult are welcome, no dogs/pets
For those who enjoy mushrooming hunting in the Cascades, you will certainly enjoy this foray. Valerie Nguyen actually lives at the base of the Cascades just outside of Westfir with her partner Ja Schindler of Fungi for the People. When they are not working on mushroom cultivation, they are out exploring the Cascades in search of fungi.
We are thankful to Valerie for stepping forward to lead this Friday's foray, which in the past, has been lead by our dear friend Harriet Kelly.
Lee Yamada has a long history of mushroom foraging, much of which has been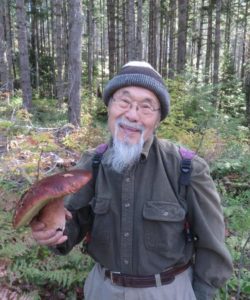 with David Arora, author of the very popular books "All that the Rain Promises", and "Mushrooms Demystified". He was an active member of the Fungus Federation of Santa Cruz for many years and organized the annual Santa Cruz Fungus Fair for over 10 years. CMS was overjoyed when Lee and his wife Phyllis made their way to Eugene in 2017. It did not take him long to find CMS and join the CMS Board
New Registration process – Please register below. At the end of the Registration period, names will be selected from a series of random drawings using a random number generator from Random.org. The first names (up to 10) will be selected from new CMS members that have never attended a foray. Then, everyone else will be included in the drawing. We will attempt to ensure foray partners are selected together. No guests, Memberships will be verified.
Registration for this foray is closed.
---