Fall Mushroom Camp – Nov 8-10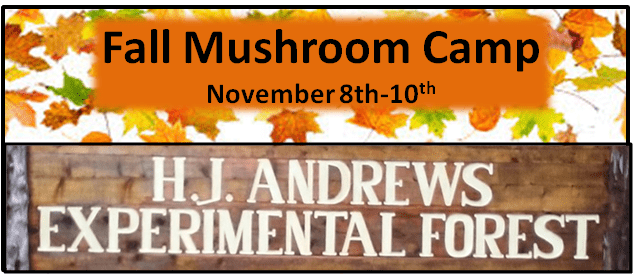 Fall Mushroom Camp at HJ Andrews Experimental Forest near Blue River will be a great way to learn about local fungi. The weekend will include forays lead by Chris Melotti and Cheshire Mayrsohn, a mushroom identification session with Molly Widmer, a mushroom tasting by Lee Yamada, and a Potluck dinner/social on Saturday evening. A more detailed schedule will be provided to those that register.
About the Venue: The H.J. Andrews is a 16,000-acre ecological research site in Oregon's beautiful western Cascades Mountains near Blue River. The landscape is home to iconic Pacific Northwest old-growth forests of Cedar and Hemlock and moss-draped ancient Douglas Firs.
We will be staying in apartments that have 4 or 5 bedrooms, 2 bathrooms, a living and dining area, and a fully equipped kitchen. All bedrooms have 2 twin beds. All participants will be assigned to a specific bedroom in an apartment.
About HJ Andrews – Click here
Facilities at HJ Andrews – Click here
Location and Directions – Click here
Requirements and Rules
We will not carpool from Eugene to HJ Andrews. However, we will carpool from HJ Andrews to foray spots. So, please bring "gas cash" if you do not plan on driving to foray locations.

You will need to bring food and beverages, plus bedding (sleeping bag or sheets/blanket and a pillow). There is no place to shop near the Andrews.

All participants are expected to leave the apartment and kitchen area clean upon departure.

No pets are allowed on property (Andrews policy).

No smoking in any of the buildings.

No Alcohol (Federal policy).
Registration & Costs Details
$35 per person per night (double occupancy room).
We have a limit of 40 beds per night. We will give preference to those persons registering to attend for 2 nights.
Youth over the age of 5 are welcome. Youth between the ages of 5 and 12 may sleep in a room on the floor with their parents/guardians at no charge (max of 2). You must provide their bedding and a blow up mattress. If they will be sleeping in a room, on a bed, their cost is the same as for adults. Note: rooms are small, only a single size air mattress will fit on the floor.
Registration will be open from October 23-26. Once registration closes, if we have more that 40 persons registered, names will be selected from a series of random drawings using a random number generator from Random.org. If selected, you will be emailed a Paypal invoice which must be paid by October 28th.
Note: Right now, the forecast looks good. If we do receive an unexpected hard freeze and snow, we will cancel and issue full refunds.