Morel Foray – May 18, 2019
We are ready for Morels, and we are hoping they are ready for us! Join us for a CMS Members Only foray to the coast.  If you are not currently a CMS member, please join here, prior to registering for this foray. CMS Board Members Matthew Johnson and Lee Yamada will lead the foray.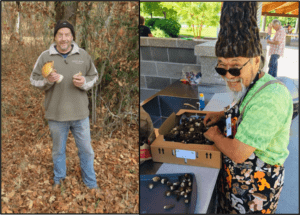 Matthew  Johnson first started foraging for mushrooms in the mid-'80s and attended Freeman Rowe's Biology of Mushrooms class at LCC in 1989.  He has been a CMS Board Member since 2005 serving in a variety of officer positions. Matthew assists with the setup of the Mount Pisgah Mushroom Festival display each year and leads mushroom walks at the Yachats Mushroom Festival.  As the current CMS Foray Coordinator, he has been leading quite a few forays.
Lee Yamada (Morel Man) has a long history of mushroom foraging, much of which has been with David Arora, author of the very popular books "All that the Rain Promises", and "Mushrooms Demystified".  He was an active member of the Fungus Federation of Santa Cruz for many years and organized the annual Santa Cruz Fungus Fair for over 10 years.  CMS was overjoyed when Lee and his wife Phyllis made their way to Eugene in 2017. It did not take him long to find CMS and join the CMS Board.  
We apologize, but at this point, details regarding this foray are as elusive as Morels. We will post more when and if we know them.  
Date: Saturday, May 18, 2019
Location: Willamette National Forest  (either out 126 or 58, TBD – still scouting)
Required mushroom permits: – No permit required for up to 1 gallon.
# of participants is 20, children accompanied by an adult are welcome, no dogs/pets
Registration for this foray is open!
Sandy will be validating memberships and responding to registration submissions.
No Fields Found.